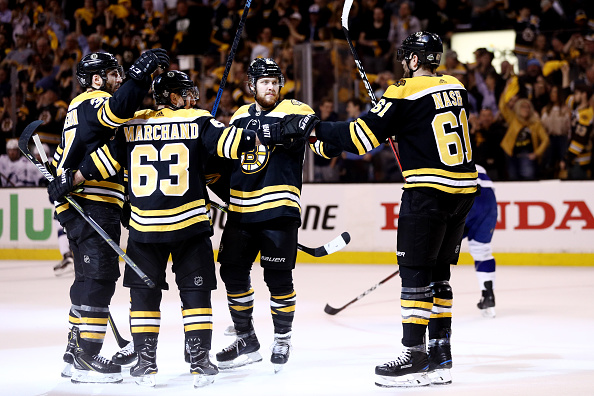 The Boston Bruins forward lines are crowded. Over the last six weeks or so, plenty has been written about the Bruins having eight NHL-ready defensemen. That number drops to seven with the Adam McQuaid trade. Not nearly enough has been written is about the same situation plaguing the forward crop. So let's delve deeper to see what the four forward lines might actually look like.
Crowded Boston Bruins Forward Lines
Granted, depth is important when the inevitable injury bug hits the team again. At that point, the extra experienced forward will come in handy. During the off-season, general manager Don Sweeney was still trying to add another top-six scorer. Rick Nash will be taking a break, at least for the short term. This sent Sweeney into shopping mode for the likes of Ilya Kovalchuk, Jeff Skinner, and even John Tavares. He struck out, with three misses. If the Bruins add a top-six forward, it means that another prospect will find his way back to Providence, juniors or elsewhere.
Why can't the Bruins just go into the season with what they already have? Fellow Atlantic Division teams like Tampa, Toronto, and even Buffalo loaded up during the off-season. Do the Bruins have enough to compete with these teams, without another addition. Sweeney recently mentioned that these jobs will be filled internally. It certainly creates great competition throughout the lineup.
Sweeney has a plan in place. How many times have you seen a player have a decent rookie season only to discover the sophomore jinx is real? Jake Debrusk, Ryan Donato, and Anders Bjork could all experience this to some degree during the upcoming season. Donato and Bjork didn't get into all that many games as a whole. One should expect some difficulties along the way. If the young forwards struggle, Joakim Nordstrom and Chris Wagner can step in to provide stability. Now, too many forwards become a good thing but remember they all can't play.
The first line
David Pastrnak plays well with the Patrice Bergeron line but David Krejci needs him even more. The Bruins would benefit from a balanced attack. Bruce Cassidy can still shuffle the lines and move Pastrnak to the first line if a critical goal or two is needed.
This still leaves open the right wing slot. Bjork did well there as a rookie before the concussion and then the eventual season-ending shoulder injury. The Bruins can also consider Danton Heinen in the spot. Even though he struggled at times, he has shown that he can play a smart game of hockey. In the 2014-15 NCAA season, Heinen finished 15th in scoring. That doesn't make him a lock for a top line spot but shows his potential.  Heinen could be an option if Bjork struggles. That said, the first line of Marchand-Bergeron-Bjork should start the season.
The second line
DeBrusk had a nice rookie campaign piling up 16 goals and 27 assists. He appears to be a lock on the left side. Krejci needs to have an improved season. The addition of an offensive weapon like Pastrnak could solve that issue. Krejci will need to remain healthy for long stretches. Also, we will see if Pastrnak himself has difficulty finding the net without Batman and Robin by his side. Yes, Batman has won four Selke Trophies! This line should play out as an improved second unit with DeBrusk-Krejci-Pastrnak.
The third line
This line is going to be critical to the team's success. Replacing centre Riley Nash will not be easy. There is an internal replacement just waiting to show the Bruins his abilty though in Ryan Donato. Donato was stellar at the Winter Olympic Games in PyeongChang. He put up five goals and one assist in five games. Following the conclusion of the NCAA season, Donato joined the Bruins and played in the final 12 regular season games. He scored five goals and four assists for nine points. He could improve the defensive side of his game and play more physical but the job should be his to lose. Donato is better equipped to replace Riley Nash's point production than Sean Kuraly.
It won't be easy for Donato. There are a few prospects who also would love to lock in a roster spot for opening night. Jack Studnicka racked up 72 points for his Oshawa Generals to lead the team. Jakub Forsbacka Karlsson had a fine AHL season with 15 goals and 17 assists in 58 games with Providence. Trent Frederic helped propel the University of Wisconsin Badgers. Frederic has shown improvement in his game and could push for a spot at some point. Finally, pay close attention to Karson Kuhlman. The undrafted former Minnesota-Duluth center impressed at this year's development camp.  Kuhlman plays hard but his likely destination will be Providence where he got two games last season.
Let's not forget why Sweeney acquired Wagner, experience. After stints with the Ducks, Avalanche, and Islanders, Wagner is very capable of handling the third line center position. He won't put up points like Riley Nash but he brings a physical edge to his game.  He was third in the league last season with 235 hits. Wagner will provide energy to any line he plays on. Wagner could fill-in at the third line centre spot but is more likely a regular fourth liner. He is versatile and can also play wing. Wagner will help David Backes to set a physical tone. Coach Bruce Cassidy could send out a line of Wagner, Backes, and Noel Acciari for some serious thumping. For now, though, the third line is pencilled in as Heinen-Donato-Backes.
The Fourth Line
It will be a challenge to replace the Vancouver bound Tim Schaller. His stellar play and point production is a loss. Nordstrom appears to be Schaller's replacement on the left side but do not expect him to put up 12 goals and 10 assists like Schaller did. Nordstrom has experience with seasons spent in Chicago and Carolina but is not known for his point production. He has some wheels and will see time on the penalty kill and assume other defensive responsibilities.
Sean Kuraly has earned a look at the third line center position but he is best suited as the fourth line centre. However, he has created some chemistry with Backes and that combination could potentially play out.
Here is where it gets a bit interesting. The Bruins certainly realized after the Tampa playoff series that a few more physical bodies would benefit the club going forward. That was one reason for the John Moore signing. The left side defence gained some size. With the Chris Wagner acquisition, the bottom six forwards could play a more physical brand of hockey but will we lose offensive production from the fourth line?
What about Martin Bakos? Bakos spent a few seasons in the Czech Extraliga and logged time in the KHL as well. He has some potential and he certainly didn't sign with Boston so he could play in Providence. He is hoping to make the big club. Check out his shootout goal against France from an April 2018 game https://www.youtube.com/watch?v=tgNuYzDgjak.
Reaching the point of "forward overload", there are three players coming into camp on PTO's. Lee Stempniak, a wing who previously had a cup of coffee with the Bruins in 2015-16, playing in 19 games with three goals and seven assists. Daniel Winnik, a left wing with fourth line numbers, brings some size to the table at six-foot-two. Marcel Noebels, a former Flyers fourth rounder, also has some size at 6-foot-2. The centre spent the last four seasons playing for the Berlin Polar Bears in the DEL (Germany's top league). These three will push hard for a job when camp breaks. The competition should get pretty intense.
We previously discussed Jack Studnicka. Sweeney has mentioned that he would like to see the forward push to make the roster. Studnicka is more of a playmaker. He could stick and play nine games before returning to his junior club, Oshawa, to prevent his entry-level deal from kicking in. Sweeney and Cassidy would have more time to evaluate if he can show that he is here to stay. Studnicka can play center or wing. He recently played wing during the World Junior Summer Showcase.
Centres Jakub Forsbacka Karlsson, Trent Frederic, Karson Kuhlman and possibly wings Ryan Fitzgerald and Peter Cehlarik are all vying for a spot on the opening night roster.  Fitzgerald had a productive first season raking up 37 points for the Providence Bruins. The often injured Cehlarik showed potential in 17 NHL games but could be looking at his final bid to make the big club.
Training Camp
Too many forwards make for an interesting camp.  If the past repeats itself declaring more rookies are ready for the NHL, a few veterans could find themselves on the wrong side of the fence. Keep in mind, the Bruins are known for carrying a few extra forwards during the season. Does Chris Wagner's style of play make Noel Acciari expendable?  Is Ryan Donato better suited to play wing and if so, does that make Danton Heinen or Anders Bjork trade bait to acquire that top-six scorer? There are many questions to be answered before the drop of the puck on October 3rd.  Bruce Cassidy has some tough choices ahead. At this point, I predict a fourth line of Nordstrom-Kuraly-Wagner. Spare forwards would be Acciari and Bakos.
The forward lines are listed as:
Marchand-Bergeron-Bjork
DeBrusk-Krejci-Pastrnak
Heinen-Donato-Backes
Nordstrom-Kuraly-Wagner
(Acciari-Bakos)