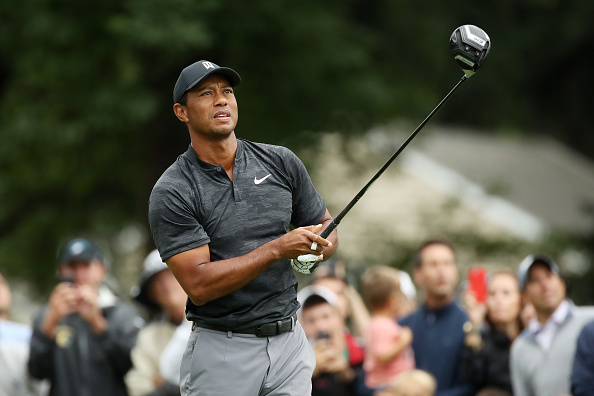 Even though this year according to the Chinese calendar, 2018 is the year of the dog. Looking over this year's PGA schedule, in a strange way, it could be called the year of the tiger. I am talking about Tiger Woods of course, and even though he has had other years with a lot more polish. Let's look at why we can call this year, the year of the (reborn) Tiger Woods.
THIS TIME LAST YEAR MANY THOUGHT HIS CAREER WAS OVER
Granted, golf isn't as head to head physical as say, football, hockey or even basketball. However, it still takes a lot of strength and can easily take a toll on the body. Tiger Woods has literally been playing golf since he was two, joining his father on the Mike Douglas show to show off his skill. Of course he didn't have as powerful a swing back then, that came over the years as his game focused. With that power, comes the possibility of straining or even damaging muscles or the spine itself.
Tiger had back problems for years that kept him out of play. He had surgery that was supposed to repair the issue. It was clear watching him grimace in pain that it had not. Fans were almost as upset as he was that his career may well have been over at a much younger age than the legends he has befriended Jack Nicholas and the late great Arnold Palmer.
OFF THE COURSE AND KEEPING BUSY
Even though Tiger wasn't able to play, he still kept busy. He has multiple charities that he either supports or has actually been the driving force behind creating. However through all of what he does off the course, his mind was clearly set on coming back and getting his game back. He still has the opportunity to tie or even surpass the number of major wins that Jack Nicklaus has, and he never let that go far from his mind. Undergoing, what many would be afraid to, another procedure to fix his back pain.
RISING FROM THE ASHES.
Ok, maybe that is a little dramatic. But the game of golf has plenty of dramatic moments and this year has been no exception. As well as golfers such as Justin Thomas, Brooks Koepka, and so many others have been doing this year. There is still that special excitement seeing Tiger's name climbing up the leader board. If his career ended last year, right now, or twenty years from now. He will always be a legend in the game. Seeing him improve more and more through this year has been almost as exciting as it would have been to see him win. He has come very close multiple times. Once he pulls the trigger and gets the win, the arena of fans following him will lose their voices to their cheers.
LAST WORD
The reason this year will stand out for Tiger, no matter what he does in the last match of the FEDEX cup or in the Ryder cup. It will stand out because he faced down an unwanted ending to his career and fought back hard. Finding his game again and improving every week. The fact that he is one of the Captain's picks to be on the Ryder cup team speaks volumes. His peers have also seen what he has done and come back from and want him on the team to help get the win. Again, it seemed so much like he would never achieve this level again. And now, the sky seems to be the limit. So even though as of the writing of this article, he has not gotten a win for the year. This was a winning year for Tiger Woods.
Main Photo: