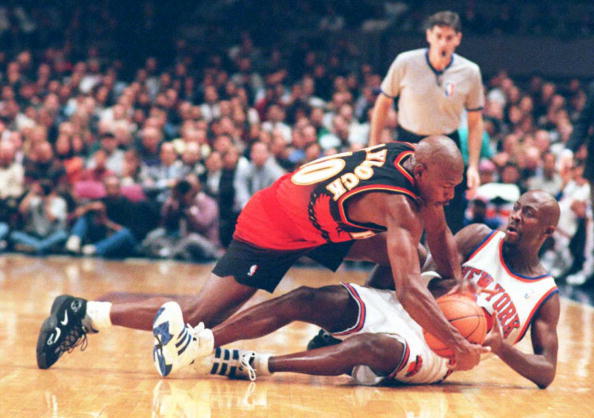 The Atlanta Hawks hasn't been the most storied franchise in NBA history, never really gaining the markets of, say, a Philadelphia 76ers, Boston Celtics or Los Angeles Lakers. This hasn't held the organization from seeing great players pass through their ranks, however. The Atlanta Hawks top 5 players of all time is still a respectable list.
The Hawks started in 1946 in Buffalo as the Bison. After moving around for a few years, the franchise found a home in 1955 in Saint Louis, MI, and rebranded as the Hawks. There, the franchise really took steps forward as some of the better players built a name for them.
In 1968, the team moved to Atlanta and have never left, finding that southern hospitality welcoming. Here are, in our humble opinion, the top 5 players in Hawks franchise history.
Top 5 Atlanta Hawks of All Time
Kyle Korver may have only spent five seasons with the franchise, but Korver left as the most accurate deep range shooter in team history. Korver appeared in 332 games, starting 307 of them. He left his marks in franchise history with a .452 percentage from deep and a .887 from the free throw line, another franchise best. Korver led the league in deep range shooting percentage two seasons there, 2013-14 with a .472 mark, then 2014-15 with a .492 mark. Korver impacted the franchise greatly during his tenure, earning himself a spot on this list.
Mookie Blaylock was an undersized guard (6'0″) playing in an era of big men. Blaylock is the franchises leading stealer, as well as second on the list in assists. Mookie appeared in 518 games, starting in 515, while averaging 14.9 points per game, 2.6 steals and 7.3 assists. His shooting percentage wasn't horrible either, shooting an effective percentage of .487. Blaylock had a great career with the Hawks and should most certainly be recognized for it.
Lou Hudson was his teams 4th overall pick in the 1966 NBA Draft, and he was a star right away. He appeared in 730 games with the Hawks, averaging 22 points per game and shooting .487 from the field – Before the days of 3 point shots. He was a prolific scorer, leading the team for seven consecutive years. He led all playoff contenders in the 1973 playoffs with his 29.7 points per game.
Bob Pettit was one of the few Hawks players never to play in Atlanta. The second overall pick in the 1954 NBA Draft, Petitt helped build the Hawks into the franchise it became in the 60's and 70's. His name helped move the team to Atlanta. He averaged 26.4 points per game his entire career, leading the league in scoring twice throughout his career (1955-56, 1958-59). He was first team All-NBA for ten straight years (1954-55 to 1964-65), and played in 10 All-Star games (1955-1965). He was a two time NBA MVP (1955-56, 1958-59).
Wilkins is the record holder in almost every major category in franchise history. No player has appeared in more games, hit more field goals or scored more points then Wilkins did in a Hawks jersey. Wilkins led the NBA in scoring the 1985-86 season (30.3 PPG) and appeared in nine consecutive All-Star games (1986-1994). He was 1st Team All-NBA in the 1985-86 season and was almost always either 2nd or 3rd team. He was second in MVP voting that 1985-86 season.
Main Image: Embed from Getty Images