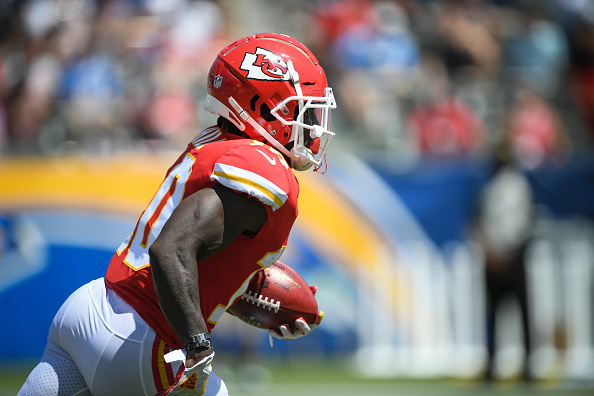 Week 1 of the 2018 NFL regular season has come to a close. It was a great time for fans to get back and have their Thursdays, Sundays and Mondays filled with football again. There were some big time games that got people off their seats and scratch their heads. Additionally, there were some big-time performances by a special group of players.
Most noteworthy, the Super Bowl finalists of the year before, Eagles and Patriots won their respective season openers with both games being close. We had a Steelers-Browns tie, a Bills embarrassment, an upset of the Saints, a long rain delay, an Aaron Rodgers comeback, Jon Gruden back on the sidelines, and two MNF blowouts.
Here are my top five performances of Week 1. Remember as Deion Sanders would say, "You gots to win to get in."
Top 5 Week 1 Performances of the 2018 NFL Season
Aaron Rodgers (QB) – Green Bay Packers
Week One stats: 20/30 passing, 286 yards, three touchdowns
What's amazing is that this game would have been different if Rodgers didn't return to the game. In the first half, he only had 13 yards passing before going out with a leg injury after being sacked by Bears defensive end Roy Robertson-Harris. The Lambeau Field fateful held their collective breaths hoping it wasn't more déjà vu but Rodgers came back in the third quarter and led one of the greatest comebacks in Packers history. He threw three touchdown passes in the fourth quarter. The first two were to Geronimo Allison and Davante Adams. The final one came on 3rd and 10 with 2:29 left in the game. Rodgers threw to Randall Cobb and he caught and ran 75 yards to the house. Remember, he almost threw a game ending interception to Kyle Fuller a few plays before. This game showed the legend that Rodgers is.
Week One stats: 21/28 passing, 417 yards, four touchdowns, one rushing touchdown 
As Bucs head coach Dirk Koetter said, "Fitz-Magic is alive and well." Oh boy, did the 2015 Jets Fitz-Magic return in a big way. Keep in mind, Fitzpatrick will be the starter while Jameis Winston is serving his three game suspension for violating the league's personal conduct policy. He had one of his greatest moments in his journeyman career. The gunslinger was shredding the Saints defence all day. He threw both a 58 and 36 yard TD bomb to DeSean Jackson, a 58 yarder to Mike Evans, a score to Chris Godwin and took one in himself. If he continues to play well, Winston might be watching him from the bench.
Week One stats: 15/27 passing, 256 yards, four touchdowns
It was the first game of the Mahomes era in Kansas City. They knew this day would come after drafting the gunslinger from Texas Tech in 2017 and shipping away Alex Smith. In his first game, he showed out. Furthermore, he showed out his big arm when he threw a slant and run to Tyreek Hill for 58 yards for the touchdown. Mahomes would throw three more TD's (two on forward pitches and one on a wheel route to fullback Anthony Sherman for 36 yards). Overall, Chiefs fans have a guy that they can be excited about.
James Conner (RB) – Pittsburgh Steelers
Week One stats: 31 carries for 135 yards and two touchdowns
Okay, this guy is the exception of the Steelers and Browns ending in a tie. It was the first start for the second year running back out of the University of Pittsburgh. He's starting because Le'Veon Bell is still holding out after not signing his franchise tag. Conner showed out in the first extended action of his career. He ran 31 times for 135 yards and two rushing TDs. As great as Conner played, it wasn't the biggest thing he has done in his life. First of all, this guy beat cancer while he was at Pitt and that in itself is remarkable. If he continues to perform well, the Steelers may not need Bell to come back to the Black and Yellow.
Tyreek Hill (WR) – Kansas City Chiefs
Week One numbers: seven receptions, 169 yards, two touchdowns, punt return TD
The third-year wideout continues to show why he's the fastest player in the game today. Hill is an all-around threat that can beat you going down the field, in the return game and from the backfield. As a result, he showed those skills on Sunday versus the Chargers when he took a punt and returned it 91 yards to the house. Then, he caught a quick slant and took it 58 yards to the end zone due to his breakaway speed. He topped it off with an acrobatic one hand grab over two Charger defenders. What's amazing is that he's only 5′ 10″ but has a great leaping ability. Hill has made a lot of fantasy owners very happy with his performance. With Mahomes' big arm and Hill's speed, Kansas City's offence will be tough to stop.
Image Credit:
Embed from Getty Images