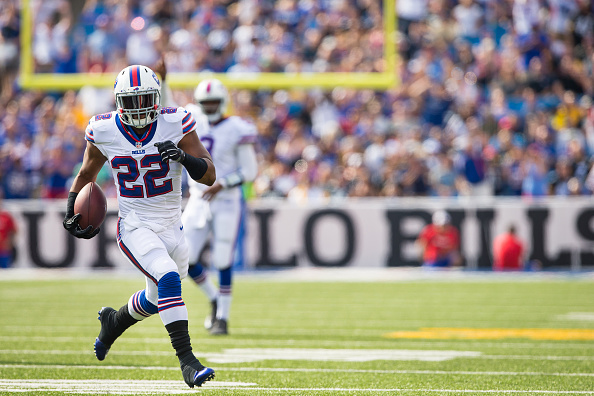 Fred Jackson was a running back for the Buffalo Bills from 2007-2014. He was signed to the team as an undrafted free agent out of Coe College. Jackson was a senior when he entered the draft, and his age at the running back position was a contributing factor into why he went undrafted. The Bills decided to take a chance on Jackson and this led to an eight-year career and a fan favorite. This is a look back on the career of Fred Jackson.
A Look Back at the Career of Bills RB Fred Jackson
2007:
In 2007 Fred Jackson walked into the Bills facilities with a minimal chance of even making the roster. The odds of a twenty-six year old undrafted running back making an NFL roster are slim to none. Jackson had to severely impress the staff in order to get a spot on the roster. That is exactly what Jackson did. In the first game of the pre-season, Jackson ran for forty-nine yards on eight carries to go along with a touchdown. In game two, he ran for twenty-two yards on nine carries. This was a lesser performance. Marshawn Lynch played in this game and ran for sixteen yards on five carries which is also less than impressive.
In the third pre-season game Jackson resumed to light up the stat sheet. He rushed for thirty-one yards and a touchdown on only four carries. This was an average of seven point eight yards per carry. These performances earned Jackson the right to sit the fourth pre-season game, but also a spot on the fifty-three man roster.
In his rookie season, Jackson would play backup to Marshawn Lynch and rush for three-hundred yards. He would also accumulate one-hundred and ninety yards receiving on twenty-two receptions.
2008:
In 2008, Fred Jackson continued to make the most out of his opportunities and this season he will see an increased workload. Jackson entering just his second season is already twenty-seven years old. Marshawn Lynch was just twenty-two. Lynch would once again start with Jackson backing him up. Lynch in 2008 ran for an impressive 1,036 yards rushing and eight touchdowns. This didn't stop Jackson from having an impressive season himself. Jackson rushed for 571 yards and three touchdowns to go with 317 receiving yards. Jackson was able to accumulate 888 scrimmage yards as a backup which is beyond impressive for a twenty-seven year old undrafted running back. This season showed that Jackson is much more than a backup running back.
2009:
2009 was the year that propelled Jackson's career. Jackson would play all sixteen games and start eleven of them. He would start multiple games over Lynch himself. 2009 was a down year for offensive production in Buffalo which saw them score six rushing touchdowns total for the year. This did not stop Jackson from having his first 1,000 yard rushing season. Jackson totaled 1,062 yards to be exact along with 371 receiving yards. Jackson was defying all expectations and went from a longshot in 2007 to a thousand yard rusher in 2009. The sky was truly the limit for the ageless wonder and his dominant play would continue into the next decade.
2010:
2010 looked rough for Jackson heading into it. The Bills used their first-round pick in the draft on a speedy young running back out of Clemson named C.J. Spiller. They also still had Lynch who was still very young and talented. With three talented backs on the roster, a move was assumed to be in the works. It was thought that Jackson would be the odd man out since he was battling two young running backs who were able to offer more longevity.
The Bills started the season with Lynch as the starting running back. This did not last long as Lynch would lose the starting job to Spiller on week four. That week was a rough week for Buffalo which saw all three running backs combine for just nine carries. The following week Lynch was traded to the Seattle Seahawks. Not only was Lynch trade, but Jackson was named the starter following his leave. Fred would get the first crack over Spiller who was still adapting to the NFL. Jackson would start the rest of the season and finish with another impressive season. Jackson totaled 927 rushing yards with over 1,100 yards from scrimmage. This comes despite the team's 4-12 record for the year.
2011:
2011 is the year that often defines Fred Jackson's career. Going into the year, Jackson has had three straight seasons of 900 or more rushing yards with over a thousand yards from scrimmage. Jackson was now 30 and the Bills still have their new young rookie C.J Spiller on the roster. Jackson's days look every year to be more and more numbered than the last. As he has proven time and time again, Fred Jackson doesn't let his age affect his play.
Jackson was named the starter for the season opener and took it the Chiefs. He ran for 112 yards on 20 carries in what would be a 41-7 win for Buffalo. Jackson would go on to dominate with six 100+ yard game sin the first nine games. Going into Buffalo's tenth game against Miami Jackson was in the serious conversation for the league MVP award. Jackson started the game slow and on his seventh carry, he went down with an injury. He would end up suffering a broken right leg and missed the remainder of the season. Jackson would finish the year with 934 yards rushing and 1,376 yards from scrimmage in only ten games.
2012:
In 2012 the Bills saw a 31-year-old running back coming off of a broken leg and didn't feel like Jackson was their best option to succeed. C.J Spiller opened up the year as the starting running back and he did not disappoint. Spiller rushed for 169 yards on fourteen carries. Jackson looked like a distant memory as Spiller dismantled the Jets defense. As the season went on, the Bills couldn't seem to figure themselves out. Jackson would find himself without a snap played on multiple occasions and Tashard Choice even started a game for the Bills. Despite this, Spiller rushed for 1,244 yards while Jackson would end the year with 437.
2013:
Fred Jackson in 2013 had what could be considered a resurgence. He would split time with Spiller throughout the season and finished the season with 890 yards rushing and yet another 1,000 yards from scrimmage. This was extremely impressive for a 32-year-old running back who broke his leg two seasons prior. Jackson continued to defy the general belief about elder running backs in the NFL and he was always known during his career as the guy was reliable no matter what.
2014:
2014 would be Jackson's last year in Buffalo. He was 33 and his career was coming to an end. Despite this, Jackson gave his all one last time. Jackson got his fifth season with 1,000 yards from scrimmage. This time it was a near even split between rushing and receiving yards. Jackson proved that no matter what he faced or who he was playing with, he was able to produce at a high level if he was needed to perform.
After the 2014 season, Jackson would get cut the following pre-season and go to Seattle. He would play there for a season and has not been on a roster since. Jackson will go down as one of the greatest stories in football and a Bills legend.
Main Photo: