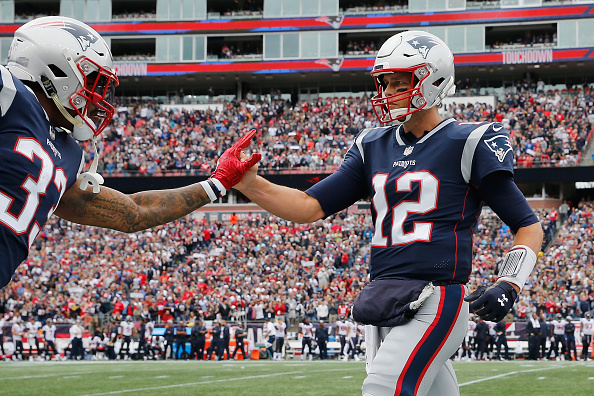 The New England Patriots got their 2018 season off to a good start with a 27-20 win over the Texans. It was their first opening home game on Sunday since 2010. This game wasn't the high scoring shootout like what happened last year when the Pats beat Houston 36-33. Bill Belichick improves to 5-0 against his former assistant coach Bill O'Brien. 
Here are the takeaways from the victory.
New England Patriots Week 1 Takeaways
The 41-year-old reigning MVP came out on a mission to defy the odds of Father Time. He was carving through the Texans defence that got J.J. Watt, Jadeveon Clowney, and Whitney Mercilus back from season-ending injuries on the defensive line. Brady was throwing to a new set of weapons without Julian Edelman. Therefore, it proves that Brady can make unknowns into stars in his system.
Brady, in total, went 26-39 for 277 yards. He went 16/26 for 154 yards, three TD's and one interception in the first half. The first scoring drive was vintage Brady as the quarterback threw a 21 yard back shoulder fade to Rob Gronkowski in double coverage for the first touchdown. Then, he threw his second TD to a wide open James White. In their two minute drill before, he threw his third TD of the game to Phillip Dorsett in the back of the end zone.
The Weapons
Gronkowski had a Gronk like performance. He had seven catches for 123 yards and a touchdown. It was the 27th time of his career that he had a 100 yard receiving game. Dorsett was targeted seven times and caught all of them for 66 yards and a TD as he gains trust from Brady. Rex Burkhead had 64 yards on 16 carries and Jeremy Hill had 25 rushing before going out with a knee injury.
It was the first game for Brian Flores as the de facto defensive coordinator. As a result, the new and better front-seven was causing havoc around Watson. Led by new acquisitions Adrian Clayborn and Danny Shelton, the entire Pats front did a great job keeping Watson in the pocket all day. It first started when Dont'a Hightower recovered a fumble due to Watson's indecision to handoff or keep the ball, leading to the Pats first points. Furthermore, it led to the Texans star QB to be uncomfortable as they recorded 12 QB hits on the day. Consequently, Watson only completed 17/34 pass for 176 yards, one touchdown and a pick
It wasn't like last year when Watson was lighting up the Pats and the league in his rookie season. Unfortunately, he tore his ACL and missed the rest of the season and he looked a little rusty in this game.
Trey Flowers and Deatrich Wise had 1.5 sacks apiece.
The Last Word
It was an impressive start to the season for the Patriots as they played well on both sides. Now, it's on to Jacksonville in a rematch of last year's AFC title game where the Pats won 24-20.
Image Credit:
Embed from Getty Images