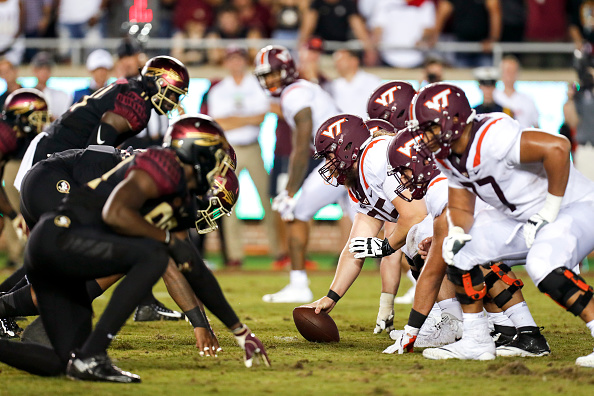 It is absolutely amazing to have college football back in full swing, right? What a great first weekend it was! Be on the lookout each week as we bring you a comprehensive look at the prior week's action. Additionally, we will look ahead to the following week. This is the last word on college football, week one edition!
Key Takeaways
Maybe life after Baker isn't so bad after all?
The Lane Train never officially got out of the station as Oklahoma steamrolled FAU 63-14. Any questions that lingered about how OU's offense would perform were answered convincingly as they rolled up 650 total yards to FAU's 324. Some people say, well it's just FAU, which is true. However this is an FAU team that some speculated could contend for a New Years Six bowl game. Kyler Murray went 9 of 11 for 209 yards and two TD's in his first half of action. OU also accumulated 316 yards on the ground. Next week OU takes on UCLA in Norman.
Newsflash: Alabama still knows how to play football
Okay, Louisville may not have been the best opponent. Especially in year one of life after Lamar. With that being said, this Alabama offense looks dangerous. Tua Tagovailoa went 12 of 16 for 227 yards along with two touchdowns as well as 26 yards and a TD on the ground. Bama rolled up 222 yards rushing while limiting Louisville to just 16. Bama's young receiving corps looks particularly strong. The Tide are not going anywhere folks.
Debuts gone wrong
Chip Kelly at UCLA, Jeremy Pruitt at Tennessee, Kevin Sumlin at Arizona were among the new coaches who's debuts did not go as smoothly as they had hoped. Tennessee was shellacked by West Virginia 40-14 in Charlotte. The offensive line there appears to be an issue still as does the o-line at UCLA. Chip Kelly and his squad lost at home to Cincinnati 26-17. Wilton Speight was injured during the game, which honestly may not be a bad thing for that offense. Kevin Sumlin, Khalil Tate and Arizona could not get an offensive rhythm going as they fell to BYU 28-23.
Another rough debut belonged to Willie Taggart at Florida State. They were drubbed 24-3 by Virginia Tech in a game where nothing went right for them all night. They simply looked lost at times during that game. Deondre Francois threw three interceptions, which further complicated matters.
Debuts gone right
No, we are not talking coaching debuts this time. How about freshman debuts?
First, Purdue's freshman sensation wide receiver Rondale Moore showed why he was a highly sought after recruit. All he did was set a school record for all purpose yards in a game. In his first game! He had 79 yards rushing, 109 receiving yards along with 125 kick return yards. Not too shabby.
Wake Forest freshman quarterback Sam Hartman had a particularly strong debut vs Tulane in an ugly game. Hartman passed for 378 yards and two TD's while also rushing for 64 yards. He is filling in for the suspended Kendall Hinton. That guy may not get his job back if Hartman continues to play like this during Hinton's remaining suspension, which is two more games.
J.T Daniels had a solid debut for USC as they defeated UNLV after a slow start. He finished 22 of 35 for 282 yards and a touchdown. Amon-Ra St. Brown grabbed seven receptions for 98 yards along with a TD in his first game.
Texas is back! Except they aren't
Oh Texas Longhorns. Here we go again. Year two of Tom Herman's tenure was supposed to start off differently. Texas is filled with top notch recruits, but still cannot get the job done. O-line is still an issue. Quarterback Sam Ehlinger did not show better decision making during the 34-29 loss to Maryland. The defense was gashed multiple times by Maryland's creative offense. Do not ever believe the hype regarding Texas until they actually prove something on the field.
Miami (FL) is for real this time! Unless they aren't
First of all, LSU greatly exceeded expectations with their Sunday night performance vs Miami (FL). The Tigers defense was incredible and their offense looked to be much different than in previous years. With that being said, what a terrible performance by the Hurricanes. Miami did not decide to wake up until the fourth quarter when it was already too late. Moral of the story is this. Sit Malik Rosier. All this talk of him getting better apparently was hogwash. Time to start N'Kosi Perry. Maybe you give the Miami D a pass since they had no idea what LSU's offense would look like this year. By the way, Jeff Thomas was the one bright spot for Miami as he grabbed five passes for 132 yards.
Stanford showed something different
Stanford has won in recent years because of their outstanding defense and running game. The latter is what they have relied particularly heavily on, especially since Andrew Luck left Palo Alto. Against San Diego State however, they were forced to do things differently. Heisman candidate Bryce Love was held to 29 yards on 18 carries. That turned out okay because quarterback K.J Costello completed 21 of 31 passes for 332 yards and four TD's! Three of those touchdowns went to JJ Arcega-Whiteside. The fact that they won with their running game shut down is a great sign for the Cardinal. Oh and the defense is still good. They held the Aztecs to 10 points while recording five sacks.
FBS v FCS Struggles
This weekend saw a handful of FBS teams lose to FCS teams, along with some close calls. Kansas lost at home to Nicholls 26-23. Kansas has not beaten an FBS team since 2016. The only win period that they have managed is against Southeast Missouri State. Not what you are looking for.
San Jose State bit the dust against UC Davis 44-38. UTEP was dominated by Northern Arizona in head coach Dana Dimel's debut, 30-10. Temple lost to Villanova 19-17 in a not so high scoring affair. Lastly, East Carolina lost 28-23 on Sunday to North Carolina A&T, who to be fair, is a strong team. They had already notched a win against FCS powerhouse Jacksonville State in week zero.
Close calls from the weekend include Kansas State barely escaping South Dakota 27-24. Additionally Ohio narrowly avoided defeat against Howard by a score of 38-32. Georgia State won in the last minute over fellow Atlanta area school Kennesaw State, 24-20. Lastly, Louisiana Monroe scored a TD in the last minute to defeat Southeastern Louisiana 34-31.
Let's not overreact yet
Washington – The defense gave up 420 yards in their 21-16 loss to Auburn. They played strong during certain points of the game. Washington actually outplayed Auburn in some ways during the second half. You could say the Huskies would have won if not for a pick play negating a touchdown. Or if Jake Browning was more efficient. There were other factors to them losing. Star left tackle Trey Adams missed the game, which hurts. The Huskies only converted five third downs in 14 tries.
It is too early to say Washington was not worthy of the preseason hype. Browning's efficiency and decision making need to improve if they are going to reach PAC-12 elite. The good news is, they may have identified their next star wide receiver. Aaron Fuller played a great game catching seven passes for 135 yards. Additionally, that defense is still legit.
Penn State – The Nittany Lions had to go to OT in order to defeat Appalachian State 45-38. Penn State lost several key pieces from last years team, on both sides of the ball. We really should not be surprised they struggled some. A couple of potential concerns stick out however. The defense at points last year showed weaknesses, and they did nothing to alleviate those concerns in this game. Trace McSorley was not efficient during this game either. Chalk it up as first game jitters? Maybe, but with a trip coming up to Pittsburgh this week, we will find out where Penn State truly is.
Michigan – Granted, the performance against Notre Dame was disappointing. The Notre Dame defense looked fantastic however! The offensive line simply did not show up to play. Shea Patterson was put in precarious positions from time to time. The Wolverine defense did figure things out as the game wore one and this team will hang their hat on that. It is too early to say Michigan was overrated. They can still make noise in the Big Ten, despite a tough schedule.
Stats!
Here are stats from the week that stand out, not already listed above:
Offense
Justice Hansen – Arkansas State – 26 of 36 423 yards 6 TD's, 5 carries 31 yards
Ty Gangi – Nevada – 16 of 26 342 yards 3 TD's
Will Grier – West Virginia – 25 of 34 429 yards 5 TD's
Brett Rypien – Boise State – 20 of 28 305 yards 4 TD's
David Pindell – UConn – 27 of 41 266 yards 1 TD, 22 carries 157 yards 1 TD
Brady White – Memphis – 22 of 28 358 yards 5 TD's
Dwayne Haskins – Ohio State – 22 of 30 313 yards 5 TD's
Mason Fine – North Texas – 40 of 50 444 yards 3 TD's
Eric Dungey – Syracuse – 7 of 17 184 yards 2 TD's, 15 carries 200 yards 1 TD
Steven Montez – Colorado – 22 of 25 338 yards 4 TD's, 3 carries 34 yards 1 TD
Cole McDonald – Hawaii – 30 of 41 428 yards 6 TD's
McKenzie Milton – UCF – 24 of 32 346 yards 5 TD's, 7 carries 50 yards
Trayveon Williams – Texas A&M – 20 carries 240 yards 3 TD's
Jonathan Taylor – Wisconsin – 18 carries 145 yards 2 TD's
Mike Weber – Ohio State – 20 carries 186 yards 3 TD's
Lexington Thomas – UNLV – 14 carries 136 yards 1 TD
Kazmeir Allen – UCLA – 5 carries 103 yards 1 TD
Michael Warren – Cincinnati – 35 carries 141 yards 3 TD's, 3 catches 29 yards
Jeremy Larkin – Northwestern – 26 carries 143 yards 2 TD's
Zack Moss – Utah – 16 carries 150 yards 1 TD
Scottie Phillips – Ole Miss – 16 carries 204 yards 2 TD's
Nick Brossette – LSU – 22 carries 125 yards 2 TD's
JJ Arcega-Whiteside – Stanford – 6 catches 226 yards 3 TD's
Marquise Brown – Oklahoma – 6 catches 133 yards 1 TD
N'Keal Harry – Arizona State – 6 catches 140 yards 2 TD's
Emanuel Hall – Missouri – 4 catches 171 yards 2 TD's
Laviska Shenault Jr – Colorado – 11 catches 211 yards 1 TD
Sean Modster – Boise State – 7 catches 167 yards 2 TD's
Quez Watkins – Southern Miss – 8 catches 138 yards 3 TD's, 3 PR 103 yards 1 TD
John Ursua – Hawaii – 10 catches 167 yards 2 TD's
Defense
Adarius Pickett – UCLA – 15 tackles
Ed Oliver – Houston – 13 tackles, 3.5 tackles for loss, 2 quarterback hurries
Chase Hansen – Utah – 11 tackles, 1 tackle for loss, 1 pass deflection
Jake Hansen – Illinois – 15 tackles, 6 tackles for loss
Cortez Broughton – Cincinnati – 6 tackles, 4.5 tackles for loss, 3.5 sacks, 1 forced fumble
Joe Dineen – Kansas – 16 tackles
Malik Carney – North Carolina – 8 tackles, 3 tackles for loss, 2 sacks, 1 quarterback hurry
Josh Allen – Kentucky – 10 tackles, 3 tackles for loss, 1 sack, 1 quarterback hurry
Nate Landman – Colorado – 16 tackles, 2 tackles for loss, 1 pass deflection, 1 quarterback hurry
Josh Watson – Colorado State – 15 tackles
Chase Winovich – Michigan – 6 tackles, 3.5 tackles for loss, 1 sack, 2 quarterback hurries
Te'Von Coney – Notre Dame – 10 tackles, 1 fumble recovery, 2 quarterback hurries
Khalid Kareem – Notre Dame – 9 tackles, 2.5 tackles for loss, 2 sacks, 1 forced fumble, 1 quarterback hurry
Colin Schooler – Arizona – 16 tackles
Deionte Thompson – Alabama – 3 pass deflections
Gerald Willis – Miami (FL) – 8 tackles, 4 tackles for loss, 1 sack, 1 pass deflection, 1 quarterback hurry
Looking Ahead To Week Two
Week two provides another set of interesting, and important, games. Here are the key games for the week:
Clemson at Texas A&M – Yes Clemson is expected to win fairly handily. Yes their D-line is likely to overpower the Aggies O-line. However, this game is a good measuring stick for what type of mentality this A&M team will have under Jimbo Fisher in 2018.
USC at Stanford – As it always does, this game means a lot in the Pac 12. Stanford proved it can win with a passing game and good defense vs San Diego State. USC got off to a bumpy start vs UNLV but pulled away. Freshman QB JT Daniels had a solid debut, but his competition this week is a massive step up.
Arizona at Houston – Khalil Tate and Arizona got off to a rather underwhelming start, losing at home to BYU in week one. Houston was struggling at Rice for a while, but eventually pulled away. D'Eriq King ended up with a solid game. This game will tell us a lot about where these teams truly are.
Georgia at South Carolina – UGA at S. Carolina is quite likely for the SEC East. The Gamecocks will be fired up at home, although it looks as if star DE DJ Wonnum will miss the game. This is a chance for UGA to prove they are still top dogs in the East.
Penn State at Pittsburgh – Penn State had to survive Appalachian State in OT. Pitt had a ho-hum victory over Albany. Pitt has been a stumbling block for the Nittany Lions in the past.
Others Include: Duke at Northwestern, Michigan State at Arizona State, Iowa State at Iowa, Colorado at Nebraska, Fresno State at Minnesota, Kentucky at Florida, Miss State at Kansas State, UCLA at Oklahoma
There you have it! Week two, here we come.
Main Image: Embed from Getty Images