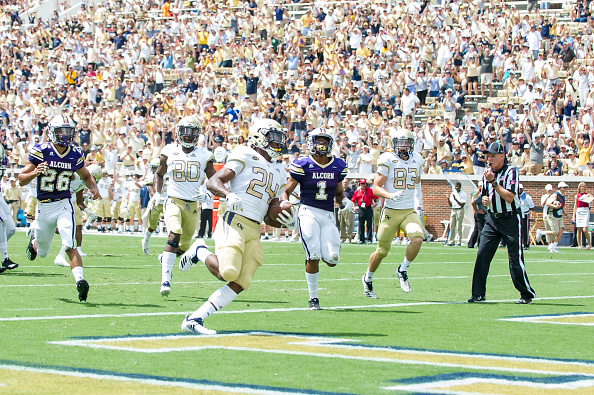 After a disappointing 5-6 season in which Georgia Tech failed to make a bowl for the 2nd time in 4 years, they will attempt to get back to the postseason. With the offseason addition of defensive coordinator Nate Woody and top offensive weapons returning, I expect Tech to have a season near 2014 or 2016. Here are my full season predictions for Georgia Tech Football!
Georgia Tech Football Season Preview
September 1st: vs. Alcorn State 
Alcorn State comes to Atlanta for Georgia Tech's season opener for the 2nd time in 3 years. Essentially a preseason game for Tech, I see them steamrolling acorn State and the starters only playing a half. While the Yellow Jackets certainly have questions marks on offense and defense, this game should be a nice tune-up game for Georgia Tech before playing USF.
Prediction: Georgia Tech (1-0) 52-7 Alcorn State
September 8th: @ South Florida
South Florida was very good last year finishing 10-2 with one of their losses coming against  the "National Champions" UCF. Not only do they have a talented team with former 5 star quarterback Blake Barnett but they also have a talented Charlie Store at the helm. I think this game will be close until the 4th quarter but eventually will come down to defense. Last year, USF had the better defense in terms of yards but Georgia Tech had the better defense in terms of points. On defense though, USF lost their three best tacklers, their two starting defensive tackles, two players with most interceptions, and their leading pass rusher.
One of the big stories regarding USF is how senior-laden their team was last year. Not only did they lose all of those players on their defense but they also lost their starting QB and leading rusher as well as their top 5 scorers. With an improved coaching staff and most of the team returning, I think Tech wins by 6 in a close one.
Prediction: Georgia Tech (2-0) 27-21 South Florida
September 15th: @ Pittsburgh
Georgia Tech continues its noon game streak as well as their road trip by traveling to Heinz Field to face the Pittsburgh Panthers. Georgia Tech has faced Pittsburgh 5 times since the Panthers joined the ACC in 2012. Tech has won 3 of those 5 games and in their most recent meeting last year, Tech won 35-17. Pittsburgh didn't lose many of their top players but they did lose their best wide receiver and their 3rd best tackler.
The Panthers have a new quarterback this year in sophomore Kenny Pickett. He was pretty terrible last year only throwing for 509 yards, 1 touchdown, and 1 interception in 4 games. Pittsburgh returns their leading tackler though in Oluwaseun Idowu. He led every defensive player on Pittsburgh in tackles, tackles for loss, and sacks. He also had 13 tackles against Tech last year and it's very likely that he plays that well this year.
Pittsburgh will be a tough opponent but I think ultimately Tech's offense will be too much for the Panthers to handle.
Prediction: Georgia Tech (3-0) 38-28 Pittsburgh
September 22nd: vs. Clemson 
For their 4th straight noon game, Georgia Tech welcomes Clemson to Bobby Dodd Stadium for their yearly meeting. Clemson is one of the best teams in the nation and Tech has barely a 1% chance to beat them.
With the best defensive line in the country, a top 3 defense, and a good offense, Georgia Tech would have to have a 2014 type performance. They would need an injury as well as a ton of luck but anything is possible!
This won't be a blowout but I think Georgia Tech keeps it from getting out of hand.
Prediction: Georgia Tech (3-1) 17-28 Clemson
September 29th: vs. Bowling Green State
The worst team in the MAC travels to Atlanta to face Georgia Tech for the first time ever. The Bowling Green Falcons only won 2 games last year in the MAC and haven't improved much.
This game will be an easy win for Tech.
Prediction: Georgia Tech (4-1) 38-14 Bowling Green
October 5th: @ Louisville
For Georgia Tech's first night game, they travel to Louisville to face the Cardinals. Louisville finished third in the ACC Atlantic with an 8-5 record. While it wasn't an awful season, Louisville had the talent to be better.
The big story for Louisville is the loss of Heisman winner Lamar Jackson. One of the best college QBs in recent memory, Jackson left big shoes for sophomore quarterback Jawon Pass to fill. The aptly named quarterback played one game last year throwing for 238 yards and two touchdowns.
In addition to losing their quarterback, they also lost their top 3 rushers, 4 of their top 5 tacklers, their top pass rusher, and their top corner. Despite those losses, Louisville still has a talented team. Their defense is the scariest part of this matchup because of their new DC Brian VanGorder. The third DC in three years for Louisville, Brian VanGorder will be prepared for Tech's triple option offense.
VanGorder was previously the defensive coordinator at Notre Dame and was the DC when Notre Dame shut Tech down in 2015. In that game, Tech only mustered 216 rushing yards and 1 touchdown as VanGorder implemented a perfect gameplay.
It's possible Louisville has the same success against Tech but I'm not sure if they have the talent that Notre Dame had on either side of the ball. I see a very close game but I think Louisville holds on for the win although it can go either way.
Prediction: Georgia Tech (4-2) 24-28 Louisville
October 13th: vs. Duke
After an 8 day break, Tech welcomes the Duke Blue Devils to Bobby Dodd. It's no secret Duke has had Tech's number in recent years. Since 2000, Duke has only won 4 meetings but unfortunately 3 of those wins have come in the last 4 years. Duke is usually a game in which everything goes wrong for Tech but for some reason, I think that changes this year.
Duke under David Cutliffe is all-around solid but in my opinion, Tech has the offensive weapons to get it done on that side of the ball and with a new defensive coordinator, I don't anticipate a loss.
Prediction: Georgia Tech (5-2) 34-30 Duke 
October 25th: @ Virginia Tech
After their bye week, Tech faces a familiar foe at a particular time. Georgia Tech plays Virginia Tech almost every year and a majority of the time, the game is on a Thursday night. 4 of Georgia Tech's last 7 meetings with Virginia Tech have been on a Thursday night.
Georgia Tech has had success against Virginia Tech in the last 4 years winning 3 of the 4 meetings but since Virginia Tech joined the ACC, the Yellow Jackets are 5-9 against the Hokies. Virginia Tech returns most of their players including their talented sophomore quarterback Josh Jackson and leading rusher Deshawn McClease. Virginia Tech's talented roster, good coach, and home-field advantage will make this a tough venue for Tech. I think it's a one score game in favor of the Hokies.
Prediction: Georgia Tech (5-3) 27-31 Virginia Tech
November 3rd: @ North Carolina
Georgia Tech travels to Chapel Hill to face another bogey team of theirs. Georgia Tech beat North Carolina handily last year but lost 3 of the previous meetings. North Carolina was riddled by injuries but fortunately for them, most players are back to full health. As well as being at full health, North Carolina also returns many of their players. With a good coach and experienced team, they seem poised for an upset. Against Tech though, I don't think they can do it.
Prediction: Georgia Tech (6-3) 42-38 North Carolina
November 10th: vs. Miami
I really don't want to talk about last year's Miami game but we definitely should've won. Miami comes into this year with most of their team returning and high preseason expectations.
Since Paul Johnson took over as head coach of Georgia Tech, he has only beaten Miami twice. Thankfully both were at home which bodes well for Georgia Tech. Georgia Tech took Miami down to the wire last year and should've won.
Tech doesn't have the talent that Miami has but running the triple option will allow Tech to close that talent gap. I think this game is close and for some reason, I anticipate an upset.
Prediction: Georgia Tech (7-3) 21-17 Miami
November 17th: vs. Virginia
Georgia Tech welcomes Virginia for their final regular season ACC game. Virginia beat Georgia Tech last year 40-36 in McDaniel Stadium. Unfortunately for Virginia, they lost their best quarterback Kurt Benkert to the NFL as well as their 2 top tacklers. Coincidentally, Quin Blanding always destroys Tech and now that he's gone it leaves a big hole for Virginia to fix.
Virginia isn't as talented as Georgia Tech but it's almost always a good game. I think this game stays close for at least a half and most likely the entire game but Tech will eventually pull away.
Prediction: Georgia Tech (8-3) 38-34 Virginia
November 24th: @ Georgia 
CLEAN OLD FASHIONED HATE. The most intense Georgia Tech game of the year will take place at Sanford Stadium this year. While Georgia is one of the most talented teams Tech will face this year, I think this game will be way closer than people anticipate.
Obviously defense is Georgia's biggest strength but they did lose three of their top five tacklers, the top linebacker in the country, and their best secondary player. They also lost their dynamic duo at running-back. That duo combined for 1,698 yards from scrimmage as well as 32 touchdowns. Although they lost those two, Georgia, like always, has more running backs in line poised to dominate.
I'm most scared of D'Andre Swift who is a very talented sophomore running back who many predict will be one of the top running backs in the nation this year. Georgia-Georgia Tech is almost always a close game no matter the talent discrepancy. Thankfully, Georgia Tech has won the last 2 meetings in Athens and 3 of the last 5 meetings.
Georgia Tech has the offense to hang with Georgia but what will really determine the outcome of this game is defense. Georgia had a stellar gameplan, filled gaps correctly, and wrapped up in last year's game. Unfortunately for Georgia, they lost 2 of their starting linebackers who had previously played against Tech and knew the option well. While that might not turn out to be a big deal because the game is at the end of the season, it's worth noting. Tech's defense will also come into play. Georgia still has a good offense and needs a great game-plan from Nate Woody as well as sound execution by the defense.
I anticipate a difficult game for both teams and although Georgia is more talented than Tech, I think a win is possible. The game will be close but somehow, I think Tech has a decent chance to win and because I'm biased I'll choose Georgia Tech.
Prediction: Georgia Tech (9-3) 31-30 Georgia
Overall
As you can see, I'm pretty optimistic about the team this year. Last year, most of our losses  were due to Ted Roof and our defense being too safe. With Nate Woody, Georgia Tech's defense will be fast, physical, and aggressive. Tech's offense also returns key players who will help the offense become a top rushing offense again.
With a 9-3 record, I think Tech does make the ACC Championship game but like 2014 will lose. Clemson will most likely win the ACC Atlantic and based on their roster, with an ACC Championship, they will make the playoffs. With that, Tech will make it to the Orange Bowl. Depending on opponent, Tech might have a hard time but if the Yellow Jackets can go 9-3 this year, they should win.
Main Image: Embed from Getty Images