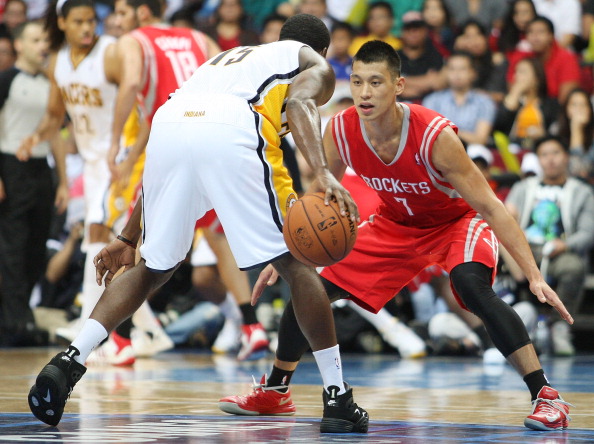 So last night the Phoenix Suns struck a deal with the Houston Rockets acquiring power forward Ryan Andersen and rookie point guard De'Anthony Melton for point guard Brandon Knight and big man Marquese Chriss. In doing so, the Suns essentially sit without a quality starting point guard. Knight was slated to start for Phoenix and dealing him to Houston gives the Suns very little experience running the point. Some have suggested Devin Booker may move to point guard which I think is a terrible idea. He needs to coming off of screens and scoring, not facilitating or setting up the offense. Early this morning rumors started to suggest the Suns are not done and will be looking to deal for a starting quality floor leader. With that said, there are options out there.
Six Phoenix Suns Point Guard Options
Potential trade option: Atlanta trades PG Jeremy Lin to Phoenix for C Tyson Chandler
Lin was just traded to Atlanta from Brooklyn and would bring a real pass-first point guard into the fold. Lin can also knock down open shots that are sure to come his way in Phoenix. This also gets Atlanta a better center option than they currently have on their roster and gives Chandler a chance to resurrect his career. Both players are on the final years of their contracts so financially it has no effect on either team.
Potential trade option: Cleveland trades PG George Hill to Phoenix for SF TJ Warren and SG Troy Daniels
The Cavs are looking to get Collin Sexton into the starting lineup and shedding Hill and his salary could be an option for Phoenix. Hill would give the Suns a veteran floor leader to help stabilize the young roster. Also, the second year of Hill's deal is only guaranteed for $5 million. I do not believe the Suns would mind unloading Warren either. He could become the starting small forward in Cleveland while clearing up playing time for the young players and Trevor Ariza in Phoenix. This is a definite move I think the Suns should entertain.
Potential trade option: Indiana trades PG Cory Joseph to Phoenix for C Dragen Bender and SG Troy Daniels
While Joseph is not a sexy name, he is better than the current list of Suns point guards. He also comes relatively cheap and is on an expiring contract. Giving up on Bender may be on the Suns agenda as he has been awful since being drafted in 2016. The Pacers will be willing to unload one of their veteran point guards to free up room for rookie Aaron Holiday. Collison is the better option but he will cost more than just Bender and Daniels and the Suns will not deal any of their young core.
Potential trade option: Minnesota trades PG Tyus Jones to Phoenix for PG Shaquille Harrison and SG Davon Reed
This would be a cheap option for the Suns. Once again Jobes is buried on the Timberwolves bench behind Jeff Teague and Derrick Rose. I am not sure he is starter material but has been good when given playing time. I think Phoenix would gamble if the chance was provided, I'm just not sure the Wolves would deal him, especially for what Phoenix can offer him. The Suns would likely need to add a second round pick to entice the Wolves.
Since the Suns seem to be in a very long rebuild using a point guard or point guard by committee could be an option. I think if they go that route it will be inserting one of their rookies.
Elie Okobo
This could be the option they go as they are really high on him. Okobo was selected with the first pick in the second round and then signed a four year deal with the Suns. Okobo played in the Summer League and did show signs of potential. Last year he played for Pau-Orthez in France where he scored over 12 points a game dishing out 4.7 assists and shooting 48% from the field. He is still raw and may need some time till he's ready to become the starting point guard.
De'Anthony Melton
Melton had an up and down college career that dropped his stock and was selected 46th by Houston in 2018 NBA Draft. Most feel he was a steal at that pick and the Rockets just dealt his draft rights to the Suns. His stellar play for Houston in the Summer League may have peaked the Suns interest. Not sure Melton is ready to be a starting point guard but Phoenix is not even close to being a playoff team, that they could gamble and see how he does, at least until Okobo is ready.
I think the Suns need to use a traditional point guard instead of trying someone out of position to handle the running of the team.
Main Image:Embed from Getty Images