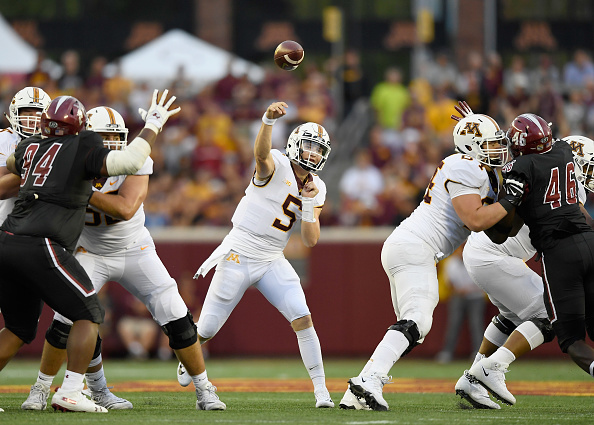 Thursday Night marked the football season kickoff for the Big Ten conference, with three teams facing off including a conference game on ESPN (Northwestern @ Purdue). However, in Minneapolis, Minnesota, a walk-on true freshman quarterback made NCAA history by starting the season opener. Quarterback Zack Annexstad became the second true freshman walk on quarterback in NCAA history to start his teams first game of the season. The other quarterback you ask? Why Texas Tech's Baker Mayfield.
Annexstad was better then anyone could have hoped in his debut, going 16 of 33 on his pass attempts for 220 yards and 2 touchdown strikes. He did make a mistake, dropping a snap and was unable unable to recover it.
Minnesota QB Zack Annexstad Debut Takeaways
His Passion for the Minnesota Program
Zack grew up a long time Golden Gopher fan. His dream was to play for the University of Minnesota from a very young age.
His older brother, Brock, plays wide receiver for the program as well. Brock had walked on last year, and was awarded a scholarship after his red-shirt season. Zack told him on "Tattoo night", where players on thee team reveal what tattoos they have and what they mean to them. Zack had written on his back Brock you are on scholarship. "Him and I have been through a lot together," Zack explained, "in life and in football. It was a really cool moment for the both of us."
Zack wants to be here. "I picked this culture," he told Sportscenter in an interview, "I picked this team, I knew the teammates I was going to have."
What we saw from Zack Thursday Night
The first thing that was clear immediately as soon as Zack entered the game was the fact that he was poised and confident. He was ready for the moment as soon as he stepped onto the field. The next fact that became clear was that this team intends to throw the football this year.
Zack Annexstad finds Tyler Johnson for the 7-yard TD! @ZackAnnexstad @T_muhneyy10 pic.twitter.com/PZygRDEteI

— mnsportsinfo (@mnsportsinfo1) August 31, 2018
Zack's first touchdown pass is a very impressive one. The pass that set this up was just as good. Zack looked off the safety and opened a lane for his receiver on a slant.
On this touchdown pass, look at the set. He plants quickly and waits for Tyler Johnson to get open in the end zone. When a QB plants that quickly, it almost always means he's throwing right away. The defense normally stops trying to pressure him physically and throws their arms up to deflect the pass away. If you notice, that's what happens here. They know they aren't going to get there in time so they stop and plant themselves. The defensive end on the right side even leaps into the air too early trying to make the play. He waits a second, sees how they will react, makes sure that he has a safe throw and hits Johnson in stride.
Last word
We saw a lot of promise last night from this quarterback. Next week, Minnesota faces a top 10 team outside of the Power Five conferences in Fresno State. We will see how well they perform and really give us a good chance to see the progression from Zack Annexstad from week to week.
Main Image: Embed from Getty Images