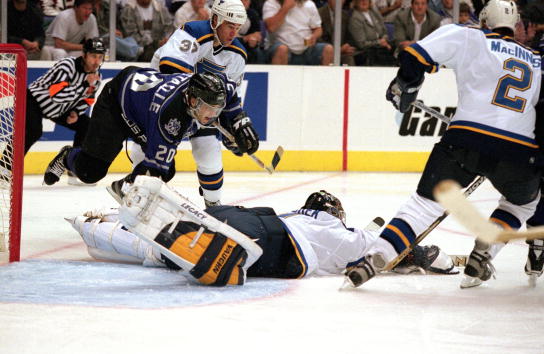 There's nothing more frustrating than a team not playing to its potential.
We as fans have all been there, your team seemingly has all the pieces in place. Everybody is hotter than should be legal. The chemistry is there and the coaching can do no wrong it seems… and then the wheels fall off and your team goes out with a whimper when it matters.
NHL Playoff Underachievers
Grab your liquor of choice as we go through the five biggest NHL playoff underachievers in history.
5. The 2000 St. Louis Blues
Historically, the Blues have blown it at the worst possible moment or outright missed when they were contenders. But this iteration of the team seemingly had it all. Elite goaltending in Roman Turek, Future hall of Famers Chris Pronger and Al Macinnis patrolling the blue line. Pavol Demitra, Keith Tkachuk, Michal Handzus, and Pierre Turgeon running the offense. And one of the best coaches in the game in Joel Quennville. It seemed like all was going right for them as they won the presidents trophy and sat comfortably atop the western conference as the playoffs began. Then they got knocked out in 7 games by perennial underachievers the San Jose Sharks. We will be addressing them later.
4. 1992-93 Pittsburgh Penguins
The 2 time defending Stanley cup champions looked to be ready for a 3-peat. They won the presidents trophy (like a lot of teams that seem to lose it in the playoffs) Lemieux, Jagr, Francis, Tom Barasso, all opposition looked to be no dents into the future hall of fame lineups armor to the cup they'd simply had to win that year.
Then they got beaten by the New York Islanders in 7 games. An Islanders franchise that was long past its glory days in the early 1980s. Wow.
3. The 2016-2017 Chicago Blackhawks
A few iterations of my hometown team could qualify for this list. But i'm going with a team that won their division and was top in the west before getting knocked out in 4 games by the Nashville Predators. This would spur them on to their first run to the finals before being beaten by the Penguins. I'm still cross about this.
2.2008-2009 San Jose Sharks
Told you I'd get to them. The Sharks had long been mired in playoff futility but this year looked to be different. President's trophy. An offense led by Jumbo Joe that would make the 1995 Devils tremble in fear. A defense that could do it all and great goaltending in Evgeni Nabakov. Veteran leadership in Jeremy Roenick and additional skill on the blue line in Brian Campbell… And they got knocked out by division rivals the Anaheim Ducks. What a fowl end to a stellar season.
And number 1…
The 1995-96 Red wings.
Presidents trophy by a landslide.
Height of the Russian 5 line and The Grinders line.
Steve Yzerman knocking out the blues in the second round.
This team was NOT. I say again WAS NOT
shut out at any point in the year.
Eclipsing the Canadiens for most regular season wins in one year.
Only to lose in the conference finals to Colorado. This series would be the linchpin for their epic rivalry throughout the 90s and 2000s.
Know of any more NHL underachievers? Feel free to tweet @Lwosports or me @nero_alucard
I do hope you enjoyed this article. If you aren't too drunk, feel free to check out our additional content.
Main Image Credit: Embed from Getty Images