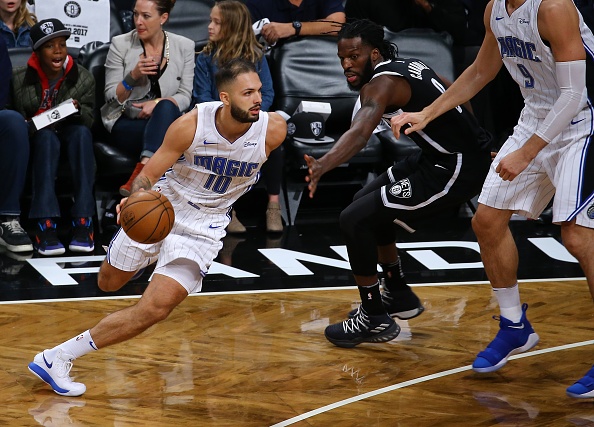 As I continue to breakdown the East, we get to what I call the weakest division in the NBA. While they are guaranteed at least one playoff team, that maybe it. The Southeast also likely has the two worst teams in the East, if not in the league. Like the previous post, the team's will be listed as how I see them finishing.
Washington Wizards
Projected starting lineup: PG John Wall, SG Bradley Beal, SF Otto Porter, PF Markieff Morris, C Dwight Howard
Projected bench: PG Tomas Satoranski, SG Austin Rivers, SF Kelly Oubre, PF Jeff Green, C Ian Mahimi
Now is the time for the Wizards to make a run in the East. Over the summer they strengthened their bench, adding Austin Rivers and Jeff Green and upgraded the center spot with Dwight Howard. Howard has had a string of bad luck on his last few stops but could be exactly what the Wizards need. Adding combo guard Rivers gives Washington a scorer and distributor off the bench. Jeff Green adds stretch four ability and added toughness. Washington should run away with this division.
Miami Heat
Projected starting lineup: PG Goran Dragic, SG Dion Waiters, SF Josh Richardson, PF James Johnson, C Hassan Whiteside
Projected bench: SG Tyler Johnson, SG Wayne Ellington, SF Justice Winslow, PF Kelly Olynyk, C Bam Adebayo
First thong is I do not like this roster at all. They have too many two guards and should not even be in consideration for a playoff spot. They do however possess a great coach in Erik Spoelstra. He is the reason they compete night in and night out. Point Guard Goran Dragic has been a steady force for them an Josh Richardson has been a hidden gem. They have failed to move big contracts or clear up their glut of shooting guards. I still feel the Heat will be active in the trade market to either improve the team or dismantle it for a rebuild. Either way, until I see Miami underachieve or Charlotte takes the next step they likely finish second.
Charlotte Hornets
Projected starting lineup: PG Kemba Walker, SG Nicolas Batum, SF Michael Kidd-Gilchrist, PF Marvin Williams, C Bismack Biyombo
Projected bench: PG Tony Parker, SG Malik Monk, SG/SF Jeremy Lamb, PF Frank Kaminsky, C Cody Zeller
I really want to put the Hornets ahead of the Heat but I am not so confident with the Hornets. They rely on Kemba Walker to handle too much of the scoring load. While the wings have a reputation of being tough-nosed defenders, they have been miserable on offense. Batum hasn't proven to be much of a three and D guy since arriving in Charlotte. The Hornets are looking to unload some of their high priced players and hopefully, that will clear up some playing time for shooters like Malik Monk or Jeremy Lamb who could help with the spacing issues. So if they can iron out some spacing issues without compromising their defense, they could surprise people.
Orlando Magic
Projected starting lineup: PG DJ Augustine, SG Evan Fournier, SF Jonathan Simmons, PF Aaron Gordon, C Nik Vucevic
Projected bench: PG Jerian Grant, SG Terrance Ross, SF Wesley Iwundu, PF Jonathan Isaac, C Mo Bamba
The Magic keep trying to get better with lottery picks, that just doesn't seem to fit. Isaac looked so much better this summer, but unless they plan on moving him or Gordon to small forward he will be stuck on the bench. As for Gordon, I'm not sure I would have given him that type of contract. Gordon has a hard time getting his own offense and his not much of creator either. He needs a good point guard to get him the ball. As for the point guard position, they did nothing to upgrade it.  Defensively they are a good team but struggle to score which hurts in crunch time.
Atlanta Hawks
Projected starting lineup: PG Trae Young, SG Kent Bazemore, SF Taurean Prince, PF John Collins, C Dwayne Dedman
Projected bench: PG Jeremy Lin, SG Vince Carter, SF DeAndre Bembry, PF Omari Spellman, C Alex Len
It is no secret the Hawks are in full tank mode. They drafted well taking Young at pick five and making him the face of the franchise. They are very young and will grow together throughout this season. Adding veteran Vince Carter to this roster as a mentor could be a good thing for the Hawks. Also, last years first round pick John Collins should improve helping Trae Young out on offense. Hawks fans need to be patient as it will be a long season in Atlanta.
Main Image: Embed from Getty Images