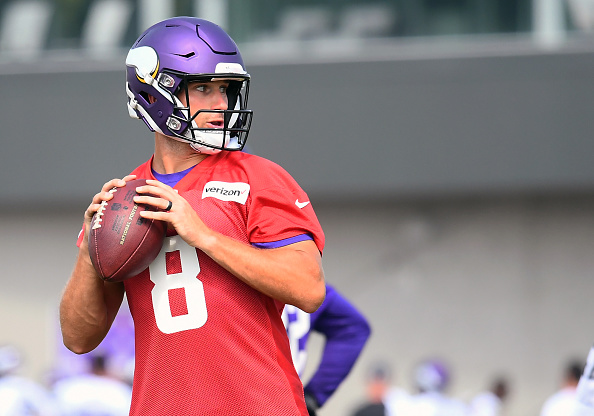 I believe the NFC is the more competitive conference in the National Football League. I believe almost every team can make a case of why they belong in the playoffs. Here is my take on 2018 NFL Predictions NFC Conference.
2018 NFL Predictions: NFC Division
NFC North
Minnesota Vikings (12-4): The Vikings were talented at almost every position last year. Arguably, their weakest position was their signal caller. In my opinion, they had a huge upgrade by bringing in Kirk Cousins. Minnesota will be a huge threat in the NFC.
Green Bay Packers (10-6): Aaron Rodgers is the quarterback. That statement alone is enough proof to earn at least a Wild Card berth. Will newly acquired tight end Jimmy Graham fill the void left by new Oakland Raiders wide receiver Jordy Nelson? Time will tell.
Chicago Bears (8-8): The Bears have revamped their offense in a huge way with new acquisitions like Allen Robinson, Taylor Gabriel, and Trey Burton. Mitch Trubisky will have those weapons along with Jordan Howard and Tarik Cohen in the backfield. Expect Chicago to surprise a lot of folks.
Detroit Lions (7-9): New head coach Matt Patricia has the opportunity to prove he can be a great coach in this league after many seasons with Bill Belichick in Foxboro. However, I believe there will be growing pains for Patricia in this incredibly tough division.
NFC West
Los Angeles Rams (11-5): Sean McVay proved to be one of the best coaches in the entire league last year. This offseason, he has brought in proven playmakers Brandin Cooks, Ndamukong Suh, Marcus Peters, and Aquib Talib. Rams are set to make a run at the Super Bowl with that much talent if they can be a cohesive unit.
San Francisco 49ers (9-7): Jimmy Garrapolo hasn't ever lost a game. Defensive coordinators have had a whole offseason to watch film on the extremely talented quarterback. I believe the 49ers improve from last year, but just miss the playoffs.
Arizona Cardinals (7-9): Arizona has been stuck in a rut for the past few years. Quarterback Sam Bradford has the capability to win games if healthy, but that's a huge "if." If he goes down again, can Josh Rosen rise to the occasion?
Seattle Seahawks (7-9): The Legion of Boom is no longer a thing in Seattle. Earl Thomas III is the only one left, but how much longer will he be there? Russell Wilson is a top 5-6 quarterback but has a great deal to put on his shoulders for this team to be successful.
NFC East
Philadelphia Eagles (11-5): The Eagles are coming off their first Super Bowl victory. Carson Wentz may not be ready to start the year, but backup Nick Foles has shown he is able to carry the load. Philadelphia is set to run the division again.
Dallas Cowboys (8-8): The Cowboys have one weapon on offense now. It is a must that Ezekiel Elliott stays healthy or the Cowboys will be under .500 this season after losing Jason Witten and Dez Bryant. Demarcus Lawrence can make an entire defense look good, but how will the unit play in 2018?
New York Giants (8-8): The Giants drafted arguably the most talented player in the NFL draft with the number two overall pick. Saquon Barkley will vitally help improve the Giants this year, but will miss out in an incredibly tough conference.
Washington Redskins (5-11): The Redskins have already lost running back Derrius Guice for the year with a torn ACL. Over the offseason, the Redskins got rid of Kirk Cousins and acquired an older version of Kirk, Alex Smith. Expect the 'Skins to struggle this year.
NFC South
New Orleans Saints (12-4): Drew Brees will be 40 in January, but is still proving he's a top three signal caller in the league. Everyone knows what Sean Payton and the Saints are capable of on offense. However, after adding cornerback Patrick Robinson, linebacker Demario Davis, and drafting defensive end Marcus Davenport, the Saints are ready to bring home a second Super Bowl.
Atlanta Falcons (10-6): I expect the Falcons to finish exactly the same as they did last year. I was shocked to see offensive coordinator Steve Sarkisian be welcomed back in Atlanta for this season after not using many offensive weapons correctly last year.
Carolina Panthers (10-6): I believe Carolina will be just a bit worse than last year just because I think Atlanta and New Orleans are better football teams. However, the Panthers are still capable of making it into the playoffs as a Wild Card team. It is definitely possible that the top three teams in this division make the postseason again.
Tampa Bay Buccaneers (6-10): Tampa is without James Winston the first three games of the year and he will be missed extremely. It is incredibly tough to come back after starting 0-3, especially in this division. The Bucs will not be a contender this year and head coach Dirk Koetter could be on the hot seat at any point this year.
Outlook
As Philadelphia proved last year, it is very important to have home field advantage throughout the playoffs. I believe whoever has that advantage between New Orleans and Minnesota will represent the NFC conference in the Super Bowl.
Main Photo:
Embed from Getty Images