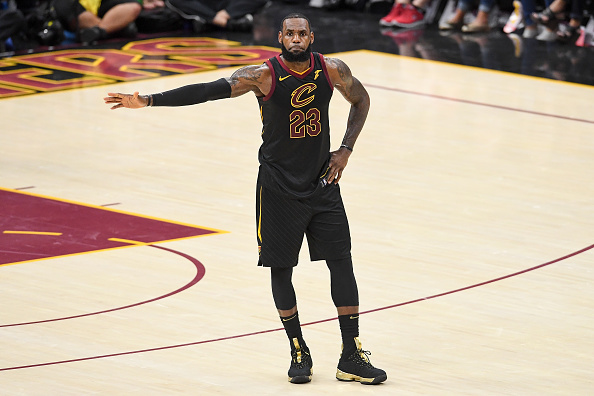 LeBron James did it again, he proved why he changed the NBA market by moving to the Los Angeles Lakers.
The LeBron Effect: The LA Lakers, the Top Televised Team this season
James made the overloaded Western Conference much more exciting to watch, of course,  the 3-time NBA Champions added another feat to his Hollywood effect: he made the Lakers become the team with the most lived games on National TV.
The Lakers will be live 43 times on the 2018-19 season on ABC, TNT, ESPN, and NBA TV, which is an outstanding fact considering they'll play 82 regular-season games.
Moreover, the Lakers will be more on television this season than the reigning champions Golden State Warriors (40), while the Boston Celtics, Houston Rockets, and the Philadelphia 76ers will have 39 games live each.
Big Nights
In other words, it is clear the Lakers will play such great games live, and one of those matchups will take place at LeBron's former house.
On November 21, the King returns to Cleveland after spending 11 seasons with the Cavaliers and winning with them the only trophy the franchise has in 2016.
Though, one month later James and the Lakers will face off the Warriors at the Oracle Arena on Christmas Day. Another bookmarked day for all NBA lovers.
James has brought an immense amount of good things to Los Angeles, and the list includes big selling and marketing, now the 4-time NBA MVP put the Lakers on TV almost every night they play.
Tip-Off Strong
The Lakers will begin the regular season at Portland on October 18.
The Trail Blazers has defeated the Lakers 15 times in a row since 2014 not to mention the RIP City have an NBA record 17 consecutive home opener wins.
However, this time Portland will face LeBron's new team, and this is a perfect start to see what the Lakers are about.
The tough schedule for the Hollywood team follows with games against the Houston Rockets on Oct. 22 and the San Antonio Spurs on Oct. 24.
Not So Lucky
Although the Lakers will be the team stacked on TV this season, there are others that won't have that advantage. The neighbor squad, the LA Clippers, will only have 15 games live.
In this unwanted list, the New York Knicks come next with 12 games, while the Cleveland Cavaliers are down below with 7 matches live.
As a result of their poor performances and not so looking market, the Memphis Grizzlies and the Charlotte Hornets completes the list with 6 lives games each this season.
Here's the complete list of the NBA live matches by teams on 2018-19 season:
https://twitter.com/TikotDeRoa/status/1028022545499402240
Main Photo: