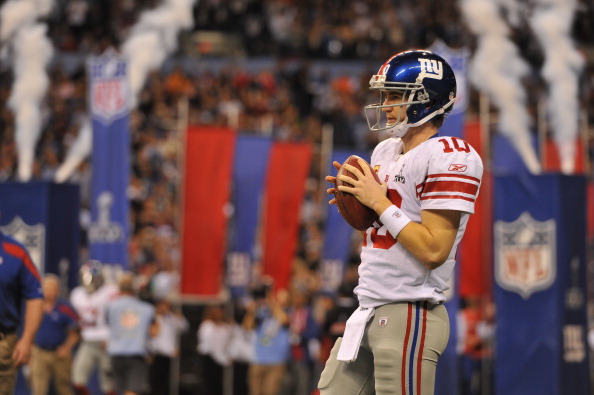 As football season is on the horizon, the annual tradition of the Pro Football Hall of Fame kicked off the new year. This year's class included Ray Lewis, Brian Dawkins, and Terrell Owens. As time moves forward, some of the current all-time greats will likely join them. Drew Brees, Adrian Peterson, Tom Brady and many others will soon receive football's highest honor. We have many great quarterbacks who could wind up in Canton, and Eli Manning should be one of them. Below I discuss why Eli Manning is worthy of the Hall of Fame:
Why Eli Manning is Worthy of the Hall of Fame
Quarterback plus Super Bowl equals Canton worthy
As of 2017, every quarterback who has won two or more Super Bowls that is eligible, have been inducted except Raiders quarterback Jim Plunkett. Brady and Ben Roethlisberger are likely to join them once eligible. Eli Manning should as well. John Elway, Terry Bradshaw, Joe Montana, Bart Starr, Roger Staubach, and Plunkett are the only undefeated quarterbacks with multiple appearances. Five of these men have gold jackets. The playoffs define a quarterback's legacy. In the two Super Bowl postseasons, Manning threw 15 touchdowns and only two interceptions. Along the way, he knocked out first ballot HOF Brett Favre in Green Bay, and Tom Brady twice who many consider being the greatest ever.
Numbers never lie
In his 2011 season, Manning had career numbers throwing 4,933 yards and 29 touchdowns which were both franchise records until he broke the touchdown record in 2015 with 35. Of the 13 seasons, he has been the starting quarterback, he has thrown at least 21 TD's in all but two. He has thrown for 200 yards a game in each season except 2005. Quarterbacks take many hits throughout their career, and Manning had started 222 consecutive games before being benched last season, only trailing Brett Favre. When he retires, he will be in the top ten all-time in both passing yards and touchdowns.
He is one of only eleven quarterbacks to ever throw 300 or more touchdowns. He is one of only nine to ever throw 50,000 yards or more. Manning has had some great targets such as Victor Cruz and Odell Beckham Jr., and some mediocre ones such as Reuben Randle and Jake Ballard. The Giants have not been in the top ten in rushing yards per game in a season since 2010. Manning has had to carry the offense by himself, and the past few years suffered from a horrible offensive line.
Class of 20??
Eli Manning has had some good and some bad in his career. He has beaten the most successful head coach-quarterback duo, Bill Belichick and Tom Brady, twice in the Super Bowl, but has also thrown the league lead in interceptions. By no means is he an absolute first ballot, but a few years down the road don't be surprised to see Eli Manning wearing a gold jacket as one of the greatest players in NFL history.
Main Photo:
Embed from Getty Images