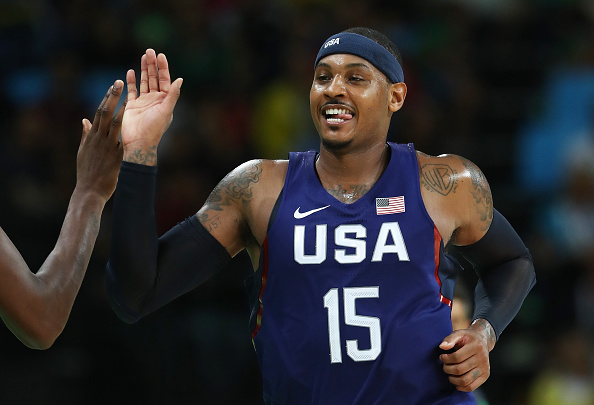 As reported by Shams Charania of Yahoo Sports, Carmelo Anthony has officially committed to sign with the Houston Rockets. The Rockets are coming off one of their best seasons in years. They finished first in the Western Conference, and made it to the Western Conference finals. Although, they lost in a seven game series to the defending champion Golden State Warriors.
The Rockets while able to retain Paul in free agency lost both Forwards Trevor Ariza, and Luc Mbah A Moute this summer. Both Ariza, and Mbah A Moute were cornerstones in the Rockets defense. Anthony is coming off his worst season to date statistically in his career. He averaged 16.2 points per game, 5.8 rebounds per game, and 1.3 assists per game.
A Look Back at the 2017 Season for Carmelo Anthony
It was a season where Anthony had hoped to get back to a winning culture. After waiving his no trade clause the Knicks sent Anthony to the Oklahoma City Thunder in exchange for Doug McDermott, and Enes Kanter just before the season started. Anthony was paired with All-Star Forward Paul George and reigning league MVP Russell Westbrook. The Thunder had a few moments even a stretch midway through the season where they looked good. Although, for most of Anthony's time with the organization he did not fit in well. Anthony was still the defensive liability he has been for most of his career. For the first time in his 15-year career, he was no longer a first option in scoring.
The Thunder finished fourth in the west but were bounced out in the first round in six games to the Utah Jazz. It was a series where Anthony was virtually unplayable down the stretch. Anthony voiced his displeasure in an exit meeting following the series loss. The Thunder wanted Anthony to become more of a spot up shooter. While Anthony was able to display that at times, he was still more of a ball stopper whenever he had the ball in his hands.
A Look Ahead to Carmelo's 2018 Season
The Rockets, who are more of a shooting team, will be asking Anthony to play a similar role. The hope will be that the friendship between Anthony and Chris Paul will be able to get Anthony to accept whatever role the team designates for him. The skepticism however is that Anthony has reiterated time and time again he will not accept a bench role. One has to wonder if at any point the Rockets approach Anthony with the idea how will he react. Another thing to look at is while guards James Harden and Chris Paul found a way to coexist on the court Harden himself never really actually adjusted his game. With Anthony voicing his displeasure with how things went in Oklahoma City it'll be interesting to see how the chemistry flows.
Anthony is also familiar with Rockets head coach Mike D'Antoni. D'Antoni coached Melo during his early years in New York. D'Antoni and Anthony did not leave off on the best of terms. Coach D'Antoni was let go by the Knicks in what was believed to be due to Anthony's displeasure.
Carmelo Anthony is nowhere near the player he used to be. If he can manage to put his ego aside and find a way to coexist with Harden and Paul on a consistent basis The Houston Rockets may find their way back to being a realistic threat to the Golden State Warriors.
Main Photo: