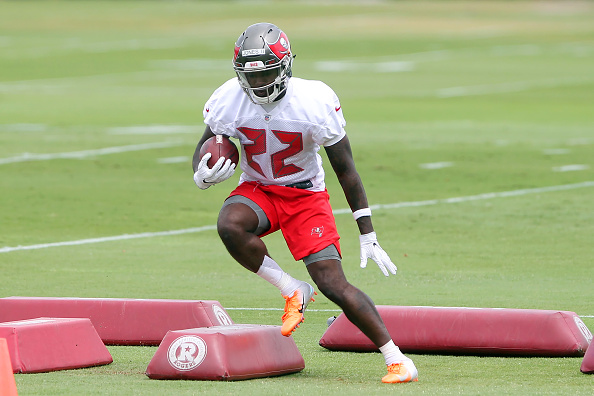 Most automatically think of Saquon Barkley as the best rookie back in the class, for good reason. Another small group of experts/fans might elevate Derrius Guice in this discussion. Others who potentially deserve consideration include Sony Michel, Royce Freeman and Nick Chubb. Ronald Jones of the Tampa Bay Buccaneers will stake claim as the NFL's best rookie running back of 2018!
Barkley is the most dynamic player in this class coming out of Penn State. He is a big play machine who's talent cannot be denied. However, it is certainly arguable that he is not the best pure running back. Question is, will the Giants be able to balance the offense enough to take advantage of his skill set? Let's examine Ronald Jones further to find out why he is the NFL's best rookie running back.
Ronald Jones is Option A
Jones finds himself in an ideal situation in Tampa. His competition is led by Peyton Barber, the third year back from Auburn. Barber has ran for 646 yards in his two-year career. That does not exactly strike the fear of God into opposing defenses, nor will it deter Jones from catapulting into the starting spot immediately. The Bucs also have Charles Sims and Jacquizz Rodgers, whose best days are, quite frankly, behind them. Therefore, Jones should be rolling out of the locker room as the starter when Tampa visits New Orleans to begin the regular season.
While likely that the Bucs use multiple backs from the get go in an effort to balance carries, it will become glaringly obvious rather quickly that Jones needs to be the main back. With QB Jameis Winston suspended and with Ryan Fitzpatrick starting the first three games of the season, the productivity of the running game will be crucial to the teams early success. That is why Tampa needs Jones sorely.
What His Productivity Means to Tampa
Tampa has failed to produce a running play of 50 plus yards in two years. Ronald Jones is the player who will resolve that issue. Head coach Dirk Koetter has stated that the explosive plays Jones produced at USC motivated the Bucs to draft him where they did. He reached the end zone 39 times as a runner in college, six of those coming on runs of 50 yards or greater. Problem solved.
With his tremendous speed of 4.48, he has the ability to explode for a massive play on any carry. His incredible combination of power, speed, burst and agility at 5′ 11″ and 207 pounds is flat out special. He possesses the natural ability to break tackles with relative ease, then accelerate, leaving the defender in his dust on the way to the promised land. He averaged 6.1 yards per carry in college, which is a clear indication of what he brings to the table. Additionally, he became stronger as his career at USC progressed. Essentially, he is a home run waiting to happen, which accentuates the fact that he is the NFL's best rookie running back.
http://www.cfbstats.com/2017/player/657/1072762/index.html
Upon Further Examination
What are his weaknesses? He does not have many. A couple of aspects of his game that he will be challenged to improve upon are pass protection as well as being a receiver out of the backfield. He undoubtedly is capable of the latter considering his athleticism and great hands. Also, USC did not require him to participate as a receiver often. With the bulk he has added to his frame, plus NFL coaching, he will gradually improve in pass protection. Occasionally, he will out rush himself a bit, meaning that he accelerates too quickly, instead of letting the play develop. Jones, without a doubt, has the work ethic to alleviate any potential concerns expeditiously.
Finality
Saquon Barkley will be great, no question. However, not only will Ronald Jones vault himself into offensive rookie of the year consideration, he will earn the title of NFL's best rookie running back. In addition to that assertion, when we look back in 15 years, we will debate who had the best career between Barkley and Jones. Do not be surprised when Ronald Jones becomes the NFL's best rookie running back in the 2018!
Main Photo: