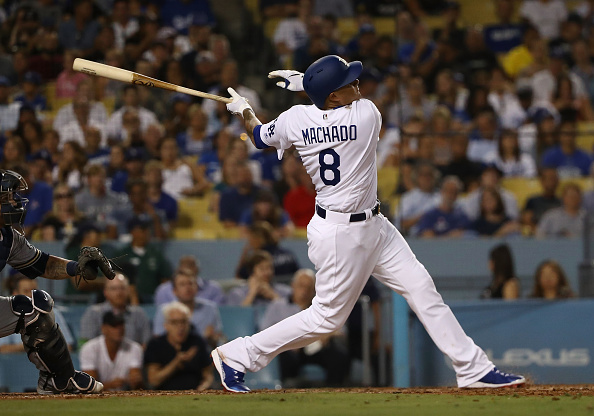 What a last few days of the MLB trade deadline. Time to catch our breath and summarize what occurred…
A flurry of moves is finalized, leaving a whole lot of player movement to digest across the Major Leagues. Powerhouses like the Los Angeles Dodgers and the New York Yankees added significant pieces in Manny Machado and Zach Britton. The Milwaukee Brewers tried to bolster their playoff odds by acquiring powerful infielders Mike Moustakas and Jonathan Schoop, while the upstart Pittsburgh Pirates surprised many by acquiring Tampa Bay Rays ace Chris Archer. And that's really just the start of a long list of notable names who will be wearing new uniforms over the season's final two months. The Baltimore Orioles hit the Fire Sale button hard.
Before baseball dives into pennant races and the homestretch of the regular season, here's a rundown of all the major trades completed since the Dodgers' deal for Machado on July 18 that set the dominoes in motion:
The Wild World of the MLB Trade Deadline
July 31: Pirates acquire Chris Archer from Rays
Pittsburgh made one of Tuesday's biggest splashes when it dealt significant pieces in reliever Tyler Glasnow and outfielder Austin Meadows to Tampa Bay for the Rays' ace. Archer has pitched well leading up to the Deadline, recording a 2.70 ERA over his last eight starts. The Pirates made a statement that they intend to keep fighting for a postseason spot, having entered Tuesday seven games back in the National League Central and 3 1/2 games back of the second NL Wild Card position. Archer is also signed to an affordable contract that keeps him under team control through 2021.
July 31: Brewers acquire Jonathan Schoop; Orioles acquire Jonathan Villar
Milwaukee continued loading up for a postseason bid by adding Schoop to play second base, though its infield becomes even more crowded with the newly-acquired Moustakas at third base and Travis Shaw at second. Schoop got off to a slow start but has carried a hot bat lately, batting .360 in July and compiling a five-game homer streak last week. Milwaukee hopes the adrenaline of a pennant race will keep Schoop's hot streak going. Villar currently resides on DL with a thumb sprain, but he should return soon in his new uniform.
Baltimore continued a busy day as it sent off another veteran piece, but this deal nets the Orioles a veteran infielder in Villar alongside Minor League right-hander Luis Ortiz, the Brewers' seventh-ranked prospect per MLB Pipeline.
Atlanta acquired a starter for both the stretch run and the future in Gausman, who has two more years of team control before he hits free agency. The right-hander's numbers (4.43 ERA) could improve outside of the cutthroat AL East; he's recorded a 3.13 ERA in 12 starts against non-division rivals this season. The submarine reliever O'Day is out for the remainder of the season as he recovers from surgery on his left hamstring. Gausman and O'Day join another former Baltimore pitcher, Brad Brach, as the newest members of the Braves.
July 31: Dodgers acquire Brian Dozier from Twins and John Axford from Blue Jays
Los Angeles ultimately decided against the Twins' asking price for Dozier two winters ago, choosing to trade for Logan Forsythe instead. But the Dodgers came back around to acquire Minnesota's slugging second baseman Tuesday in a package that, ironically, sent Forsythe to Minneapolis. Dozier's bat has been sluggish through most of this season, but the Dodgers hope a change of scenery can wake up his power as he provides depth for their infield. Axford adds another right-handed arm to Los Angeles' bullpen after posting a 4.41 ERA over 51 innings with Toronto.
July 31: Cubs acquire Brandon Kintzler from Nationals
Washington kept superstar Bryce Harper in the fold but instead decided to sending an accomplished reliever in Kintzler to the NL rival Cubs for Minor League right-hander Jhon Romero. Kintzler owns a 3.59 ERA and a 1.24 WHIP over 42 2/3 innings in 2018.
July 31: Phillies acquire Wilson Ramos from Rays
Ramos was forced to miss the All-Star Game with a left hamstring strain that still has him sidelined on the disabled list, but there's no question he can bring some needed pop to the Phillies' lineup if he gets back to full health. Philadelphia already possesses one of the most gifted defensive catchers in Jorge Alfaro, and so this trade makes the club even more dynamic behind the plate.
July 31: D-backs acquire Brad Ziegler from Marlins; Jake Diekman from Rangers
Seven years after Arizona acquired Ziegler the first time, the submariner is coming back to the desert for a stretch-run encore. Ziegler was one of the most frequently mentioned names leading up to Tuesday's Deadline, having compiled a 0.93 ERA over 29 innings with Miami after the calendar flipped to June. Ziegler currently leads MLB pitchers with a 73.9 percent ground ball rate, per Statcast™.
Main Photo:
Embed from Getty Images