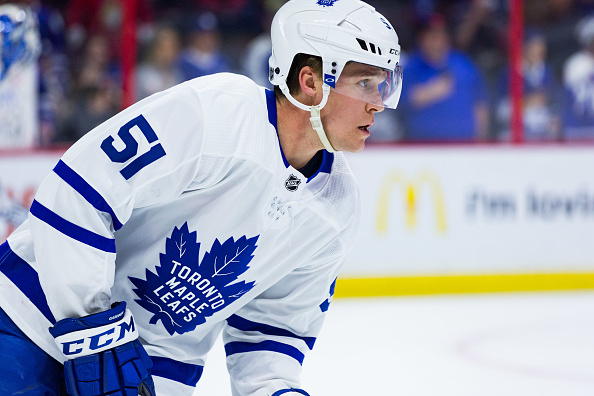 The Toronto Maple Leafs once again came up short to finish the 2018 season. Toronto was booted in the first round of the playoffs for the second year in a row, falling to the heavily favoured Boston Bruins in seven games. Still young, the Leafs kept up a great pace in the series and with another year of playoff experience under their belts, could be poised to make a run for the cup in 2019.
Despite Vegas bookies having Toronto as the team with the best odds to win the Stanley Cup, the Leafs could still use multiple improvements in game planning and roster upgrades. It's easy to pick out the lack of defence or scapegoat certain players but the concerns for Toronto aren't completely black and white. The core is young and Head Coach Mike Babcock will continue to trust what he has put together over the past three years.
These are four ways the Leafs could improve going into the 2018-2019 season.
4 Potential Toronto Maple Leafs Moves Going into 2019
The Leafs have acquired a lot of key players over the past two offseasons but are still looking for a top pairing defenseman. That kind of commodity is hard to come by but Tanev could be a perfect fit for the Leafs. Tanev is not much of a scorer but he is a right-handed shot and his stronger traits are exactly what the Leafs could use aside Morgan Rielly. Rielly will be a top pairing defenseman for Toronto over the next couple years and played alongside Tanev during the 2016 IIHF World Championship in which Canada took home Gold. Tanev put up 11 points in 42 games in 2018 — missing some time due to a couple freak injuries.
Like John Tavares, Tanev grew up in Toronto and would most likely not object to coming back to his boyhood city as well as to a contender. Ron Hainsey logged an average of 21:52 minutes of ice time a game and is clearly losing steps as he gets older. If the Leafs acquire Tanev from the Cannucks, Babcock could push Hainsey down the depth chart to where Roman Polak had played the last two seasons. Tanev would then take a spot beside Rielly as the two could become one of the best two-way pairings in the NHL. With Tanev's ability to disrupt play and block shots along with Rielly's offensive upside, the unit would have very few weaknesses.
Kapanen has had an up and down time as a Leafs. Since being acquired from Pittsburgh, Kapanen's performance has been ok but has been hindered by the Leafs depth on the wings. Now in 2019 with the departure of James van Riemsdyk, Kapanen may finally get a shot at becoming a top-six forward. At worst he could slip onto the third line for a bit. Everyone saw Kapanen's feisty side on his incredible goal in game-seven of the Bruins series.
Kapanen is also showing that he is more than just a one-way player. He kills penalties and plays solid defence for a player that has put up nearly a point per game in his last two AHL seasons. That kind of two-way ability is something the Leafs could use out of a top-six/nine forward. Most of Toronto's best forwards are primarily offensive minded. Kapanen is still young at 22-years-old but if he fails to find his role as a member of the Leafs, he could be on his way out of Toronto very soon
Gardiner's legacy as a Leaf will always be one filled with inconsistencies. However, that does not mean that he has been useless to Toronto. Gardiner has developed as part of the Leafs young core and has become a very good offensive defenseman. He had his best season yet last year when he put up a career-best 52 points and finished the season eight amongst defenseman in assists. His scoring numbers have also been rising every season for the last four years.
Gardiner's kind of production is not easy to replace and is part of what makes Toronto such a potent offence. The Leafs were a scoring machine in 2017-18, finishing the year tied with the Penguins for the third most goals in the NHL and only trailing those same Penguins powerplay percentage. Though he didn't spend as much time on the top unit as past seasons, Gardiner is still a very good contributor to a very good powerplay that could get even better next season with the addition of Tavares. The offence has been what makes the Leafs so good since their rebuild began and getting rid of one of their best offensive weapons would be a mistake.
When Gauthier was selected by the Leafs 21st-overall back in 2013, he was touted as one of the safest picks in the draft. Little offensive upside but could expand into a good 4th-line role player. Now at 23 years old, the time may be coming for Gauthier to officially make the jump to the NHL level. Toronto lost both Tomas Plekanec and Tyler Bozak to free agency this July and are looking for a player that can play bottom-line minutes who specializes in his play off the puck.
Gauthier steps in at a whopping 6'5″ and though his offensive numbers are fairly low, could be a great player if he pans out in the NHL. Brian Boyle was always a popular comparison to Gauthier considering their size and defensive upside. Boyle was great for Toronto in 2017 despite only putting up three points in 21 games after being acquired from the Lightning in and Gauthier could bring similar shutdown ability. If Gauthier can get his faceoff numbers up a touch and continue to block shots, he could become an essential piece to the Leafs checking lines and penalty kill.
Image Credit:
Embed from Getty Images