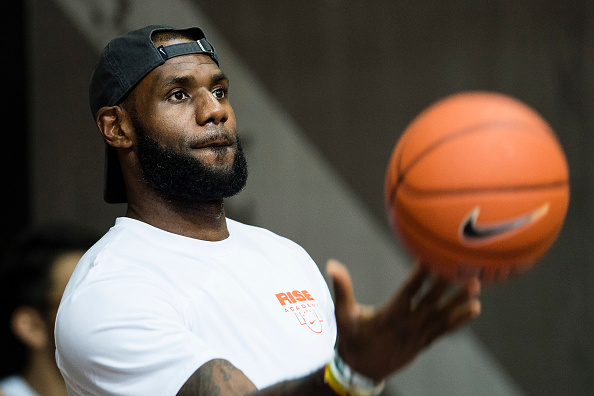 As we all know for a while, LeBron James is one of the most influential athletes of all time. The King is considered to be the best player on the planet. His basketball accomplishments speak for itself with the 14 All-Star appearances, four MVP's, three titles and Finals MVP's. What's so remarkable is that despite his success in his professional life, he's been under constant scrutiny since high school.
The kid from Akron, Ohio grew up in a single parent household without his father being in the picture. The area was poverty and crime stricken that people would fall victim to that and become a statistic. LeBron could've easily fallen into the trap but decided to take the other choice. With help from his coaches (father figures) and friends, he caught on to sports and education to keep him off the streets.
"I know exactly what these 240 kids are going through… I've been there. They're the reason why this school is here today."

–@KingJames on his @IPROMISESchool pic.twitter.com/cKJB7XHpD7

— NBA TV (@NBATV) July 30, 2018
One day, LeBron made a promise that when he became successful, he would give back to the community that molded the person he is today. He created his own charity called the LeBron James Family Foundation to provide education and activities to those in need. The program states if the students stay in school and graduate from high school, they will go to college for free.
I PROMISE School
As a result of his contributions, there was one more that has more meaning to him. He created his own public school called the I PROMISE School in his hometown Akron with the help of his foundation, Akron Public Schools and other donors.
This school is unconventional as the first day of school starts early. Also, the school year is longer than any other school. The learning will be fast and rigorous for the kids so that they can catch up to date. In addition to the education, the school will provide activities to keep them away from trouble. There will be a GED program and job placement training for parents who didn't get their high school diploma.
LeBron won't be there for the kids everyday because he's moved on to play for the Lakers. He said that he likes the challenge of leading a team to places where they haven't been been in a while. For example, the Heat went 47-35 the year before he got there and led them to two titles. The Cavs had the worst record in the league for four years when LeBron wasn't there. He went back and brought the team their only title in franchise history. LA will hope that he follows that trend of leading teams to a championship.
Hopefully, this could encourage more athletes to give back and help out their communities. Even through he plays for a storied Lakers franchise, Akron will always be home to him. Opening up a school is more important to him than his basketball accomplishments. He proved once again that he's more than an athlete and a great role model for kids. #StriveForGreatness
Main Photo: