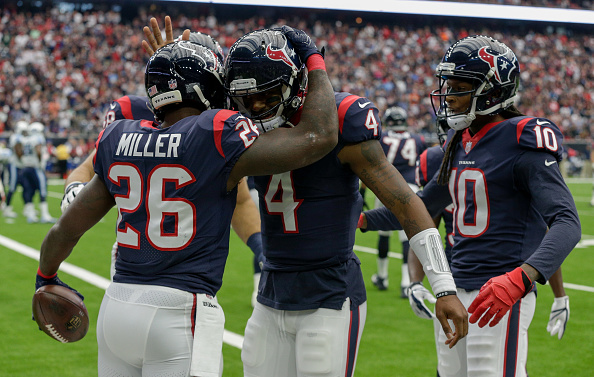 20 teams watched the NFL Playoffs on the couch this past season. This September all teams start 0-0 and some should be more confident in their chances of playing in January. All these teams improved their team and will be returning to the playoffs in 2018.
5 NFL Teams Returning to t4he Playoffs in 2018
San Fransisco 49ers (2017 Record: 6-10)
Now I know Jimmy Garoppolo only started in 5 games at QB for San Fransisco, but, he did look GREAT in his short time playing. The Niners have a very talented roster; a mix of youth and veteran leadership. Guys like Garoppolo, CB Richard Sherman, DE Solomon Thomas and OT Joe Staley along with strong management from Kyle Shanahan and John Lynch. They added new playmakers in RB Jerick McKinnon, WR Dante Pettis and 1st round pick OT Mike McGlinchey which should all help the offence run smoother and help Shanahan try to recreate the 2016 NFL first-ranked, Falcon's offence.
Though they are an inexperienced group they show massive potential and may benefit from a weak division. The only strong challenge is the Rams. This is definitely the one team on the list that I'd bet the least on making the playoffs but they definitely have a good shot if all goes well.
Washington Redskins (2017 Record: 7-9)
Coming off a mediocre season where they finished 3rd in the NFC East, Washington is gonna be hoping for things to go their way more often in 2018. Washington had a ton of unfortunate injuries all year long, stars like OT Trent Williams, RB Chris Thompson, and TE Jordan Reed along with 2017 1st round pick Jonathan Allen, all found themselves injured at one point in the season. They replaced QB Kirk Cousins with Alex Smith, who will be throwing to a receiving core of Jamison Crowder, Josh Doctson, Paul Richardson and hopefully a healthy Reed. Getting their top linemen back while adding rookie RB Derrius Guice and having Thompson back, should bolster both the pass and run game.
Washington could also potentially have an elite defence. Stars and young players like CB Josh Norman, 3x Pro Bowler DE Ryan Kerrigan, OLB Zach Brown and Alabama teammates Allen and DL Da'Ron Payne make for a tough front seven and deep secondary. While the roster bodes well for Washington in 2018, they must stay healthy and consistent.
Houston Texans (2017 Record: 4-12)
The main story here is obviously gonna be the return of Deshaun Watson, which it should be seeing as he set the league on fire in just 6 games in 2017. In the 6 games that Watson started Houston averaged 34.66 points per game, with Deandre Hopkins and other threats like Will Fuller V and RB Lamar Miller, this is set to be a high powered offence. However, don't forget about the rest of the team. Houston will be getting DEs J.J. Watt and Whitney Mercilus back which paired with Jadeveon Clowney should make for a deadly pass rush.
On top of this high flying offence, deadly pass rush and talented secondary, the Texans benefit from an easy schedule. Going off 2017 records the Texans have the easiest schedule in the 2018 season plus an AFC South division that's really between the Jaguars and Texans to claim.
Los Angeles Chargers (2017 Record: 9-7)
I know this has been said for a few years now but the Chargers have one of the most talented rosters in football. They have star power and depth at every single position. Seven time Pro Bowl veteran QB Philip Rivers, elite weapons in RB Melvin Gordon and WR Keenan Allen, terrifying pass rush with Joey Bosa and Melvin Ingram, and an elite secondary headed by Pro Bowl corner Casey Hayward. Mixed in with lots of young players like rookie S Derwin James, WR Mike Williams who could be his old dominant Clemson self if he can stay healthy and FS Desmond King who should help fill in for the injured Jason Verrett.
They're now in a mediocre division as the Broncos, Raiders and Chiefs seem like a shell of their old dominant selves. Over the last couple of years, the Chargers have had terrible health issues, they've already lost TE Hunter Henry and Verrett for the whole year, but if they can keep their talent on the field especially in that AFC West division, they have a real shot to make the playoffs and progressing further in their 2nd year in Los Angeles.
Baltimore Ravens (2017 Record: 9-7)
Tyler Boyd strolls into the end zone after running 49 yards nearly untouched to leave the Ravens out of the playoffs in the last minute of the last game of the season. One play left the Ravens out of the postseason last season, but that will surely change this year.
Baltimore still has one of the best defences in the NFL, ranked 6th in points allowed per game and led the league with 34 takeaways. The passing game seemed abysmal at times, posting only 189.4 yards per game, which ranked 4th worst in the NFL. It could potentially improve, as they've added wide receivers Willie Snead, John Brown, Michael Crabtree, and a couple rookie tight ends. The Ravens still have an experienced leader in Joe Flacco who threw 3,000 yards, but the main offensive focus will be their strong running game with newly found star RB Alex Collins and their strong offensive line. They will likely follow their usual ground and pound style and ride the defence. If the passing game gets too bad, Baltimore could bring in 1st round pick Lamar Jackson to be the starter.
I am 100% certain Baltimore will be in the postseason and maybe even take the Steelers reign as top-dog in the AFC North. The Steelers won't have LB Ryan Shazier and there's still a cloud over the Le'Veon Bell situation, and the Browns and Bengals will both be out of playoff contention for a couple seasons.
Image Credit:
Embed from Getty Images