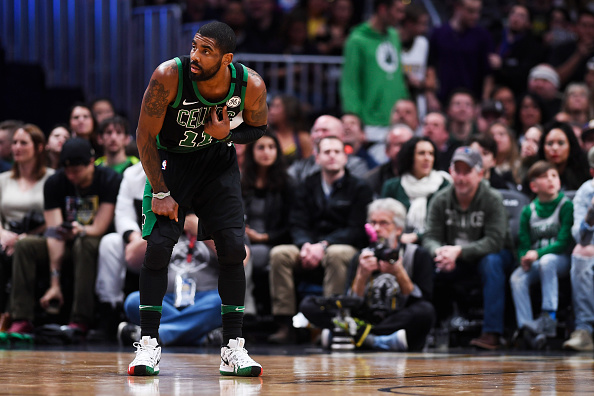 In 2019 Celtics superstar guard Kyrie Irving will hit free agency for the first time in his career.  Irving, 26, has been linked to the Knicks for over a year as he has expressed interest in playing in New York. Here are a few ways that Knicks GM Scott Perry can sway Kyrie to leave his team, despite him being on the consensus favorite to represent the Eastern Conference in the NBA Finals (And then probably lose to the Golden State Warriors)
Kyrie Irving And 2019 Free Agency
5: The Biggest Market
The Knicks were recently valued at being worth $3.6 billion.  The NEW YORK Knicks are the most valuable NBA franchise, with the LA Lakers being second at $3.3 billion. Is it the Knicks success that makes them the most valuable franchise? Of course not, it is the Knicks location. The Knicks and their roommate the New York Rangers of the NHL are owned by James L. Dolan, a close friend of President Donald Trump, and son of Charles Dolan, who founded Cablevision. Now due to NBA contract rules the Celtics can pay Kyrie more, but he will most certainly make more money in New York as he will receive many more endorsements playing in the city that never sleeps.  
4: Coach David Fizdale
The Knicks won the David Fizdale sweepstakes this offseason.  Fizdale, 44, was the coach that every team with a coaching vacancy wanted this offseason, but he went to NY. He recently visited Knicks star Kristaps Porzingis in Porzingis' hometown Liepaja, Latvia. Fizdale wanted to get to know Porzingis on a personal level.  Coach Fiz is a players coach, meaning he has his players backs first.
Fizdale, unlike past Knicks coach Jeff Hornacek, preaches the importance of defense. Fiz comes highly regarded from his former players LeBron James and Dwyane Wade.  Fizdale was an assistant of Erik Spoelstra when the Miami Heat won back to back titles with the King of Basketball Lebron James and the King of Miami Dwyane Wade at the helm. Fizdale also runs a very modern offense that Kyrie would fit perfectly in.
3: Knicks Bright Future
For the first time since Patrick Ewing, the Knicks rebuilt properly and have a shot at being a force to be reckoned with in 2-3 years. Rookies Kevin Knox and Mitchell Robinson both played like future stars in the NBA Summer League. Robinson, the 36th pick in the draft, broke the NBA Summer League record for most blocks per game, with a whopping 4BPG.  To add to on to this, he also averaged 13 points per game and 10.2 rebounds per game.
Kevin Knox, while dunking on everyone, also managed to show up and make the All Summer League 1st team. Knox averaged 21.3 points and 6.5 rebounds per game, and he is still only 18 years old.  Also the 8th pick in the 2017 draft, Frank Ntilikina shows promise as a defensive anchor and being only 20 years old, he has tons of time to polish off his game and get the confidence to become one of the best two-way players in the league. The Knicks have the promise to give Irving the same, if not a better supporting cast that the Celtics will give him.
2: At Forward 7'3" From Latvia… Number 6…
KRISTAPS PORZINGIS!  The Latvian big man who has the potential to be a taller, more athletic version of Dirk Nowitzki.  Porzingis has established himself as an NBA Star who is only getting better. It took him 10 games to score 300 points this season.  Kyrie has already said that he would love to play with a big like KP, and considering there is no other big like KP, looks like Irving will have to come to NY.  
KP might already be the best three-point shooting big man in the league unless you count Kevin Durant, who is a big person at 7'0 tall but does not play a big man position.  The pick and pop that Irving and KP could run will destroy opposing defenses. This season Porzingis averaged 22.7 points and 6.6 assists despite his season being cut short due to him tearing his left ACL after dunking on Giannis Antetokounmpo and landing wrong.  According to KP's surgeon, he should return to full form as there was no nerve damage in his knee.
1: Homecoming
Kristaps Porzingis is not the only thing that gives the Knicks leverage no other team can use.  Irving, though born in Australia as his dad was playing pro basketball, grew up in East Orange, NJ. Okay, so this is not exactly New York, but Kyrie would come to New York almost every day to get into street ball games.  Kyrie grew up rooting for the Knicks, and like everyone else, he would probably want to jump at his chance to play for his hometown team.  
Over a year ago, Kyrie requested a trade away from the Cleveland Cavaliers to go make his own legacy.  He reportedly told them he would prefer to go to the Spurs, Suns, Timberwolves or Knicks. Irving reportedly told his teammates in Cleveland that he "very badly" wants to play for the Knicks.  The Knicks tried to strike a deal for Irving, but the Cavs were adamant about receiving Porzingis in return, and the Knicks, for a good reason, declined. The Celtics are not where Kyrie wants to be, and with Boston turning into Jayson Tatum's team, Irving may not be happy with this and sign with the Knicks and attempt to bring them back to the glory days.
Main Photo: