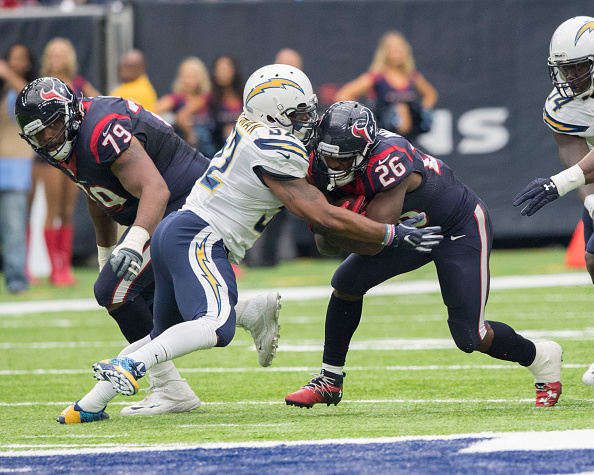 As the 2018 NFL season is just around the corner, fans across America anticipate how their team will do this season. Last season seven teams missed the playoffs after qualifying in 2016. With some playoff participants going under massive change such as the Buffalo Bills and Tennessee Titans, new teams are bound to make some noise. The Los Angeles Chargers, and Houston Texans are looking to return to the postseason and can likely achieve it in 2018.
Why the Chargers and Texans will return to the Playoffs
Los Angeles Chargers
After a respectable nine win season in their first year in Los Angeles, the Chargers head into 2018 as a rising team. Six players made the Pro Bowl last year, and a few more who could join them. Joey Bosa had 12.5 sacks and four forced fumbles as he develops into a future star. Melvin Ingram also had 10.5 sacks creating a deadly edge rusher duo. Casey Hayward has become a top corner, 22 passes defended which was second most in the NFL.
The Chargers also got a steal in Derwin James, many predicted he would be a top ten pick and he fell to the 16th pick. Phillip Rivers is still a top ten QB, 4500 yards and 28 TD's gives LA the passing production necessary in today's NFL. Their schedule is also to their benefit, playing the Bills, Browns, and Titans before their week eight bye. I would not be surprised to see this team go 11-5 and be a serious contender for the Super Bowl.
Houston Texans
When Deshaun Watson played in 2017, the Texans looked like a legit contender in the AFC. Along with losing stars in JJ Watt and Whitney Mercilus, the injury bug cost the Texans last season. Now with a healthy team, Houston has the talent and potential to become the 2018 Rams and dominate. Watson in his first seven games threw 19 TD's, the most in NFL history. He also became the first player in NFL history to pass for 400 yards with 4 TD and 50+ rush yards in a single game. With 1,699 passing yards, he was on pace for a 3800 yard season as a rookie. It also helps that DeAndre Hopkins is a top ten receiver who finished 2017 with over 1300 receiving yards and a career high 13 TD's.
JJ Watt is unstoppable when healthy, if he can stay on the field the Texans instantly have the most dominant defender in football. Jadaveon Clowney and Whitney Mercilus both showed potential to become a dominant front seven duo. Houston has a relatively easy schedule, playing the Colts and Titans twice and hosting the Browns, Giants, and traveling to the Jets. None of these teams are contenders, and these should be easy wins for a up and coming Houston team.
Return to glory
The Texans and Chargers both look to bounce back and return to the playoffs. Houston last played postseason football in 2016, the Chargers last in 2013 still in San Diego. Both teams have the talent, potential, and schedule to surprise and threaten this season. They likely will not win the Super Bowl this season, but could definitely contend and compete for a trophy in the next few seasons.
Main Photo: