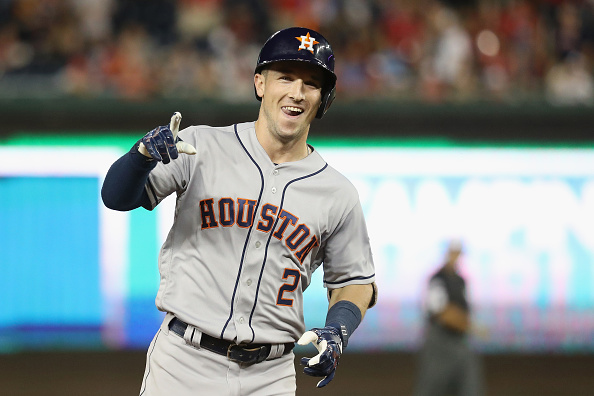 Astros 3B Alex Bregman has broken onto the scene the past two years. In his second full year in the league, he was named to his first career All Star game. Bregman put on a show, but fell up short in the Home Run Derby. A day later Bregman hit the go-ahead home run and took home the MVP in the All Star Game.
Through 100 games, the 24 year old is hitting .284 with 33 doubles, 21 home runs, and 68 RBI's. Bregman plays the game a certain way, and the more coverage he gets in this league, the more he will be loved. In case you still need to be convinced, let me tell you just why I love watching Alex Bregman play the game.
Demeanor on the Diamond
Even at just 24 years old, Alex Bregman carries himself in such a tremendous way. He walks around the clubhouse with a certain attitude. Bregman plays the game like he belongs in the "golden days" of baseball. He is not out there to make any friends, and plays the game with a chip on his shoulder.
Earlier this week, Bregman was also named as the Astros 2018 recipient of the Heart & Hustle award. The award is rewarded to players who "demonstrates a passion for the game of baseball and best embody the values, spirit and traditions of the game." Bregman is more than deserving of this award, as he plays each game like it's the last game he will ever play.
Hard Working Ball Player
I will tell you one thing, you will not find a more hard working ball player than Alex Bregman. Just ask his former LSU teammate Mason Katz. "You come across people with work ethic and you don't come across people like Alex. Work ethic is different than what Alex has. Alex has an obsession. He loves baseball so much and he obsesses over it," Katz told the Houston Chronicle.
Bregman is just a gritty, hard nosed player who eats, sleeps, and breathes baseball. He is always working on his craft off the field, and even in game he makes adjustments during at-bats. If you are his teammate you love him. However, if you are his opponent, Bregman is the type of player you can't stand!
High Praise from Pedro
On MLB Tonight, Pedro Martinez described Bregman as a "Mini Mike Trout," and the "infield version of Mike Trout." I 100% agree with this analysis, I think Bregman is much like Trout in both his playing ability and his personality.
Trout does not settle for being the best player in baseball today, he wants to be the best player in baseball of all-time. Alex Bregman most certainly feels this exact same way. Both guys also just enjoy playing the game of baseball, and they do it night in and night out with a smile on their face.
Shines in the Biggest Moments
One of the biggest assets that has stood out in the early points of Bregman's career is that he has shined in big pressure situations. For such a young guy, Bregman doesn't fold under pressure. Bregman has shown to just absolutely shine in some of the biggest moments, including the 2017 Astros World Series run.
"He never ceases to amaze me with how controlled he is in the big moments, whether it's, you know, any part of the game, any situation, any pitcher, any pressure situation," Astros manager A.J. Hinch told the Houston Chronicle about his young star.
Last Word
Despite sharing a clubhouse with two American League MVPs, two No. 1 overall draft picks and a World Series MVP, Bregman is quickly turning himself into a household name. In fact, he certainly should be throwing his name into 2018 American League Most Valuable Player talks.
Alex Bregman is just a different type of ballplayer. He makes adjustments on the fly, and approaches the game differently than anyone else. Bregman has fun playing the game of baseball, and is a joy to watch. Watch out MLB, Alex Bregman is only going to get better! And baseball fans, it's about time you jump on the Bregman bandwagon now!
Main Photo: