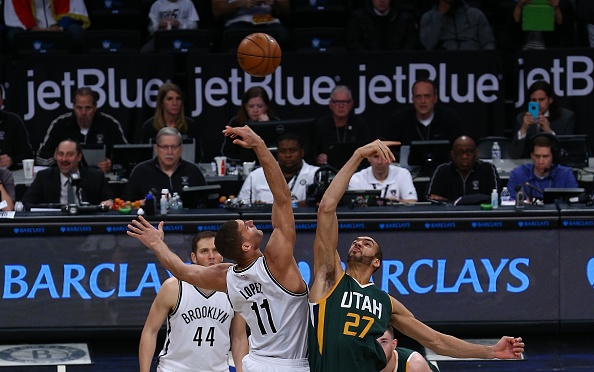 2018 NBA Teams on the Rise: Utah Jazz
The Utah Jazz are a slow and steady rising team in a packed Western Conference. Donovan Mitchell captured the hearts of Jazz fans and others alike last season. His rise gave Utah a significant building block after the departure of Gordon Hayward. Utah has a promising future with Donovan and Rudy Gobert but do not seem ready for contention just yet. Either another star player or developing their own young players might push them into true contention.
Donovan Mitchell
Donovan lit the NBA on fire last season with his performance as a rookie. He averaged 20.5   PTS, 3.7 TRB, and 3.7 AST. While shooting 44% from the field and 34% from three on 7 attempts. He also led Utah to the second round with a first round victory over the Oklahoma City Thunder. Donovan has great upside both on the offensive and defensive end. At just 21 years of age he looks to be a force in the league for years to come. An area where he can improve is his playmaking. He has a tendency to force ill advised shots but with some time and perhaps another scorer or playmaker on the court with him he won't have to shoulder a heavy offensive burden for his team.
Rudy Gobert
Rudy Gobert is arguably the best defensive centre in the league. He has improved his free throw shooting even though he shot slightly worse last season. Rudy's length and quickness are what make him so effective. Utah ranked as one of the best defensive teams the last few years and he's a big reason why. He gets himself into good position to either block or alter shots while being a intimidating presence in the middle.
Rudy's only issue is when teams like Houston or Golden State are able to use small lineups that can shoot. Thats when his presence is nullified to an extent. Another issue is he does not spread the floor in the slightest. If he's not going to dominate teams inside while they go small he's simply just not that effective anymore. If Rudy can become a dominant centre in the post or gains an outside shooting touch, Utah's chances of becoming a true contender inch ever so closer.
Quin Snyder
Utah's head coach Quin Snyder has been one of the best coaches in the NBA. He has transformed Utah into a strong defensive team around anchor Rudy Gobert. Utah's offence has also been reshaped with Quin Snyder at the helm. His offence is based off of passing and cutting while using either Donovoan Mitchell or Gordon Hayward (before he went to Boston) to break down the opposing defence. Joe Ingles has been a relevation for the team. His passing and three point shooting has allowed Utah to have an additional playmaker and floor spacer while he's on the floor.
Quin Snyder has steadily improved Utah over the course of his tenure. He makes great use of the players he has and plays to their strengths. Even though they took a step backwards last season in terms of wins, the foundation he has built will position Utah to be relevant for years to come.
Improvements
One of the main issues Utah suffers from is having another go-to scorer. Donovan Mitchell was tasked to carry a heavy burden for most of the season and especially in the playoffs. Other than him Utah does not have another dependable scorer on the roster. If they are able to obtain another star or scorer through internal development, trade, or free agency Utah will truly become a title contender. The development of both Donovan Mitchell and Rudy Gobert will be huge. With the league trending into a more offensive league, Utah needs an another go-to scorer to truly compete with the best of the league.
The Denver Nuggets are also a team on the rise, check out why here!
Main Photo: