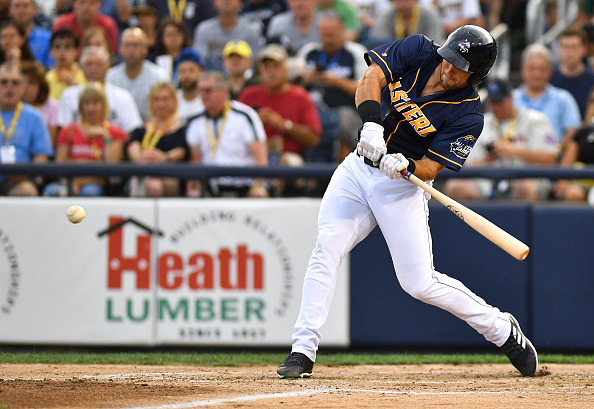 Yesterday it was announced that Mets OF prospect Tim Tebow will mis the remainder of the 2018 season due to a broken hamate bone in his wrist. Tebow was enjoying a tremendous season, as he really started to develop more in Double-A Binghamton. Lets take a look back at his rise this season.
2017 Stats
In his return to action on the diamond for the first time since high school, Tebow obviously showed some signs of rust. Although, he also showed some positives with his power as well. He appeared in 126 games between the A-ball Columbia Fireflies and the High-A St. Lucie Mets. Tebow hit .226/.309/.347 with 24 doubles, eight home runs, 52 RBI's, and 126 strikeouts.
2018 Spring Training
In the offseason, Tebow worked with several coaches, as well as Mets star OF Yoenis Cespedes to improve his swing. You can clearly tell he made some adjustments, as his swing looked quicker and he looked more free up at the plate. As a result, Tebow was given an invitation to participate in big league Spring Training with the Mets. However, he often looked overpowered at the plate. In 7 games he recorded just one hit, and struck out 11 times in 18 at-bats.
Opening Day 2018
Despite the poor Spring Training showing, Tebow received a promotion to begin the 2018 season. As a result, he was assigned to the Double-A Binghamton Rumble Ponies. Remember back in 2016, when in his first at-bat in instructional league Tebow hit a home run on the first pitch? Well, Fast forward to Opening Day 2018, and Tebow homered in his first at-bat with the Rumble Ponies. Talk about a flare for the dramatics!
Double-A Learning Curve
Despite the Opening Day home run, Double-A did not come easy to Tebow. There was a bit of an adjustment, as Timmy T hit just .234 over the first two months of the season. However, as he gained more Double-A experience he became more comfortable at the plate. He started making more and more contact, cutting down the high strikeout numbers. Tebow was able to his strikeout rate from 44.3 in April to 35.6.
All Star Game Honors
Tebow was one of the hottest players in the minors in the month of June. He batted .301/.338/.425 with seven extra-base hits and 11 RBIs in 24 games. He even kept it going, and before being getting hurt Tebow was hitting .391 in seven games in July. As a result of the red hot month, Tebow was named to the Double-A All Star team. In his first at-bat at the ASG, Tebow lined an opposite field double.
2018 Season
Tebow's 2018 season should definitely be considered a success. He started out slow in Binghamton, but ultimately made the adjustments he needed to at the plate. In 84 games, he raised his numbers to .273/.336/.399 with 14 doubles, 6 home runs, 36 RBI's, and 103 punch outs. If not for the injury, Tebow would've certainly been considered a September call-up to the Mets in a lost season. Overall, the 2018 season was certainly a step in the right direction for Tim Tebow.
Main Photo: