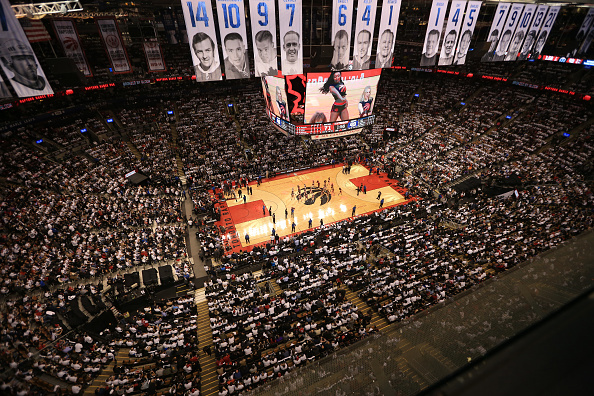 When Kawhi Leonard told the Spurs he wanted to be traded, the Raptors seemed like an unlikely scenario. Fast Forward to this week and Leonard in now a member of the Toronto Raptors. Instead of breaking down the trade, I like to look at how the depth charts and rotations will look once you add a superstar to the mix. I really liked this trade for Toronto and feel defensively that they improved greatly. I am not the biggest DeMar DeRozan fan, so I feel this squad is much improved and could be in line to finally get to the Finals. However, I think Toronto is deeper and with a legit superstar now added this is how I see the rotation.
Raptors Depth Chart Assessed
Starters
No matter what you think of Lowry, since he arrived in Toronto he has been a constant spark plug with the Raptors. Lowry is not a true point guard in the sense with his distributing but he meshed well with DeRozan and hopefully will with the arrival of Leonard. Lowry will get you 20 points and 6-7 assists per game on a night. He really needs to step his game up in the playoffs as he will need to help out greatly.
This I think was the most underrated aspect of this deal. The Spurs, I believe, were disappointed Green opted into his deal and thus included him into this trade. Green has proven to be a solid defender and very good three point shooter. Right now getting a good wing defender is a trend in the NBA and the Raptors acquired 2 in this deal. I think adding Green improved the perimeter game in Toronto which they greatly need. I cannot emphasize enough how much I love Green being in this deal.
The prize of the trade season heads north of the border. Leonard only played 9 games last season for San Antonio while battling a quad injury. If Leonard can come back to the top 4 or 5 player he was before the injury, this could be a big year in Toronto. Leonard is a solid defender, possibly best in game with ever improving offensive game. I like the fact that Toronto added 2 defensive wings to the roster. With Leonard and his ability to take over games for San Antonio, now coming to Toronto, I think the Raptors should have more playoff success.
Some thought maybe the Raptors would deal Ibaka who seems like a bad fit next to Valaciunas. Ibaka is a good defender and helps JV protect the rim. Ibaka is perfect for the new age NBA as he can switch onto guards and wings if needed to. He also does possess a stretch four game on offense and is deadly from the corner. Defensively this team covers almost every area.
Obviously Valanciunas is the weak link on the defensive side of the starting unit. What JV does give them is a solid post player who can score around the rim. He is not a great rebounder for his size, but can still get the job done. The Raptors like to go to him early to get him going and I expect that to remain the same with new coach Nick Nurse.
Bench
Point Guard Fred Van Vleet
Van Vleet came on strong during last season, getting himself a pretty nice contract to keep him in Toronto. Van Vleet was on the court a bunch in end of game scenarios and played a bunch of minutes helping stabilize that Raptors bench. As a bench player Van Vleet has the green light to score or pass and bring instant offense.
Shooting Guard CJ Miles
While Miles is not the defender Green is, he does bring another three point shooter off the bench. Miles is a solid spot up shooter and he thrives more as a bench shooter than a starter. If he can get his three point percentage back up in the 40 range, the Raptors bench should be able to put up points.
Small Forward/Power Forward OG Anunoby
A surprise starter throughout his rookie season, Anunoby showed he could contribute offensively as well as on defense. OG is a very tenacious defender who will move to the second unit with Leonard on board. OG could develop into an offensive presence with this second unit as well. I can also see times where they play Leonard and OG at the same time, going small with Anunoby playing the four. As a matter of fact I do believe that lineup will be used a bunch especially if JV or Ibaka gets into foul trouble.
Power Forward/Center Pascal Siakem
Another surprise contributor last season was Siakem. He earned his playing time with tough nose defense and grit. The Raptors are thin up front, therefore Siakem is likely going to see time at both the four and five. Small ball is a big trend in the NBA and Siakem projects as a solid small ball center with this second unit. I really like the versatility Siakem has showed and expect him to improve this season.
Summary
Obviously the Raptors gamble making this deal. Both Green and Leonard can walk away after the season. However I love the mindset of going for it this season. The East is wide open with literally just Boston and likely Philadelphia in the way. I think ultimately Toronto finishes second in the East, but anything can happen in the playoffs.
Main Image: Embed from Getty Images