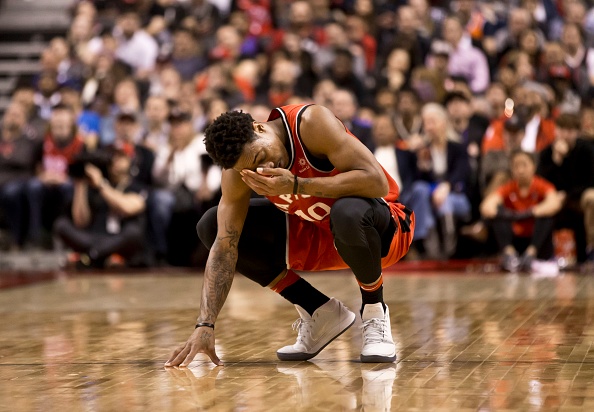 In case the news has somehow not yet reached you, the Toronto Raptors have sent star shooting guard DeMar DeRozan to the San Antonio Spurs for forward Kawhi Leonard. Trade talks to move the former defensive player of the year have been ongoing but nothing had happened up until the morning of July 18th, 2018. The Raptors seem to believe that they have the piece they need to compete in the East, and believe they can resign Kawhi at some point of this season.
Is it ludicrous? Maybe. The Raptors sent DeRozan along a young center in Jakob Poeltl and a protected first round pick to acquire Kawhi and guard Danny Green. On the surface, this trade really doesn't make too much sense.
Are the Toronto Raptors Falling Apart From Within?
Last season, Toronto went 59-23 during the regular season that won head coach Dwayne Casey a coach of the year award. However, their incredible season ended worse then a diver landing on his belly, being swept by the Cleveland Cavaliers in the second round of the playoffs. The Raptors fired Casey, much to the dismay of the roster.
They lied to DeRozan
This morning on Instagram, DeRozan made some major claims. "Be told one thing and then outcome another," he wrote. "You can't trust them. There ain't no loyalty in this game."
.@DeMar_DeRozan is not happy about the Raptors getting rid of him. pic.twitter.com/Si1ZhxDe2E

— Jeff Eisenband (@JeffEisenband) July 18, 2018
There is no questioning the loyalty of DeRozan. When he became a free agent in 2016, he refused to listen to other offers and worked out a deal with Toronto. Now, just two years later, the franchise has traded him away. You can't help but feel for DeRozan, the man who embraced Toronto, a place that is very difficult to land star players. He did all of this to help them and they moved on from him.
To make matters worse, DeRozan is saying that the front office told him he wasn't going to get traded. If his claims are true, something has gone wrong in Toronto.
Why this is such a shock
Toronto has been a very tight, well run organization ever since it came into the league. The fact that they would give up a loyal long term star player, arguably the best shooting guard in the league, for a star player that will probably be a one year rental deal is incredibly insane.
Let's take a second to summarize this. They are the best team in the East in the regular season. Get swept in the second round. Fire their head coach. Now trade away their most loyal player. Doesn't something sound fishy?
The Raptors lineup does look stacked. Kyle Lowry at the point. Green at the two and Kawhi at the three. Serge Ibaka at the power forward and Jonas Valanciunas at the center does look pretty tough. However, it all lands on whether Kawhi plays this season or not.
Will Kawhi play?
I'm really surprised that no one has asked this question yet. No one involved in this blockbuster trade really wanted to be involved. Kawhi wanted to land in Los Angeles, and he's landed on the polar opposite end of the continent. He didn't want to play in San Antonio last season so he held himself out. Will he hold out in Toronto?
Certainly don't put it past him. I think there is very a good chance that he doesn't play this upcoming season. He's cancerous to a locker room when he is not healthy.
The Last Word
Kudos to San Antonio for finding a way to get a return for Kawhi. It was a very bad situation that they had landed themselves into and they got, in my opinion, a max reward for him. As for Toronto, this is a very poor move on their part if Kawhi doesn't stick around. Good luck getting production out of Danny Green in 2019-20. But, who knows. Maybe they can convince him to play and stay.
Main Image: Embed from Getty Images