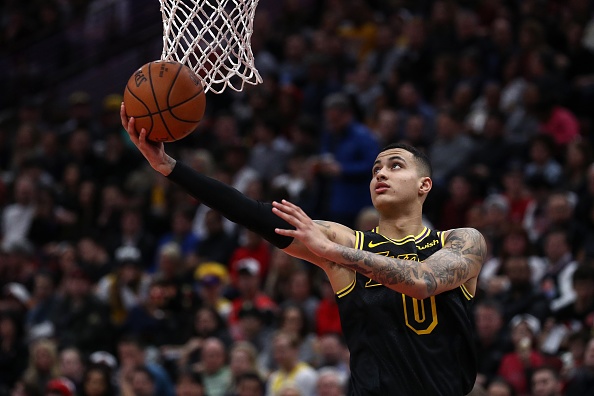 So it is no secret winning the LeBron James free agency sweepstakes makes you the winner in free agency. However many are not very happy about how the rest of the roster is being shaped for this upcoming season. Some very peculiar signings, like Lance Stephenson and Rajon Rondo, who are both neither good three point shooters, are not really good fits next to the King himself.
Los Angeles Lakers Depth Chart
General Manager Rob Pelinka talked to the media recently and said the goal was getting tough defensive players to put around LeBron. The problem is that neither Rondo or Stephenson ranked very high in Defensive efficiency. Pelinka also stated that outside LeBron the starters have not been decided. Well I am here to explain how the Lakers need to use their rotation. Do I think the Lakers are ready to challenge the Warriors? No! However I do believe they are a playoff team and legit shot at home court in the first round. Any team with LBJ is a likely playoff team no matter the Conference. So lets look how I would use the rotation.
Starters
I know he just had knee surgery, but he is supposed to be back by training camp. I know Ball has a lot of haters, but I really like his game. It is smooth, he controls tempo and usually makes good basketball decisions. Yes I understand his three point shot is goofy and didn't go in much his rookie season, but I know he has been in the gym working on his body and shot. I just love the pairing of Ball with James. I can see James being in the post more or cutting to the rim more and a passer like Ball to get him the ball will be extremely fun to watch. Plus with the attention LeBron will get, will free up Lonzo for open looks which I think he will knock down his Sophomore season.
Caldwell-Pope had a decent season last year in L.A., enough to at least bring him back into the fold. KCP is a good defender and average three point shooter. Both categories that are sure to improve with LBJ on the team. KCP can create his own shot, but is better in catch and shoot opportunities which he will see all day with Ball and James driving and dishing. The more I think about it, the more I think LBJ is exactly what KCP needs at this point in his career. James makes average players, even better and Caldwell-Pope is going to be the beneficiary of all the attention James gets. If LeBron can't get KCP better, nobody can.
Before LeBron decided to head to Los Angeles, Ingram was being touted as their future superstar. While I am not s high as most on Ingram, he is a definite starter for the Lakers. I hope ion his third season, he starts to step it up, showing everyone why he was picked number 2. Ingram has start potential that needs to be unlocked and who is the perfect player to unlock it That's right LeBron James. He averaged 16 points a game and is surely going to be the number 2 for the Lakers this season. Ingram is very long and hopefully can improve in other aspects of his game like rebounding and defense to really help take pressure off LBJ.
Power Forward LeBron James
This may surprise you, but James as played the four spot a lot in his career. In Miami he played it as well has last season in Cleveland. At this point in his career, keeping him close to the basket should be a really good thing. He had a magnificent year last season and going into his 16 season, he hopes to continue the trend. He doesn't look to be slowing down and may be the youth in L.A. can surprise him.
I think a rim protector who can rebound well will come in handy next to LeBron. McGee will likely not see a lot of minutes as I can see Kyle Kuzma get minutes here in a small ball lineup, but starting him gets the defense off to a good start and also sets the tone early. Plus McGee is kinda crazy and having three of those in the second unit is not good.
2nd Unit
I know Rondo would like to start, but he is going to get to play a bunch with LeBron regardless. Rondo on the second unit directing traffic and being a distributor will be awesome to watch. I think Rondo is most effective when he doesn't shoot and just dissects the defense up with his clever passing and creating ability for others to score. I am sure there will be a competition for the starting spot, but havi9ng Rondo off the bench is such a luxury not many teams will have.
I think Hart has done enough to prove himself to get minutes here. He has been tearing up the Summer League and just seems to be improving right in front of us. He averaged jut under 8 points a game his rookie season while shooting at 49%. I think he will really benefit from LeBron James and Rajon Rondo creating better looks for him. This season has a chance to be a big spring board for Hart.
Small Forward Lance Stephenson
Lance is a versatile enough to play anywhere from the 1 to the 3. I would put him on the second unit and bring him in to create havoc and D up or rather annoy the opposing 2 or 3. While he isn't a great defender, he is just a nuisance and will get under opponents skin, thus getting them frustrated. He is a below average three point shooter but for some reason makes them at crucial times. I would have him first off the bench to just be a pain for whoever he can bother.
Even though Kuzma would come off the bench, he is line for big minutes. Kuzma will play at the three to the five and I actually see them using him at center with mall ball lineups. Kuzma is likely the best three point shooter on the team and is going to get really good looks matched with Lebron and Lonzo or even with Rondo running the show. I imagine they use him as a five down the stretch of games and maximize the spacing he will create allowing the lanes to open up for KCP and LBJ. It took me a while to get aboard the Kuzma train, but I think he can be similar to how the Cavs used Kevin Love or Miami used Chris  James.
Center Mo Wagner
Even Though Wagner is a rookie can see him getting some minutes  in this rotation. Wagner is the perfect player for team consisting of LeBron James. He can spread the floor with his shooting and is full of energy and hustles, plus is a rebounder and will earn minutes just by the hustle he will show in practice.
Overview
Well Bron picked an interesting team to sign with, a team with James is still a playoff team. I think the Lakers will win 50 games next season and get a top 4 seed.
Main Image: Embed from Getty Images