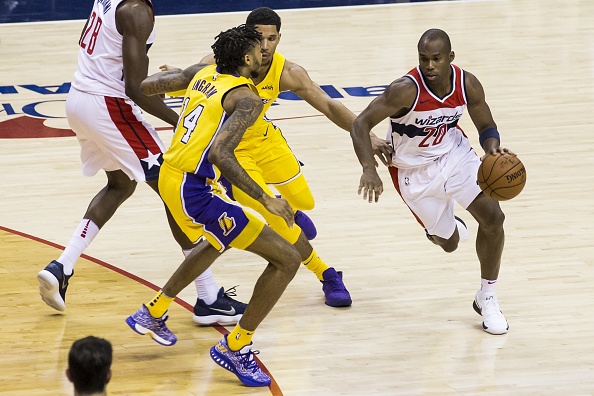 Brandon Ingram has the potential to be one of the best players in the NBA. The six foot nine swingman out of the University of Duke has been compared to Kevin Durant because of his long (7′ 3″) wingspan and thin body. He improved dramatically from his rookie year. His rookie year was a struggle for him as he averaged 9.4 points on 40.2 percent shooting, 4.0 rebounds and 2.1 assists per game.
He had to adapt to the league after being a one-and-done prospect. In his only Summer League game last year, he showed out by scoring 26 points. He dominated all the players who were on the court.
With that performance, he would carry that confidence into the next season. Ingram broke out and would have a career best averages of points (16.1), field goal shooting (47.0), three point percentage (39.0), rebounds (5.3) and assists (3.9). Also, he made improvement in his ball handling, playmaking and defense. His long arms makes it easier to shoot over the top of defenders and blocking shots.
He would have his best moments and games in his sophomore year. In a November 29 loss to the Golden State Warriors, he scored a career best 32 points. Above all, Ingram did it while going in a back and forth battle with Kevin Durant and Stephen Curry taking them to overtime. Then, he would make a game winning three pointer against the 76ers in Philadelphia with 0.8 seconds. Those performances showed what type of the player he can be.
He will have a new teammate with the decision by LeBron James to join the Lakers. It will give him the incentive to speed up his progression. He, Kyle Kuzma and Lonzo Ball will be able to thrive in crunch time situations in the playoffs because of LeBron's experience. James has given him an endorsement, saying that he can be a star next season.
While Ingram was working out in the summer, his ex-Duke teammate, Grayson Allen saw that he got bigger and stronger. With the extra weight, he will be able to finish in the lane better without getting pushed around. In conclusion, if Ingram continues to grow and develop, he'll be that other star that LeBron can depend on. He can turn into a two-way star in the likes of Paul George and Kawhi Leonard. With those possibilities, the sky is the limit for him.
Main Photo: