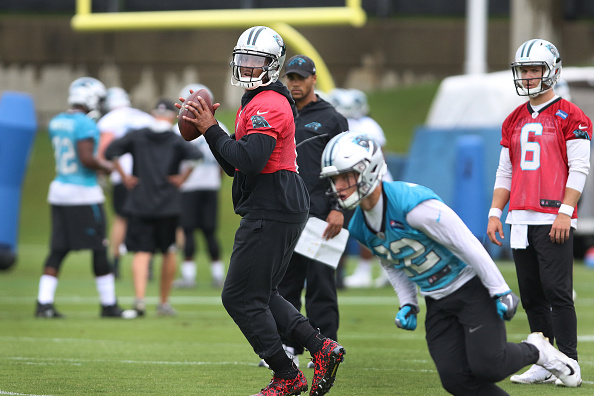 As many of us are anxiously awaiting the start of the 2018 football season, several LWOS writers including myself are going to be giving our predictions of the coming season. I will be covering the NFC South, I hope you enjoy and feel more than free to debate or agree in the comments. Below is the Carolina Panthers 2018 record prediction.
Carolina Panthers 2018 Record Prediction: 12-4
Carolina Panthers 2018 Record Prediction
Strengths
It is very hard to deny the arm strength of Cam Newton. After an amazing 15-1 season in 2015, 2016 was hardly memorable. 2017 was a much stronger performance at 11-5 but they lost to division rivals the New Orleans Saints. So one wonders which Newton will show up this season. When he is on point there is no denying his ability to throw the ball long or scramble out of the pocket when needed.
Julius Peppers is another big strength on the other side of the ball. Still powerful at the age of 38, he can move with the speed of a man ten years younger. Peppers has the ability to fire up the defense and push the score to add to the score with defensive touchdowns.
Weaknesses
The offensive line is a big blob on the Panthers game plan. As talented of quarterback as Cam Newton is, if he isn't given enough time, his productivity can suffer. This past off-season the Panthers have addressed this issue with some of their draft picks. However, the offensive line will need to stay healthy to keep Newton healthy.
Something that could be a weakness depending on the strength of those put in the position is the coaching changes that were made. A huge shuffle brought in talented and experienced coaches. One of which is new offensive line coach Travelle Wharton, who is a former player for the Panthers. There is always a bumpy road when changes happen. However, rarely are this many changes made so close to each other. So this could prove to be a huge challenge for the team
MVP
Thinking outside of the box a little, I will give MVP to defensive tackle Kawann Short. Defense is always important in football and having a strong powerhouse such as Short to lead the charge is a valuable asset.
Again having a future hall of fame quarterback in Cam Newton is certainly an easy road to pick as an MVP, but we will have to see if he needs adjustment time as well to all the coaching changes.
Ultimate Sleeper
Wide receiver D.J. Moore, one of this year's draft picks, has all the potential to be the next big thing and a great target for Newton. As with any rookie, we will see if he has the ability to play in the big leagues. If Moore can adjust to playing in a collegiate setting to a big-time stage, watch for his name in the weekly highlight reels.
Reason Behind Prediction
Even with the changes and uncertainty of some areas of this team, I think they should be able to beat last year's record even if it is only by one game. If they accomplish that, they need to keep the focus into and through the playoffs. Then they can get back to the Super Bowl and make up for the loss in 2015.
Main Photo:
Embed from Getty Images