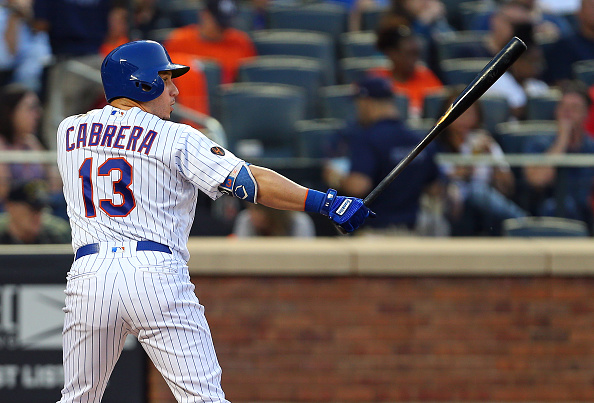 Asdrubal Cabrera is enjoying a career year in 2018. He has been healthy almost all season, thus far, for the first time in a long time. Despite a minor slump, Cabrera is hitting .280 with 18 doubles, 14 home runs, and 45 RBI's. Cabrera could be a nice veteran pickup as a starter or bench piece for a contender.
Boston Red Sox
The Red Sox currently have a bit of a hole at second. Dustin Pedroia is on the disabled list and doesn't seem to be returning anytime soon. Eduardo Nunez has been disappointing this year, and Brock Holt isn't an everyday play. Boston has expressed interest in picking up a right handed hitting bench piece. Cabrera, a rental, could fill that hole perfectly.
One option could be Red Sox #19 prospect 22 year old 2B Brett Netzer. He is a 2017 third round draft pick out of UNC Charlotte. Through a combined 119 games in A, A-, and A+ he hit .293 with 61 RBI's.
Milwaukee Brewers
Last season, the Mets and Brewers hooked up on a trade at the deadline. 2B Neil Walker was acquired to bring in a veteran presence. The Brewers again have had a bit of a hole at 2B with Jonathan Villar struggling. Cabrera could be another pickup that would be big for Milwaukee.
The Mets could look to add 23-year old C/1B Jacob Nottingham. The 6'2″ 230 lb catcher is a 2013 sixth round pick. He is known for his power, but his aggressiveness can be exploited at times. The Mets and Brewers certainly could match up in a trade.
Cleveland Indians
The Mets were going to try to trade for Indians 2B Jason Kipnis this offseason. However, they are lucky the deal fell through as Kipnis is having a disappointing 2018 season thus far. To fill that hole, the Indians may look towards the Mets and Asdrúbal Cabrera. Cabrera is a rental, and his offensive abilities could be an improvement for the Indians.
A player I personally would like to see the Mets go after is OF Quenton Holmes. Holmes was a 2017 first round pick, and a New York native. Catcher Logan Ice or lefty Ryan Merritt could also be options for the Mets. Merritt was impressive in nine appearances in 2016 and 2017, posting a 1.71 ERA.
Seattle Mariners
Though he never played a big league game with them, the Mariners first signed Asdrubal Cabrera as an amateur free agent in 2002. Seattle could look to re-acquire the veteran 2B this deadline. With Robinson Cano suspended and ineligible for the playoffs, Cabrera could fill his spot. Cabby brings in a solid offensive bat and a veteran presence. Dee Gordon could also shift back to centerfield.
The Mets might look to acquire a future third baseman in 3B Joe Rizzo. Rizzo is a 2016 second round draft pick out of Oakton High School in Virginia. He is just 20 years old, and still has a ways to develop. He has the potential to develop into an above average hitter with average power.
Main Photo: