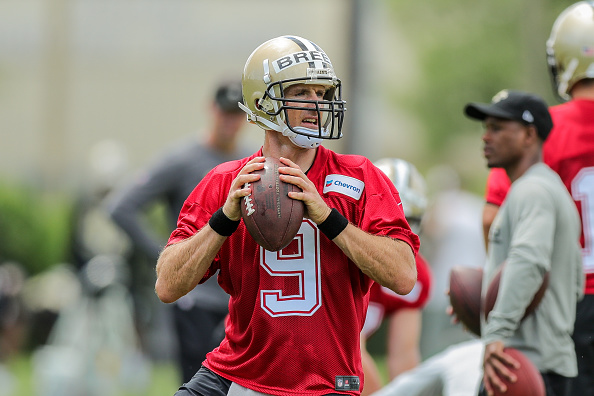 Even after their divisional playoff loss, the New Orleans Saints are still a strong powerful team and will simply outshine a number of opponents in 2018. The Cleveland Browns, and New York Giants should be the easiest wins, but hey, surprises happen, right Vikings fans? All jokes aside, I think they will get within one game of last year's performance and with luck do better in the playoffs.
New Orleans Saints 2018 record prediction: 10-6
New Orleans Saints 2018 Record Prediction
Strengths
Seasoned veteran Drew Brees leads the team into battle. Cool and comfortable on the field, he is a great example of what a strong leader can do. Combined with a defense that by every year is coming more and more into their own, an early lead on Drew's arm can be money in the bank. With several wide receivers at Drew's disposal and the legs of running back Mark Ingram Jr, they add danger and depth to the offensive weapons. The Saints have also had their ups and downs in their reputation, from being the feel-good team after recovery from Hurricane Katrina to the negativity of the bounty scandal. Now, however, they are up again and throughout everything, they have maintained a loyal and loud fan base, making home games extra difficult for visiting teams.
Weaknesses
Mental preparedness is big in any game, football is no exception. The Saints lost a surprising game to end their 2017 season to the Minnesota Vikings. A win that even surprised a lot of Vikings fans. Ending a season on such a note is hard for any team and now they have to put it behind them and start new. With head coach Sean Payton going into his sixth year, he has a job to do preparing the team for the time when Drew Brees will no longer be there.
Many of the most elite quarterbacks are in the sunset years of their careers. Father time will win the battle soon enough, although some of these guys are great at pulling it off. The Saints obviously still have faith in Brees with his two-year extension. However, with backup quarterback Chase Daniel leaving for Chicago leaves the door open for Taysom Hill. Though time will tell with what the team mentality is and if they can overcome the heartbreaking ending to last season.
MVP
As much as Drew Brees is mentioned and how he gives 110% effort, I am giving MVP to the defense. As I mentioned, each year they are becoming stronger and working more and more like a well-oiled machine. If they continue this tread, other teams, especially in their division, will have a hard time scoring. Once that is established, points on the board are gravy. Led by Cameron Jordan, the Saints defense is looking to be the area to beat.
Ultimate Sleeper
For my pick of a sleeper on this team, I am going with Tayson Hill. However, this sleeper may not pan out or even get play time this year. I think it brings up a valid problem that teams with elite quarterbacks run into. When you have a Drew Brees, Ben Roethlisberger, Aaron Rodgers or any other powerful playmakers, keeping a good backup is next to impossible. They have no play time and the best talent either get wasted or in the case of Jimmy Garoppolo, stay in a shadow long enough to be traded and show your skill and become a powerful force. So this prediction comes true depending on a roll of the dice.
Main Photo:
Embed from Getty Images