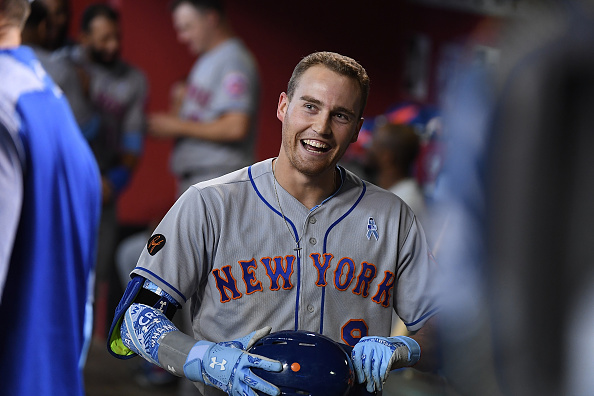 New York Mets center fielder Brandon Nimmo has been one of the many few bright spots this far for the 2018 Mets. Nimmo has broken onto the scene in a huge way. The outfielder truly loves playing the game of baseball, and enjoys every moment. He is slumping of late, but in 72 games he's hitting .264 with an on base percentage of .381, an OPS of .909, and 12 home runs. Brandon Nimmo brings so much more than his statistical value shows to this Mets team.
Lead off Man/OBP
Brandon Nimmo is the type of player that doesn't care if he walks or if he gets a hit. Nimmo goes up to the plate with one goal in mind. Brandon is going up there just trying to get on base in any way, as shown by his .381 OBP. Nimmo is even willing to take one for the team, as he leads the league with 12 HBP's.
He also has the ability to work the count, and make the pitcher throw him strikes. Nimmo has a tremendous knowledge and  awareness of the strike zone. He doesn't care is he increases his stats or not, Nimmo just wants to setup the guys behind him in the lineup. Therefore, Brandon Nimmo makes FOR the PERFECT leadoff hitter.
Natural Center Fielder
Brandon Nimmo now gives the Mets a legit center fielder. Michael Conforto now has the chance to play the more natural right or left. Nimmo has more speed and covers a ton more ground in the field.
His hustle and athleticism make tough plays look routine. Nimmo gets good jumps, and reads the ball well off the bat. Not taking anything away from Conforto, Nimmo is just a better fit in center.
Heart & Hustle
Brandon Nimmo plays the game the right way. No matter what, every time he is going 100% when he leaves that batters box. Nimmo flat out hustles on everything. Multiple times he has stretched singles into extra-base hits because of that hustle.
Brandon Nimmo is just a special type of ball player. You can tell that he truly loves the game of baseball because of the way he plays. He has an approach to the game that is very rare these days. No matter what he does, he does it with a big smile. Baseball isn't a job to Nimmo, it is an honor for him to play the game. Brandon Nimmo truly loves and enjoys playing the game of baseball.
Main Photo: