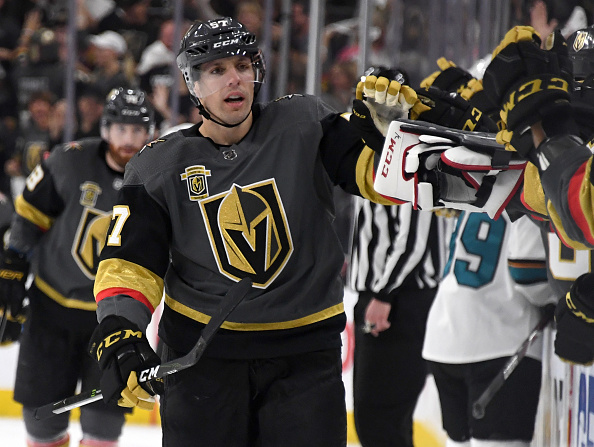 July 1st is the day in which unrestricted free agents in the NHL are finally able to put pen to paper and find new teams for next season. It's essentially Christmas for NHL GMs. However, it is widely believed that the first day of NHL free agency is also the day where team management makes the most league-wide mistakes. Sure there are attractive names that become essential in a playoff run and take a team from good to great, but there is a longer list of players that never earn the money they're handed. Just ask the Leafs about their decision to give David Clarkson a seven-year(s)/$36.67 million deal or the Bruins about giving Matt Beleskey a five-year(s)/$19 million deal.
The top of the 2018 UFA class is one of the most talented in recent history but the lower-tier will see their contracts inflate because of the money the better players will demand. Here is a list of five players set to break the bank early in free agency but most likely never live up to it.
4 NHL Free Agents Set To Be Overpaid in 2018
Coming off a solid season in which he scored a career-high 36 goals, Van Riemsdyk is headed for unrestricted free agency for the first time in his career. Ever since being drafted 2nd-overall in 2007, he has upped his play in almost every season in the NHL while playing beside great centremen the entire way. The Flyers handed Van Riemsdyk an incredibly workable contract in 2011 at six-year(s)/$25 million resulting in him having one of the most cost-efficient contracts of any top-line winger for the last few seasons. That will mean that the 29-year-old will be looking to cash in on the open market after overperforming his previous contract.
Van Riemsdyk is a capable first-line winger but at 29, only has a few more years in his prime and has most likely already reached his ceiling. That's not to say that an average of 55-65 points won't contribute to a good first-line but his production may drop significantly depending on the centre he plays with — it doesn't get much better than Auston Matthews. Considering T.J. Oshie received an eight-year deal with a cap hit of $5.75 million per season and Van Riemsdyk may be looking for money over term, he could command around $6.75 million a season and pick between the highest bidders. First-liners are hard to find in free agency and Van Riemsdyk is going to be paid like a superstar rather than a complimentary piece.
David Perron (LW) – 2017-18 Cap Hit: $3,750,000
After bouncing around the league for four years, Perron finally found a place where he fit in after being expansion drafted by Las Vegas. The rollercoaster career of Perron hit a high in 2018 when the former first-round selection netted career highs in both assists (50) and points (66). His 0.94 points per game was a welcome surprise like the rest of the Golden Knights team and could not have come at a better time. Whether Perron can consistently have seasons similar to his 2017-18 will be the question that GMs face when extending offers to Perron.
The contract that Perron will demand is fair considering how successful he was with Vegas but it is hard to think he'll live up to it. Producing another season like his last one considering the number of times his point totals have dropped and rose dramatically from season-to-season despite never missing serious time with an injury just seemed unlikely. This could maybe be chalked up to playing on five teams in five years but his production will most likely resemble that of a mid-tier second-liner rather than a nearly point-per-game producer.
Carter Hutton (G) – 2017-18 Cap Hit: $1,125,000
Can Hutton even have a season that measures up to his 2017-18 campaign as a backup? Probably not. Hutton may not break the bank by hitting the open market, but he is almost sure to get overpaid after such a good season as a number-two option. The journeyman pushed Jake Allen for starts down the stretch of the Blues playoff run largely based on his .931 SV% and league-best 2.09 GAA. Teams may not be expecting him to put up those kinds of numbers again but they will have to pay him for the potential he brings. It is also hard to find a good backup that can give a team 25+ starts in a season.
Hutton could make up to $3.5 million on a smaller three-year deal but this is a lot of commitment to a player that will most likely play less than half the regular season games. He would need to avoid injury as well. Goalies around their early to mid-30s are usually a mixed bag either continuing their form into the twilights of their careers or falling off hard. If Hutton has another season like his 2017-18 as a backup, the money doesn't seem so bad but if he hits a wall or is paid as a starter, his contract could potentially handcuff a team in a year or two.
Mike Green (D) –  2017-18 Cap Hit: $6,000,000
It feels like a lifetime ago since Green was one of the premier offensive defensemen in the NHL as a Washington Capital but he is still only 32 years old. He put in three decent years in Detroit and is now on the open market for the second time. Green's play over the last three years has not measured up to his peak in Washington but has been serviceable to a bottomfeeding team like the Red Wings. Three straight years of 30+ points with 10+ coming on the powerplay; not numbers that jump off the page but numbers any contender could use. In a free agent group so void of defenseman, Green has the most attractive numbers by far but teams need to be careful of the term they give the veteran.
What makes picking up Green such a buyer-beware option is that his play slipped towards the end of the season in 2018 and he is just descending out of his prime. Three year(s)/$18 million was fair for what Green gave the Red Wings but if he commands another six million dollars per year at his current age, a team could find themselves trying to move his salary if they are not right away contending for a cup. For comparison, Kevin Shattenkirk was given four year(s)/$26 million at 28 years-old last season. Shattenkirk is younger and better in both zones than Green. Green will be 33 years-old just a few days after next season kicks off and would fit best on a lower-tier team where he can remain a top pairing defenseman rather than attempt to replicate his offensive success on a top team's lower pairing.
Image Credit:
Embed from Getty Images