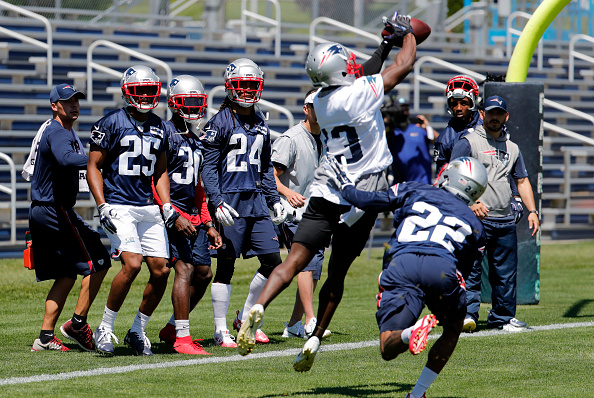 With minicamp over and training camp six weeks away week one of the NFL season will be here before we know it. A group of writers with the Last Word on Sports team will be previewing all 32 teams in the NFL by division. We will be highlighting some of the strengths and weaknesses of the team, as well as a final record prediction for the upcoming season. Now it is time to complete the AFC East.
New England Patriots: Prediction: 13-3
Strengths
The 2016 Super Bowl champs finished with a 13 -3 record, which made it 15 straight seasons where they won at least 10 games. In this century, they have dominated their division by winning 13 AFC East titles. In the postseason, they defeated the Titans and Jaguars on their way to their 10th Super Bowl appearance. However, they would lose to the Eagles in a exciting and high scoring game, 41-33.
In the regular season, they led the league in total offense with 394.2 yards per game. They finished second in total points behind the Rams with 458 (28.6 per game).
Tom Brady showed why he's the greatest of all time and defying father time. He had one of his best seasons of his career at age 40 as he won his third MVP award of his career. Brady completed 385 of 581 passes (66.3 percent) for an NFL leading 4,577 yards, 32 touchdown passes and eight interceptions. He said that he could see himself play until he's 45 years old.
The guy did it despite not having Julian Edelman for an entire season and a reported tension between him, Bill Belichick and Robert Kraft about handling the Jimmy Garopolo trade to the 49ers last October. It shows that he is the ultimate competititor and craving for more championships. Brady will have Edelman back after his four game PED suspension along with Chris Hogan, Malcolm Mitchell, James White, Rex Burkhead and the great Rob Gronkowski as his main weapons.
Weaknesses
The main issue that was shown in the Super Bowl was their bend don't break defense. Despite being fifth in points allowed (18.5), they've struggled versus the run and pass. They were 20th against the run (114.8 yards) and 30th against the pass (251.2) Their poor pass defense had to do with a lack of pass rushing in crucial times and giving up big plays.
It also didn't help that team captain Dont'a Hightower missed 11 games due to a knee and torn pectoral muscle. The versatile player can play in all linebacker positions, cover the middle of the defense and get after the quarterback. They also lost Malcolm Butler aka the SB 49 hero in free agency to the Titans. Butler had been mysteriously benched in last year's Super Bowl because of a coaches decision. They acquired Jason McCourty (twin brother of Devin McCourty), Danny Shelton and Adrian Clayborn to help shore up the defense.
In addition, defensive coordinator Matt Patricia left to become the Lions head coach.
MVP: Rob Gronkowski
The obvious answer would've been Tom Brady but I'm going with Rob Gronkowski. The six foot six, 265 pound tight end is still a matchup nightmare for opposing defenses. He's too big for defensive backs and too fast for linebackers. Gronk is a threat in the passing game, a tremendous run and pass blocker taking on the best pass rushers in the league.
Gronk led all tight ends with 1,084 receiving yards and had eight touchdowns. For his career, he has 76 touchdown catches, which is third most by a TE in NFL history. He will be Brady's go to target until Edelman gets back from his suspension and back to form coming off a lost season because of a torn ACL.
Sleeper: Sony Michel
Sony Michel is a name to look out for. The running back was selected with the 31st pick in the draft out of Georgia to add another dimension to the offense. In college, he split time with Nick Chubb and in their senior years, they combined to run for 2572 yards and 31 rushing touchdowns.
Michel is an aggressive runner that can run in between the tackles instead of bouncing to the outside. He is an excellent pass protector and a good receiver out of the backfield, which is important playing in Brady's offense. The rookie will compete with James White, Rex Burkhead, Mike Gillislee and newcomer Jeremy Hill for playing time.
If he performs well in training camp and preseason, he can become the team's starting RB. With his ability as a runner, receiver and pass protector, he will make Brady's life a lot easier.
Reason for record prediction
The reason I pick them to go 13-3 again because they're no question the team to beat in the AFC. They will dominate their division again because the Bills, Dolphins and Jets still have a long way to go to try to catch up to them. They have six key games (Week 1: Deshaun Watson and the Texans, Week 2: AFC runner up Jaguars, Week 6: Chiefs, Week 9: Aaron Rodgers and the Packers, Week 13: Kirk Cousins and the Vikings and Week 15: Ben Roethlisberger, Antonio Brown and the Steelers) that will be challenging for them but they should survive those games. If all things go their way, they will be hosting the Lombardi Trophy at the end of the year.
Main Image: Embed from Getty Images