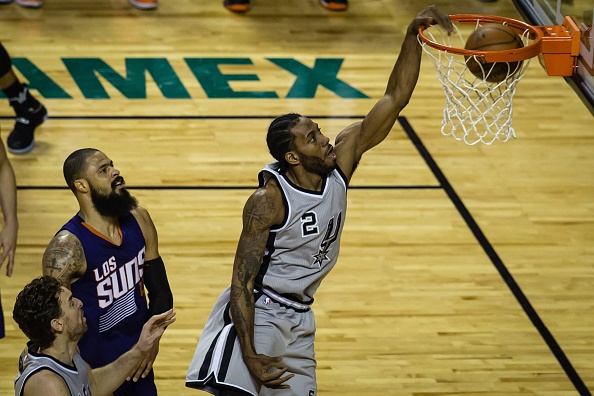 Kawhi Leonard has brought negative headlines and drama to the San Antonio Spurs for the first time since Gregg Popovich has been head coach. After a lackluster 2017-18 season that saw Kawhi sit the overwhelming majority of the season, the drama has hit an all-time high after the former All-Star player demanded a trade.
The Spurs are not an organization used to dealing with dysfunction, and this is a new situation that they find themselves in. Kawhi reportedly wants to play in Los Angeles for the Magic Johnson led Lakers. These reports also indicate that the Spurs front office has no intention of dealing their star player anywhere in the Western Conference.
In the meantime, superstar player LeBron James led his group of nobodies to the NBA Finals. They managed to squeeze out two game sevens against the Indiana Pacers and the Boston Celtics, and sweep the Toronto Raptors in a non-glorious fashion. They were met by the Golden State Warriors who swept them unceremoniously.
LeBron James is undoubtedly leaving the Cavaliers, his hometown team, to pursue his aspirations of winning the most championships he possibly can win. Reportedly, he too wants to play for the Lakers, and only has to decline his player option and declare his readiness to join the franchise to get there.
How Kawhi Leonard has become part of the LeBron equation
LeBron won't play alone
The roster in Los Angeles at the moment is atrocious. It lacks not only star power, but a real true scorer. Forward Julius Randle will be leaving to free agency, as the Lakers will free him to be an unrestricted free agent to open room for a second max contract. Forward Brandon Ingram has shown flashes of being a star, but lacks consistency. Lonzo Ball and Kyle Kuzma are both very young pieces and aren't quite ready to be stars.
LeBron is finished with wasting his precious years away waiting for the team around him to develop. He wants to win championships now. He doesn't care for young cores and deep rosters, he wants stars to carry the workload and himself to be at the forefront.
LeBron is hesitant to commit to Los Angeles because of the shape of the roster now. If he goes to LA, will anyone follow him? Will it be someone he wants to play with?
Kawhi Leonard could seal the deal
The Lakers front office has serious pressure placed upon themselves. Because of the lack of a true superstar, LeBron isn't willing to commit. Now they need a piece to get him to commit to playing, and Kawhi would be that piece.
However, to get Kawhi, they would have to convince the Spurs to trade that star player into the West. It would take a few draft picks, and probably a few young pieces to get it done. Like Ball, or Kuzma, or Ingram, or maybe even all three. The young core would be gone and the Lakers would have to work free agency to fill the roster.
Free Agency is waiting on LeBron
The Lakers can't just wait for free agency to roll around either. Free agency is on hold until LeBron makes his decision. LeBron is the first domino in the line waiting to fall. Unfortunately for the rest of the NBA, it will take his domino to set the rest off.
There are a few stars who are hitting free agency. Paul George, Chris Paul, Aaron Gordon and Demarcus Cousins are just a few on the list. No team wants to invest big money in a star free agent until they know for a fact that LeBron isn't coming to their team.
The Paul George factor
LeBron would love to play with Paul George. George has been a great teammate who doesn't try to overstep his boundaries, and that's exactly what LeBron wants to see. The Lakers were caught talking to George last June and were penalized by the NBA for tampering. George's name has been associated with the Lakers for the past couple of years now.
Only now, George has his options open. Now that he can (and will) be a free agent once he declines his player option, George will be able to pick his team and be the star anywhere he goes… Except for a LeBron led Lakers team.
How many times does George want to give up the spotlight to be sitting on a team that might not be strong enough or deep enough to beat Golden State? It's not only George who feels that the Lakers might not be strong enough, but it's LeBron too.
Last word
The Lakers have created a mess to begin this free agency period, and the star players know it. They can't figure out just quite what they want to do yet. Once LeBron makes his decision, everyone else will fall into place. That's what Kings do anyways. They put people into place.
Main Image:Embed from Getty Images