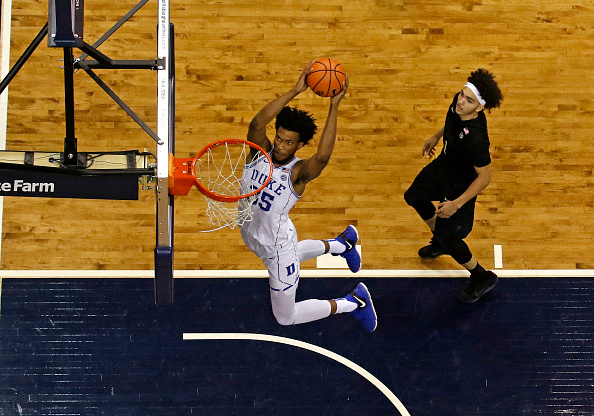 Marvin Bagley III, the 6'11 " 239 pound forward from Duke, is projected to go within the top three picks of this year's 2018 NBA Draft. Bagley is an accurate, left-handed shooter and an excellent offensive and defensive rebounder, which has earned him many comparisons to NBA greats like Chris Bosh. Bagley is a well-rounded player who is great on both ends of the court, which makes him a target for any NBA team. However, these are the teams that need this eccentric big man the most.
NBA Draft: Marvin Bagley potential fits
1. Memphis Grizzlies
The Grizzlies are in a depressing spot currently, as they have no All-Stars and no real stand-out players on their roster. If Bagley went to the Grizzlies, he would serve as a foundation towards their long, grueling rebuild to a playoff spot. The Grizzlies are one of the worst, if not the worst, teams in basketball right now, so an outstanding player like Bagley would surely make them a better team. Since the Grizzlies pick fourth in the draft, it is not impossible that Bagley somehow drops to the fourth pick and the Grizzlies can happily pick him, although it is unlikely.
2.  Sacramento Kings
The Kings are in a rebuilding stage right now, and because they are nowhere near making playoffs, they have been consistently been getting very high draft picks. Last year, the Kings drafted the lightning-quick point guard De'Aaron Fox, and they could draft the missing big man, Marvin Bagley. Bagley would pair well with Fox, since guard/big man combos are almost essential these days to make the playoffs. Also, the Kings have no All-Star level players, but that could change with the addition of Bagley to the roster.
3. Atlanta Hawks
The Hawks are building through the 2018 draft quite a bit, as they have three picks in the first round, and one of those picks is the third pick in the draft. If they spend the third pick on Bagley, they would add a great big man to the young core they already have. If Bagley gets to play with PG Dennis Schroder and PF John Collins, he would quickly gain experience from his teammates and become a better player. Being a forward, Marvin Bagley could learn from his teammate John Collins and the Hawks could have a promising, young big-three in the works if they can draft Bagley.
4. Dallas Mavericks
The Mavericks, like every other team on this list, are in a rebuilding phase, but with last year's addition of Dennis Smith Jr, they could have a young core if they draft Bagley. Bagley's skills on both ends of the floor could severely help the Mavs, as the Mavs have few eye-catching players on their roster. If drafted, Bagley could also learn from one of the greatest power forwards of all time, Dirk Nowitzki, which would make Bagley a better player without a doubt.
Last Word
While Marvin Bagley III is wanted on every NBA team based solely on his well-rounded play, he is needed most on teams that need to rebuild through the draft, and establish a young core for future playoff runs. Big men who can shoot, handle, drive, and rebound like Marvin Bagley III can are hard to come by, which is why he is a top player among the star-studded cast of the 2018 NBA Draft.
Main Image: Embed from Getty Images