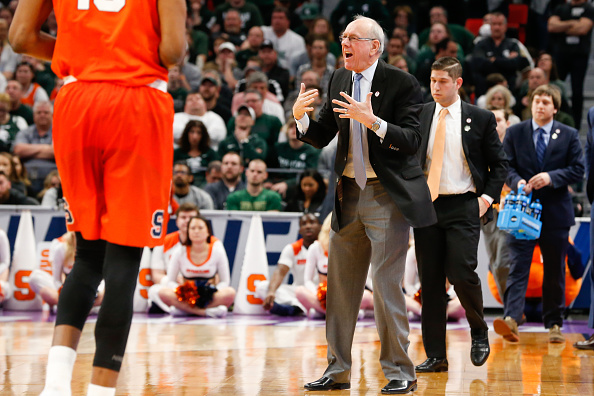 The Syracuse Orange had a remarkable season last year making it to the sweet sixteen before losing to the Duke Blue Devils. The orange our returning all 5 starters from last years team after Tyus Battle's decision to come back to school for his junior season. The Orange should be a top 25 preseason team and one of the top teams in college basketball. Syracuse has depth, size, length, athleticism, and heart. Here is a look at their roster and how each player will contribute next season.
Point Guard :
Frank Howard : Projections : 12.7 PPG, 7.3 APG, 4.6 RPG
Frank Howard is a 6'5" 205 lb guard for the Syracuse Orange. Howard was forced into the point guard position last season. Howard had an up and down season but given the fact that he's not naturally a point guard it was a learning expierence. Frank Howard did lead the ACC in steals last season as he lead the zone. Frank was also expected to play 40 minutes a game because of injuries and depth issues. Howard should look to build off of his improved season last year in his senior season. He will be the point guard again next season but with having a season under his belt and knowing the ins and outs should help him more this year.
Howard Washington Jr : Projections : 7.3 PPG, 3.4 APG, 1.8 RPG
Howard Washington is a 6'3" 180 lb point guard. Washington got some playing time early but struggled in his freshman campaign. After Geno Thorpe left the program the Orange had to play Washington to give Howard some rest. Washington had some nice flashes in his freshman year but also struggled at times. He ended up tearing his ACL in practice late in the season causing the depth of the Orange to shrink even more.
Washington is a true point guard who likes to get his teammates involved and has a capable jumpshot. Depending on the status of his injury and how he is when the season starts then he could be the backup point guard for the Orange. If he is not fully healthy then Syracuse could reshirt him to get another year of eligibility for Washington and have 3 years left and to make sure he comes back fully healthy.
Shooting Guard :
Tyus Battle : Projections : 22.4 PPG, 3.8 APG, 6.3 RPG
Tyus Battle is a 6'6" 205 lb guard for Syracuse, he was the leading scorer on Syracuse last season. Battle went to the NBA Combine and worked out for a couple of teams but didn't sign with an agent so he had the option to return to school. Battle decided to come back to Syracuse which was huge for the Orange. Having Battle back will give Syracuse a good chance to compete for a National Championship. Tyus will be the leader on this team and after last season these guys know what it takes to get there. Battle should be one of the top players in the ACC and should be in the running for ACC Player of the Year and NCAA Player of the year.
Jalen Carey : Projections : 14.7 PPG, 3.8 APG, 4.1 RPG
Jalen Carey is a 6'3" 170 lb combo guard out of New York City. Carey is an incoming freshman who has a very high ceiling. He is a natural shooting guard but with injuries on his high school team he was forced to learn the point guard position and he exceled. Carey is a combo gaurd who can find his teammates, as well as create for himself. He also plays exceptional defense. Carey is going to be a key piece for the Orange next season off the bench with his ability to change a game. Giving Howard and Battle some rest while not missing a beat with the team. Carey could be the sixth man of the year in the ACC and is one of the top freshman. Carey could impact the game like Dion Waiters did for Syracuse when he came off the bench in his Sophmore season.
Small Forwards :
Oshae Brissett : Projections : 17.5 PPG, 10.3 RPG, 4.2 APG
Oshae Brissett is a 6'8" 210 lb small forward for the Syracuse Orange. Brissett had an outstanding freshman season last year. Brissett was the second leading scorer on the Orange. Oshae was close to averaging a double double last season while being in the top 5 in the country in minutes played. Having Brissett and Battle back will have the Orange looking at another magical tournament run. Brissett is ready to take the next step in his sophmore season and build upon his outstanding freshman year. Brissett could be in the running for ACC Player of the Year along with Tyus Battle.
Elijah Hughes : Projections : 8.2 PPG, 4.6 RPG, 3.1 APG
Elijah Hughes is a 6'6" 215 lb forward for Syracuse who transferred into Syracuse last season. Hughes played his freshman season at East Carolina University. He has size, length, and athleticism which Boeheim loves in his guards and forwards. Hughes can play either guard position as well as the forward position in the zone. Hughes should get good minutes off the bench this season as the assistant coaches were raving about him. It will be interesting to see how Hughes fits into this rotation and what position he plays but he has a very bright future in Syracuse.
Buddy Boeheim : Projections : 9.2 PPG, 3.6 RPG, 2.1 APG
Buddy Boeheim is a 6'5" 170 guard/forward from Syracuse. He is the son of Hall of Fame head coach Jim Boeheim. It was obvious that Buddy was going to come to Syracuse and play for his dad. Buddy is more than just a walk-on at Syracuse with his improved played over the past 2 seasons and moving up the recruiting charts. Buddy is one of the top 3 point shooters in high school basketball. Thats one area where the Orange struggled last season. Buddy should have a chance to prove himself in his freshman season due to his familiarity with the zone and his ability to shoot the ball. If the Orange decide to redshirt Buddy for one season due to the depth at his position then he will have 4 years of eligibility left.
Power Forwards :
Marek Dolezaj : Projections : 8.7 PPG, 8.4 RPG, 6.3 APG
Marek Dolezaj is a 6'9" 180 lb forward from Syracuse, he was a late addition to Syracuse's recruiting class last season. Dolezaj didn't start the season for the Orange with Matthew Moyer as the starting PF. After getting his chance and showing hustle and energy and with Moyer struggling. Marek finally took over the starting role which ended up being a blessing in disguise for the Orange. Marek was the perfect fit for Syracuse with his rebounding, defense, passing, hustle, energy, and high basketball IQ. Dolezaj was the x-factor for the Orange last season and when he played great then the Orange were playing great. Dolezaj should be more involved offensively this season as he is working on his all around game with the assistant coaches.
Robert Braswell : Projections : 4.2 PPG, 4.1 RPG, 2.7 APG
Robert Braswell is a 6'9" 175 lb forward for Syracuse. He was a very late addition to this years recruiting class after Darius Bazleys shocking decision. The Orange needed depth at the forward position and Braswell was one of the top recruits left. Braswell said during his visit to the school that Syracuse felt like home to him and thats why he choose the Orange. Braswell comes from the background of internation basketball and he is almost a position less player. He can shoot the ball as well as pass, defend, and rebound highly out of his position. Braswell should be a nice role player for the Orange this season as he works on his all around game.
Centers :
Pascal Chukwu : Projections : 5.7 PPG, 11.2 RPG, 0.7 APG
Pascal Chukwu is a 7'2" 228 lb center for the Orange. He is the tallest player to ever play for Syracuse. Chukwu had an up and down season for the Orange last year in his first full seaosn. He is a dominant defensive player who can be a game changer on the defensive end. Chukwu got better as the season went along and stayed out of foul trouble which is key for him. Chukwu should improve for this upcoming season and be the defensive anchor for the Orange in the middle of the zone. Pascal has to work on finishing around the rim where he struggled at times. If Pascal can be the dominated defensive player that everyone knows he can be and just finish around the rim on alley oops and offensive rebounding then the Orange should be a dominate team.
Bourama Sidibe : Projections : 3.8 PPG, 4.6 RPG, 1.1 APG
Bourama Sidibe is a 6'10" 205 lb center for Syracuse. Jim Boeheim and the coaching staff raved about the potential of Sidibe. Bourama should flashes last season of being a dominate player. Against the Pittsburgh Panthers when Chukwu was in foul trouble, Sidibe stepped up with a huge double double carrying the Orange to a win. Sidibe is much furthur along offensively then Chukwu is which is why he may split minutes with Chukwu this season. If Bourama can put on some muscle and get his weight up then the Orange could have their starting center for the next few years with his high ceiling.
Main Photo: