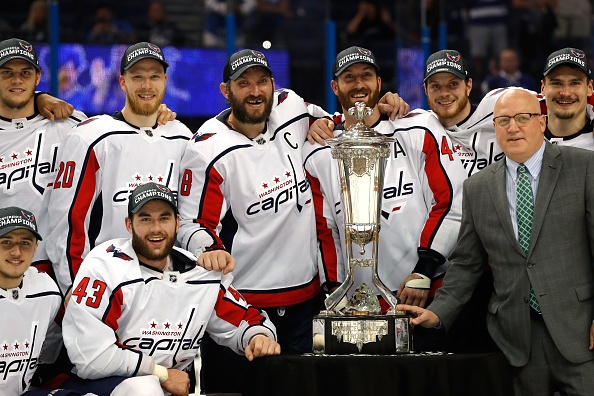 Last Wednesday night after a 4-0 victory in Tampa Bay, Alexander Ovechkin posed for a picture with the Prince of Wales trophy for the first time in his NHL career. He would not hoist the trophy over his head or kiss it, but simply stood almost directly in the middle of the frame directly behind the award in the team picture. The Capitals have finally made it to their first Stanley Cup Final in the Ovechkin era.
After the series shifted from a 2-0 lead for the Capitals to a 3-2 hole, (admit it) most spectators were thinking 'here we go again' for the team that over the past decade has made a habit of blowing winnable series. However, for the second time in the same postseason, the Caps were able to combat their demons and claw their way back against the Lightening like they did against the Blue Jackets.
The trip to the Stanley Cup Finals means a lot to the city of Washington and the entire Capitals organization but none more than Ovechkin. The man with a higher goal per game average than Wayne Gretzky has the greatest goal-scoring legacy of any player in his generation and is already a top-20 goal scorer all-time at the age of 32. He is now just four wins away from cementing his place as one of the greatest hockey players of all-time and has been an integral part of the Capitals impressive run to the Stanley Cup Finals.
Most importantly, he has one thing left to do.
Alex Ovechkin Needs to Win the 2018 Stanley Cup
The Capitals Exercised their Demons
For the entirety of Ovechkin's career, he and the rest of the Capitals have seemed snake bitten. Going into Wednesday night's game, Washington had the worst winning percentage in game-sevens of any NHL franchise at an awful .250 percent. With the win over the Lightning, the Capitals are now still 5-12 in game-sevens but if they are able to take home their first Cup in franchise history, that record will not matter until at least Ovechkin retires. Before this season, the Caps hadn't even been to a conference finals in the Ovechkin era.
It isn't just the fact that they are finally in a Cup Final, it is the way that they arrived. Their biggest series win was undoubtedly their victory over Pittsburgh but this was more of an overall team effort as opposed to just Ovechkin. Ovechkin was most effective when the Capitals came back from a 2-0 deficit first against Columbus and again from a 3-2 deficit against Tampa. After the Capitals went down 2-0 in round one, Ovechkin would put up multi-point games in three of their next four victories and later, score the game-winning goal against Tampa Bay to send the Capitals to the Stanley Cup Finals.
Now that Ovechkin finally has a realistic chance to capture a Stanley Cup, he has the chance to perhaps forever change his reputation as a player that doesn't show up when it matters.
A Bid for the Conn Smythe Trophy
Of all the awards given out on a yearly basis in the NHL, none would mean more to Ovechkin's legacy than a Conn Smythe Trophy. The Stanley Cup Finals MVP trophy has only been given out 52 times and has only been received more than once by six players. Even though Evgeny Kuznetsov passed him in points after their last playoff round, Ovechkin should still be a favourite to take home the Conn Smythe as playoff MVP if the Capitals were to win the Cup.
This is obviously Ovechkin's longest playoffs resulting in his highest stat totals during his career but it has also been his most impressive. In Ovechkin's 19 playoff games this season, he has amassed 12 goals, 10 assists, nine powerplay points, and leads the playoffs in shots on net. His scoring totals put him second in both goals and points. This is also his first time in six years with a point per game average over 1.00. He is hitting, shooting, scoring, and playmaking all at the right time of year. Ovechkin just looks more confident on the ice this time around in comparison to his past performances.
The list of previous Conn Smythe recipients is riddled with Hall-of-Famers. If Ovechkin truly wants to place himself in that top-25/top-10 player of all time conversation, he needs to prove he showed up when it matters. His regular season numbers speak for themselves but his playoff performances could separate him from the pack.
The List of Players That Have Came Up Short
The list of none Cup winners is obviously longer than those who have, but a harder list to join is one of the best players to never win a Cup. This list currently holds players like Marcel Dionne, Mats Sundin, and baring a miracle next season, Joe Thornton. All elite players that could never bring their teams over the hump when they needed it.
If Ovechkin does not seize his opportunity in 2018, it would be a wasted chance that could pray on him for the rest of his NHL career. Through 116 playoff games, he is close to a point per game average at 112 points, but never conquering the rigorous Stanley Cup Playoffs comes with a reputation of its own. Even it was largely based on team play that leads you to fall short, championships typically hold more weight on a legacy than points.
There is also a list of players that have only made it to the finals once. Over the last two decades, players like Thornton, Henrik Lundqvist, Jarome Iginla, Roberto Luongo, and fellow Russian sniper Pavel Bure have all made it to the Cup Finals once and then never returned. Ovechkin does not want to squander his first opportunity because he may not get a second. He needs to look no further than his own franchise who has only been to one Cup Final before this season in 44 years of existence.
Image Credit: