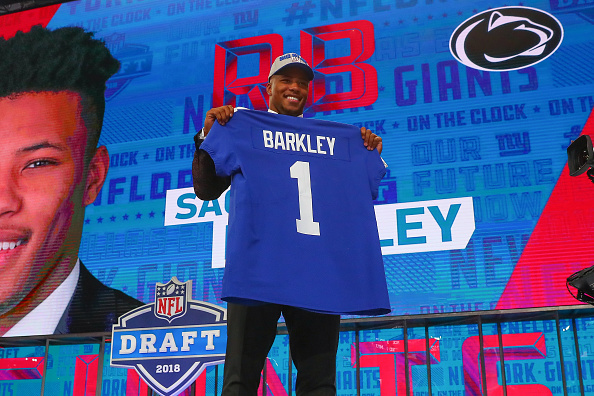 New coach Pat Shurmur and General Manager Dave Gettleman needed to address the many glaring needs of the Giants roster and here are the selections they chose to do so.
Grading The 2018 New York Giants Draft
Round 1 Pick 2 (2): Saquon Barkley (RB) – Penn State
Barkley was the best player in this year's draft class, and there was not much of a dispute about it. Many scouts viewed him as the best running back prospect they had seen since Adrian Peterson or LaDainian Tomlinson. Barkley has outstanding speed, agility and athleticism making it very difficult for defenders to bring him down in the open field. In addition to his great running abilities, he is an outstanding receiver and will provide a nice safety option for Eli Manning when necessary.
Barkley's addition adds another dimension to an extremely talented offence with weapons such as Odell Beckham Jr., Sterling Shepard and Evan Engram. One of the best things that a quarterback can have is a talented running back that he can rely on, which Barkley should become. Gettleman said he wanted a gold jacket type player with the No. 2 overall pick in the draft, and believes Barkley will become that calibre of a player.
Overall the Giants still have a need at quarterback with 37-year-old Manning, but Barkley's outstanding talent makes him a solid choice. It also means the Giants have their first franchise running back since the days of Tiki Barber.
Pick Grade: A-
Round 2 Pick 2 (34): Will Hernandez (OG) – UTEP
Gettleman likes to call the big guys on the offensive and defensive line in the trenches hog mollies and that's exactly what he got with this selection. Hernandez was the second best guard in this year's class behind Quenton Nelson, who many believe will be a perennial pro bowler in the NFL. Hernandez has outstanding strength benching 37 reps at the combine the most of any attending player and possesses great athleticism for his size.
Besides his ability to maul interior defensive linemen, Gettleman referenced one of the things he loved about Hernandez is his heart and how he always plays with pride. The UTEP Miners went 0-13 this past season and he played with just as much effort in the first game as he did in the last. This is something that a coach and general manager love to see, particularly from someone they are potentially going to draft. Barkley will be extremely happy with this selection because it is another significant improvement on a Giants offensive line that badly needed to be revamped.
Selecting Hernandez at No. 34 was a great pick. Anytime you can get a first-round talent in the second round of the draft that is an instant plus.
Pick Grade: A
Round 3 Pick 2 (66): Lorenzo Carter (OLB) – Georgia
Carter is extremely athletic and showcased his ability to play his best in the biggest moments. He blocked the potential game-tying field goal in the Rose Bowl against Oklahoma. Although he only compiled 14 sacks during his four years at Georgia, Carter was still incredibly disruptive consistently putting pressure on the quarterback.
The Giants are transitioning from a 4-3 into a 3-4 defence and it looks as though Carter will slide alongside Olivier Vernon to play a similar OLB role similar to the one he played in college. In the NFL, he is going to need to learn how to convert these pressures into sacks because there is nothing more important for a defence than sacking the quarterback. He can also be a valuable addition on special teams, particularly on field goals where he can use his great length and athleticism to block some kicks.
Carter is still a little bit raw when it comes to rushing the passer, but his athleticism and potential make him a solid selection at No. 66 overall.
Pick Grade: B+
Round 3 Pick 5 (69): B.J Hill (DT) – NC State
The Giants have a very talented duo of defensive tackles in Damon Harrison who is outstanding at stopping the run alongside Dalvin Tomlinson who showed some promise in his first season. You can never have too much depth on the defensive line because you need those players to be refreshed at all times stopping the run and rushing the passer. Hill did not get that much notoriety at NC State because he was playing alongside the No. 5 overall pick in the draft Bradley Chubb, but Hill is still extremely talented.
For his size, Hill has great athleticism and early on will be used a depth player, providing occasional breathers for Harrison and Tomlinson when necessary. The Giants are trying to build a similar imprint to their division rivals and defending Super Bowl Champion Philadelphia Eagles with a very strong and deep defensive line.
At No. 69 overall Hill is a solid value selection, but the Giants had more pressing needs they could have addressed such as cornerback and wide receiver.
Pick Grade: B
Round 4 Pick 8 (108): Kyle Lauletta (QB) – Richmond
In the most intriguing selection of all five, the Giants selected Lauletta out of Richmond who shined bright at the Senior Bowl. Lauletta won the Senior Bowl MVP, just like Davis Webb did two years prior when the Giants selected him in the third round. The Giants were not sold enough on the top quarterbacks in this year's class so they decided to wait until the fourth round and draft their guy.
Lauletta is an extremely accurate passer out of the pocket but his main weakness is considered arm strength. Ironically, Webb is the opposite of Lauletta and his biggest strength is his arm. Both him and Webb need some more time to develop, which makes the race for the backup job and Eli's potential successor very interesting. I had been advocating for the Giants to select a quarterback and Lauletta is a great fit who will benefit from working with QB guru Coach Shurmur.
Lauletta is a solid selection at this point in the draft who has great potential, but once again the Giants could have used this selection on more pressing needs.
Pick Grade: B+
Round 5 Pick 2 (139): R.J McIntosh (DT) – Miami
With the selection of McIntosh, Giants management is once again trying to bolster the depth of the defensive line. In James Bettcher's scheme, the new defensive coordinator is looking for players who can bring versatility. Similar to Hill, McIntosh will try to disrupt the quarterback and limit the opposing offences run games as much as possible.
Building depth at the defensive tackle position is extremely important in the NFC East, when you have to face some extremely talented running backs twice a year including Ezekiel Elliott, Jay Ajayi and Derrius Guice. Harrison and Tomlinson cannot both play all four downs, therefore selecting McIntosh further bolsters the depth of the defensive line.
McIntosh is a decent value selection at this spot, but after already drafting a DT this pick could have used to address other needs.
Pick Grade: B
Overall Evaluation
The Giants were able to successfully fill some of their major needs by selecting a running back, offensive linemen and two defensive linemen. While they still have some work to do in becoming contenders once again, the 2018 Draft was a good first step in this process.
Overall Draft Grade: A-
Image Credit:
Embed from Getty Images