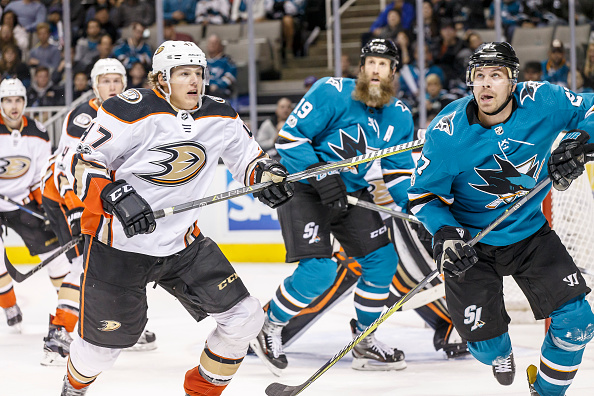 Wednesday night saw the San Jose Sharks sweep the Anaheim Ducks in the first round. The Vegas Golden Knights are the only other team to complete a sweep so far against the LA Kings. As luck would have it, The Sharks will take on the Golden Knights in round 2.
Sharks Win Four Back in a Row Against the Ducks.
With a 2-1 win, The Sharks took on the Ducks in a battle of California in the first round of the playoffs. The Sharks came out guns a blazing as a dark horse in this year's playoffs. To go along with that, the Ducks did not perform like they should. The Ducks had an issue scoring and taking penalties while the Sharks did not.
The Ducks' Struggles and The Sharks' Strengths
Anaheim had trouble scoring the whole series, scoring only four goals in four games while the Sharks, on the other hand, scored 16. Game three was an all-time low for the Ducks as the broke their record for worst loss in the playoffs. Previously it was a 7-1 loss to the Edmonton Oilers in the second round of 2017. The Sharks went and broke that record with an 8-1 win to back the Ducks into a corner on Monday.
Penalties are another issue that plagued the Ducks, they had 56 penalty minutes including misconduct for Ryan Getzlaf. The Sharks went 6-20 on the power play whole only taking 30 penalty minutes themselves. The Sharks did a great job not giving into the Ducks' game and taking retaliatory penalties. Instead, they kept calm and focused on winning and getting the power play.
Key Players
Arguably the best move at the trade deadline was the Sharks picking up pending unrestricted free agent Evander Kane. The Sharks gave Daniel O'Regan for a conditional fourth-round pick in 2020 and a conditional first-round pick in 2019 to The Buffalo Sabres. In return, the Shark got the player of their dreams. Kane went on to score 3 goals and 1 assist in the series. Joe Pavelski and Logan Couture both had 5 points each. Though Joe Thornton did not make his debut since being injured in this series, you could hardly tell the team was down a key player.
The Ducks have struggled to put up scoring and some key players have struggled to help their team. Ryan Getzlaf and Hampus Lindholm both lead the team in scoring with 2 points while key players like Corey Perry and Adam Henrique have been left pointless. John Gibson seemed to struggle against the Sharks as they seemed to have the formula to score goals on him. It's not all on Gibson because Anaheim had given up countless odd-man rushes back Gibsons' way.
The Sharks will go on to play the Vegas Golden Knights in round 2. Vegas is a total wild card of a team. It will be an exciting matchup and anything is possible.
Main Image Credit: Embed from Getty Images