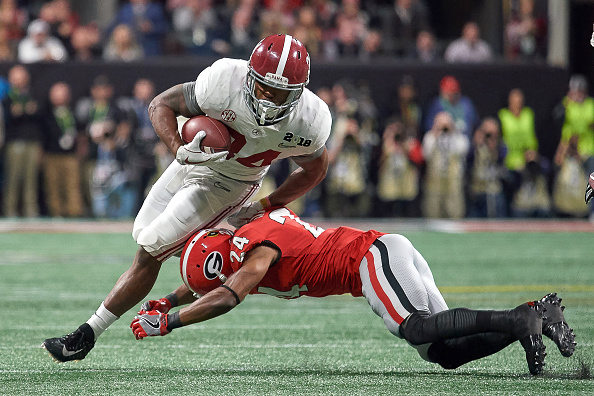 The Heisman trophy is the most coveted award in all of college football, perhaps in all college sports. It certainly has the most prestige to it, the most familiarity. In this ten part mini-series, I am going to introduce you to the top ten Heisman hopefuls in America so that you can get familiar with them just in time for Spring football.
RB Damien Harris, Alabama
Alabama has a tradition, ever since Nick Saban arrived, of producing big, powerful running backs that win Heisman trophies. First, it was Mark Ingram. Then, Trent Richardson finished 3rd in the voting. In 2015, it was Derrick Henry. Now, Damien Harris is primed to make a serious run as without teammate Bo Scarbrough sharing the backfield with him, Harris will be the number one back in Alabama.
Harris isn't your typical 6'2″ 240 pound Alabama running back. Harris stands at 5'11" and weighs 220. He's shared the backfield for the past two seasons and rushed for 1000 yards both times, hitting 1037 in 2016 and then exactly 1000 last season. He's averaging over 7 yards per carry, and scored 11 touchdowns on 135 touches last season.
What else does Damien Harris have going for him to make a Heisman run?
Elite Skillset
Harris has elite end speed for his position. He breaks into the open field and can go the distance, like he did week one this year against Florida State outrunning an NFL secondary 75 yards for a touchdown. Harris will probably run his forty yard dash in the 4.4 range once he goes pro.
Harris isn't just a speed guy. He has the body size and the power to bust through an defensive line. He is built more like a power running back. His playing style is of a power back. This is a deadly combination of skillsets, and makes Harris an elite end prospect for the trophy and the NFL next season.
Championship Team around him
Alabama seems to reload it's team and make a National Championship run every year, and that's because they do. This year, Harris has a Heisman contender, Tua Tagovailoa, playing quarterback with him, along with one of the best offensive lines in college football. Alabama has a lot of star power, and that helps stars like Harris break out into even bigger seasons as opposing defenses can't put all of their focus into one player.
Tagovailoa is a dual threat quarterback, which makes stopping Harris that much harder. If Tua shows some growing pains throughout the 2018 season, Alabama's offense will lean on Harris and that will definitely put him in the running.
Nick Saban
One certainly can't forget who's coaching the team. Nick Saban is a master of his craft, bringing the very best out of his players. Think of all of the great running backs over the past few years that have played under him. Ingram, Richardson, TJ Yeldon, Henry, Scarbrough. Most of those players have seen limited success on the NFL level.
Saban will craft an offense that Harris can run out of and be extremely productive. He does it every year for a new set of players. Harris is certainly a top notch prospect to win this trophy and has a awful lot going for him. Now let's see if he can go do it.
Main Image Credit: Embed from Getty Images