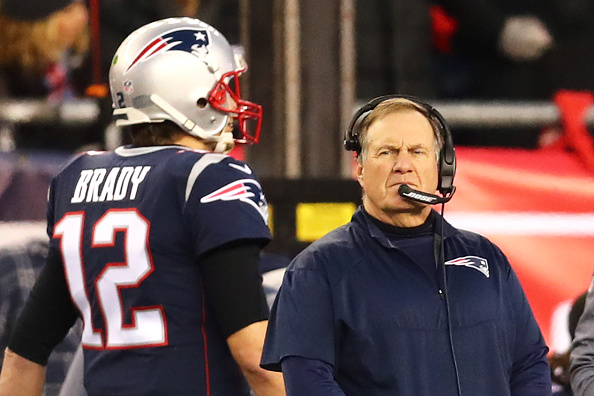 In Boston, controversies are a way of life. Whether it's the Red Socks or the Bruins, controversy seems to run rapidly. The latest controversy is quarterback Tom Brady and Rob Gronkowski not showing up for spring workouts. In this post, we'll cover three reasons why head coach Bill Belichick is right.
Many of the fans in New England speculate that one reason Brady is holding out is the dismissing of his personal trainer Alex Guerrero. For this reason, the organization has been in disarray ever since Belichick made the decision to do this.  Keep in mind that players have the right to a personal trainer but where they perform training is up to the organization.
If Brady went through the proper channels and got the authority from owner Robert Kraft the outcome may have been different. Guerrero is also Rob Gronkowsi's personal trainer and as a result, both are not showing up for mandatory OTA's. It should be a very interesting next few days in Foxborough with the NFL draft next week.
One other point of interest is Gronkowski is guaranteed a bonus which is included in his contract if he shows up for OTA's With each day missed Gronkowski maybe at risk of losing his bonus money.
The Garoppolo Trade
In October of last season, Patriots fans were dealt a severe blow. In a shocking move, quarterback Jimmy Garroppolo was dealt to the San Francisco 49ers. Not only was the trade a shock, what the Patriots got in return was even more disturbing.  As a result, the Patriots received San Francisco's 2018 second round draft pick. While the trade still doesn't make much sense fans fear that by keeping Garoppolo they would have at least a quality backup if Brady gets hurt in 2018. In this case, the Patriots are taking a big gamble for an unproven quarterback in the draft.
The Butler Factor
Head coach Bill Belichick received massive criticism from both the media and fans for not playing cornerback Malcolm Butler in the Super Bowl. Butler who took the most snaps during the season was benched in the Super Bowl. For this reason, fans have been in an uproar since the Super Bowl.
When it comes to pointing fingers at anyone both sides need to know the facts. By Brady Brady bringing Guerrero on board without proper clearance is one issue. By Belichick not playing Butler for unknown reasons is another point of view. People cannot dictate to their employer. By any means, it should be a very interesting week ahead and draft day Next Thursday.
Main Photo: