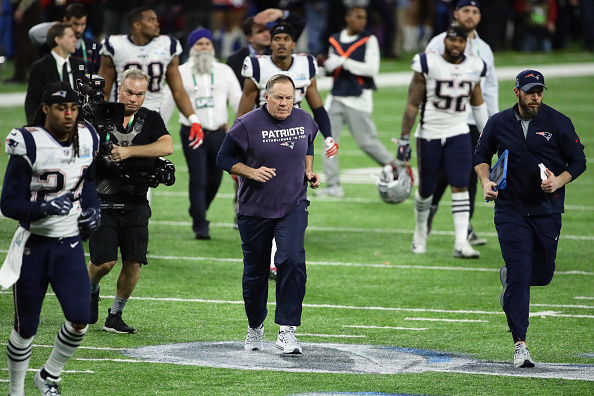 The NFL Draft is on Thursday and the New England Patriots have an amount of draft capital that is uncommon in Boston. They have five selections in the top 100 picks. The last time that happened was in 2011. With this many draft picks in the first three days there are various ways Belichick could approach this year's draft.
Address Most Imminent Needs 
Current needs: OT, LB, CB
The only real glaring holes in the Patriots roster lay at left tackle and linebacker. After Nate Solder's departure to the New York Giants, left tackle has become a big question. Guys like Connor Williams, Mike McGlinchey, and Kolton Miller are potential selections in the first round.
Depth behind Dont'a Hightower and Kyle Van Noy is a concern going into 2018. If they can add a young versatile playmaker in the front seven that'd be huge for Brian Flores' defense. Players like  Rashaan Evans, Leighton Vander Esch and Malik Jefferson are all fits for the Patriots.
While Stephon Gilmore, Jason McCourty, and Eric Rowe are all slated to get a lot of starting snaps this year, the departures of Malcolm Butler and Johnson Bademosi leave little depth at the cornerback position. Josh Jackson, Isaiah Oliver and Mike Hughes all fall into the Patriots 1st round draft range.
Build for the Future
Future Needs: QB, WR, TE
Tom Brady just had an MVP season at age 40. He's still playing at a high level and no one wants him to retire anytime soon, but Father Time always wins. With both Jimmy Garaoppolo and Jacoby Brissett gone, there is no heir to the Patriots dynasty. Lamar Jackson, Kyle Lauletta, and Mason Rudolph are some of the QBs that have met with New England.
The Patriots current WR depth chart looks deep. But with Julian Edelman soon to be 32, and Chris Hogan, Cordarrelle Patterson, Kenny Britt, Jordan Matthews, and Phillip Dorsett all free agents in 2019, it wouldn't be surprising if the Patriots wanted to add youth and longevity to the WR core. D.J. Moore, Christian Kirk, Keke Coutee all had meetings with New England.
With constant injuries and now thoughts of retirement from All-Pro Rob Gronkowski, a tight end could be in play in rounds 2-4. Mike Gesicki , Mark Andrews and Dalton Schultz are all possibilities.
Trade Up for a Top QB 
With a special QB class like this, the amount of draft capital available and the Patriots QB situation, it's possible New England looks to trade into the early 1st. Baker Mayfield, Josh Rosen and Lamar Jackson are all fits that are projected to be taken in the top 15.
Trading Down for More Picks
Pretty common for Belichick to do this. Maybe he doesn't see anyone he likes too much towards the end of the first. If so, he could look for and extra second rounder and a couple other picks.
Main Image Credit: Embed from Getty Images