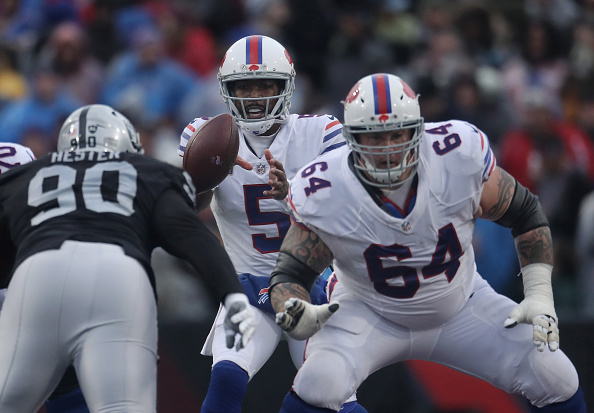 Buffalo Bills star offensive lineman Richie Incognito announced via Twitter that he was going to retire from football. Incognito has been the Bills best offensive lineman since he joined the team. This is the second Bills offensive lineman to retire for medical issues this offseason and they were arguably their two best. Now, the Bills have a big hole to fill and with the draft coming up they will have their opportunity. Coming off their first playoff appearance in eighteen years, the Bills will look to bounce back from Richie Incognito's retirement quickly.
What Richie Incognito's retirement means for the Bills
1. The Offensive Line is Now a Top 3 Need
It is no secret that the Bills top two needs are quarterback and linebacker. The Bills haven't had a quarterback that can hold up against the league's best since Jim Kelly. They also lost their best linebacker in Preston Brown this offseason. Their third need has been up for debate between offensive line, wide receiver, or defensive end. With Richie's retirement, it isn't a debate any longer. The Bills have lost two starters to retirement this offseason alone and they don't have a definitive starter anywhere on the line outside of Dion Dawkins at OT. Buffalo will need to address the position in the draft if they hope for McCoy's production to stay at his elite level.
2. The Bills Get a Bit More Cap Space
The Bills have made some significant moves this off-season. They signed Trent Murphy and Star Lotulelei to big contracts as well as many lower tier signings like Ivory, Davis, Bush and many others. Incognito saves the Bills roughly $5 million in cap space. This allows Buffalo some room to go find another lineman or two to add depth at these very shallow positions.
3. The Draft Plan May be up in the Air
The Bills have been rumored for awhile to be a team looking to trade up for a quarterback. The Bills loaded up on draft picks in what seemed to be for a trade up into the top five. Now with their top lineman retiring seemingly out of nowhere, the Bills may have to rethink their options. The Bills could decide to keep their plethora of picks and deal with more of their issues early in the draft. This would be a complete turn in direction from taking a QB early and dealing with needs later in the draft. While keeping the picks would certainly help, not having a franchise quarterback may be more costly in the long run.
4. Leadership Hole on Offense
The Bills have had very good leadership on their roster in the last few seasons. Kyle Williams on defense and Tyrod Taylor on Offense. Now Taylor is gone and the next in line is now also gone. This leaves the Bills offense without a real leader. The Bills closest leader on offense now is most likely Charles Clay. Buffalo could fix this by drafting a quarterback who will be around for the foreseeable future and who will create chemistry with every player on the offense.
Main Photo: