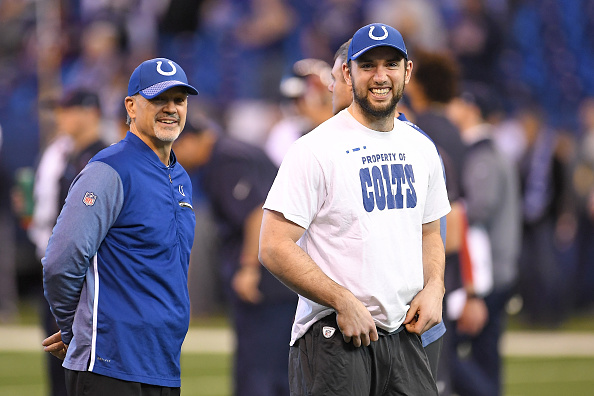 The Indianapolis Colts was one of several teams that kicked off their OTA's today. After missing the entire 2017 season with a shoulder injury, Andrew Luck asks for the patience of Colts fans everywhere as the Colts began phase 1 of their offseason program. All the information that was given by Luck was nothing but positive. Although, as expected, the three-time pro-bowler stayed extremely humble, optimistic, and was very honest when answering questions regarding his health and status for the 2018 season.
Where is Luck in his rehab?
There will be those which continue to speculate about Luck's health and whether or not he will be healthy for the upcoming season. At this point in the rehab process, he has yet to reach the next level of throwing what he called "The Duke"—the NFL's official football. Personally, I am not worried one bit, as I know that every step that Luck takes up to this point is for his long-term health and success as a player, leader, and key contributor to the organization.
"When the time is right," Luck explained, "I'll pick it up."
Although Luck is looking to accelerate his rehab process, he emphasized the importance of not skipping any steps, and properly following his timetable that he has set for himself. "I'm not a perfect-feeling athlete right now," Luck said. He shouldn't be though, if he hasn't hit every within his rehab process, then it makes perfect sense for him to feel this way.
"I don't want to repeat any of those missteps. I cannot afford to miss steps, I very, very strongly believe in that. Some things just take time and I've learned that. When I do get the urge to do something a little silly, I talk to myself and say it's not worth it right now." These comments from Luck show more than just confidence, they show that he is not going to rush his rehab process.
How to take Luck's comments
Although some of these comments may strike concern or fear into fans and NFL experts, I don't believe it should. Think about this, the only person that truly knows where Andrew Luck's health is at, is himself. So, it is clear that after being burned by their own sense of optimism last season, Luck and the organization are taking a cautious stance for the upcoming season.
Whether you find Luck's comments to be just purely optimistic, or straight from the soul, I have all the confidence in the world that he will be completely fine and ready to go for the much anticipated and upcoming 2018 season. After all, Luck did state that, "If I wasn't making progress, I'd be freaking out," but he has in fact, made a lot of progress.
"I am very, very confident and very, very optimistic," Luck said. "I'm going to be absolutely fine and come back better than I was. I think I'll be a better quarterback, a better teammate, a better person, and I'm very confident."
As Luck continues to "trust himself" throughout the rest of this process, fans of both the Colts and the NFL should too. After all, when on the field, Luck is a gifted and talented star. We could very well be looking at this seasons NFL Comeback Player of the Year.
Main Image Credit: Embed from Getty Images