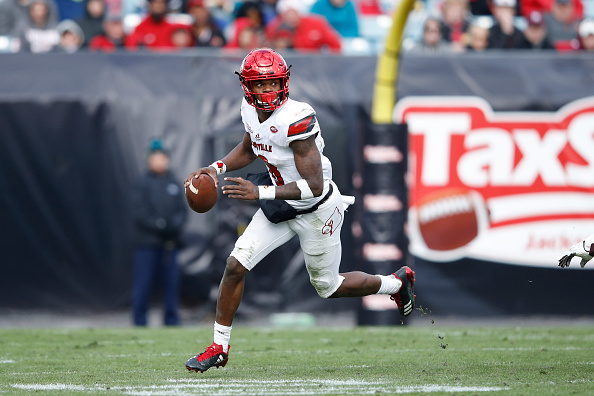 Lamar Jackson is a stand-alone athlete in the wide world of sports. The recipient of the 2016 Heisman trophy winner for his splash playmaking ability, Jackson played quarterback at Louisville where he put up huge numbers as a dual-threat in a wide-open offensive system. Now, he is attempting to enter the NFL as that dual-threat quarterback.
There are a few reasons why Jackson is hurting his own draft stock and isn't being talked about as an elite prospect. Let's dive a little deeper into the cause of his struggle to rise.
Three reasons why Lamar Jackson is hurting himself
He has not hired an agent
Jackson decided at the beginning of the process to bypass hiring an agent, and is allowing his mother to be his acting manager. Whoa, hold up, time out. His mother?
Yep, that's right. Jackson's mother, Felicia Jones, is the one NFL teams are calling to set up meetings with. Reports are that it is very difficult to get ahold of her, too.
Jackson elected to forgo signing an agent, stating that the rookie salary wage restrictions were the reason. In other words, Jackson doesn't want to pay an agent. Agents aren't allowed to take advantage of rookies coming out of college, thanks to some NFLPA regulations. The top an agent can charge is 3% of the deal worked out with an NFL team. In most cases, agents settle for a 1.5% fee or a flat fee up front to represent a player for his rookie contract.
So Jackson doesn't want to pay a fellow trained to negotiate with NFL teams 3% of his contract. He's not getting the workouts with teams that the other quarterbacks in his class are getting, his draft stock is declining. Well, maybe his mother can do a better job instead.
Jackson refuses to play any other position
Lamar Jackson has a very stubborn head. Entering the draft process, he has made it increasingly clear that he will not play any other position then quarterback. That stance has not waivered.
Entering the process, Jackson was discussed as possibly becoming a big play wide receiver in the league. Some names even mentioned cornerback. Jackson isn't interested in it at all. He even went as far as to refuse to run a 40 yard dash at the NFL combine or his pro day. Although no reason has been stated, it's pretty clear why he won't run one. He thinks people will see him run it and want him to play wide receiver. Rather then run it and let his stock increase as being the fastest quarterback in the NFL, he refuses to do anything that might make people consider him as another position.
NFL teams don't like this kind of an attitude. In most everyone's opinion, playing in the NFL is a privilege. It's playing a sport, getting paid millions of dollars to play it, and then having the chance to be a national hero and celebrity. Jackson would rather turn all of this down because he won't play anything besides quarterback.
On the field issues
The draft process, when used correctly, removes concerns that teams have about your abilities on and off of the field. Unfortunately for Jackson, he is simply adding to them.
Jackson has issues with his accuracy. He isn't the most natural passer, or the most accurate one. His numbers looked much better last season, but he finished the season with a four interception performance against Mississippi State in the Belk Bowl. That's concerning if you are an NFL team thinking about drafting this guy, because that is a potential decision making issue.
Because of Jackson's unwillingness to run through certain drills, he is refusing to build his stock upon his strengths. This is where a good agent could come in, and coach him to get teams to buy into him more. Instead, he is coming across as an arrogant player who thinks he's better then everyone and knows everything. It would be different if he had a wonderlic score to back himself up, but even that came out at a reportedly miserable 13.
Jackson has all of the ability in the world and could play for a long time in the league. Unfortunately, he continues to hurt himself with his poor decision making. Quarterbacks have to make good decisions quickly. It appears that Jackson is capable of everything but that.
Main Image Credit: Embed from Getty Images