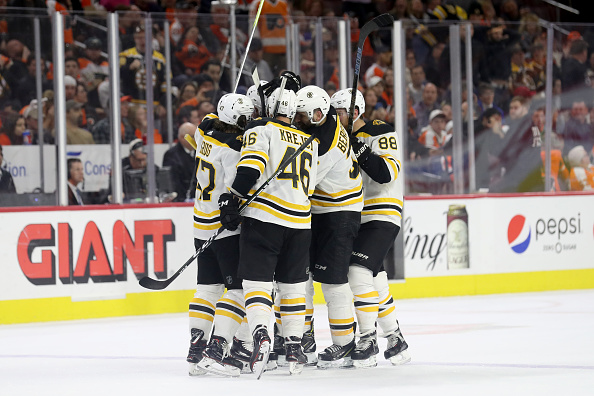 Just as it looked like the Boston Bruins had recovered from their injuries, more players fell. Zdeno Chara and Charlie McAvoy are returning soon and it looked like the defence was going to be back to full strength. That changed during their win against the Florida Panthers.
Injury-plagued Bruins
Brandon Carlo's injury
Brandon Carlo took an ugly fall in the corner while in the defensive zone and was taken from the ice on a stretcher with an apparent lower-body injury. Shortly after, Boston Sports Journal's Joe MacDonald reported that Carlo was diagnosed with a broken left fibula. If true, Carlo could be sidelined for as few as 2-6 weeks or as much as 4-6 months if he requires surgery.
Broken bones of any kind take a minimum of 6 weeks to heal up, plus therapy to ensure it knits together well… which can be complicated if you cannot support a not-insignificant portion of your body weight on one leg. Lots of floor workouts and special elliptical work is in his future. Six weeks puts him firmly out of the lineup for the rest of the year, plus getting him back up to speed in practice, might make the bare minimum of his return the 2nd round of the playoffs, or even the ECF, if the Bruins get there.
Riley Nash's injury
Center Riley Nash also exited the game and did not return after taking a Torey Krug slapshot to the side of the head. According to sources Nash required stitches and his availability was uncertain for Sunday's game against Philadelphia. Nash immediately dropped to the ice, eventually getting helped to the bench while bleeding from his ear. He did not return for the remainder of the game. Nash has been an unsung hero for the Bruins this season, notching a career-high 41 points while earning reps on both the third and first line.
Due to injuries and a numbers crunch of quality players after recent trades and signings to add depth, Coach Bruce Cassidy frequently has changed his lineup in the final third of the regular season. Different players are going in and out with each game. This may be a good thing as many players know how to work with each other.
Returning players
The short-handed Bruins did get defenseman Zdeno Chara back for Sunday's game against the Philadelphia Flyers  after a nine-game absence because of an upper-body injury. Chara was paired with Nick Holden, who moved to the right side.
The pool of potential first-round playoff opponents for the B's is narrowing with just five games left in the regular season. The B's get a close look at one candidate today.The Flyers, the Toronto Maple Leafs, and the New Jersey Devils could be playing the Bruins in the opening round of the Stanley Cup playoffs.
Main Image Credit; Embed from Getty Images