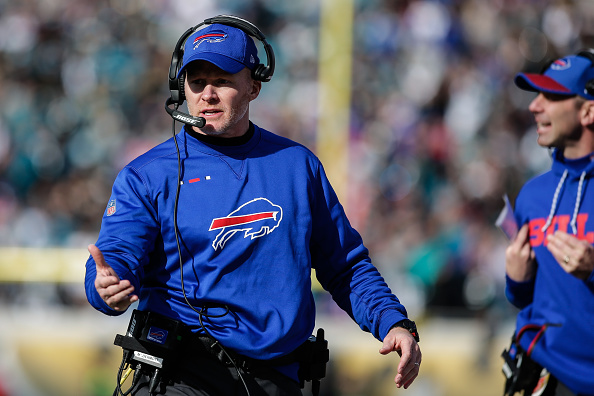 The Buffalo Bills have been a very active team in the free agency this offseason. As of this time, they have signed 13 free agents to deals. Buffalo has also made a few trades along the way. They have seen the leave of players such as Tyrod Taylor, Preston Brown, and Cordy Glenn. They have also seen the welcome of players such as Star Lotulelei, Vontae Davis, and A.J. McCarron. While many of these moves have been good, some have been bad. The Bills have addressed some major offseason needs while creating some more for themselves in the process. Overall there have been some Pros and Cons to this offseason and here are three of each.
3 Pros and 3 Cons of the Buffalo Bills Offseason Thus Far
Pro 1: Filled Many Roster Holes
The Bills went into the offseason with a solid roster that lacked depth at may positions. They used the free agency to fill a number of these holes. The Bills had an issue finding a solid complementary back for LeSean McCoy last season. Buffalo had Cadet and Jones, but both went down with injuries and Mike Tolbert didn't really work out. They immediately addressed this by signing Chris Ivory from Jacksonville. The Bills also brought back Cadet and Jones for another season to see if they can help with the special teams work.
Buffalo also needed to improve the front seven for run defense. They signed possibly the best run defending free agent available in Star Lotulelei. They also brought back Kyle Williams. The potentially biggest hole was the depth at offensive line. To counter this, the Bills signed Marshall Newhouse and Russell Bodine. Both have shown solid potential in the NFL and Bodine specifically is still only 25 years old.
Con 1: Getting Older Instead of Younger
The Bills have done a good job filling holes this offseason through the free agency in order to focus on the major needs in the draft. An issue that arises from these signings, however, is that the Bills roster is getting increasingly older. The youngest free agent signed was The Bills already have the second oldest roster in the league just behind Arizona. The average roster age for Buffalo prior to free agency was 26.78 years old. The average age of the 13 free agents they have signed is 28.69 years old. When you factor the free agents into the roster's average age the roster's new average is now 27.74 years old. Luckily for Buffalo, they have a large amount of draft picks in this draft and the rookies will help to lower the average age on the roster before the season begins.
Pro 2: Dumped Big Contracts
Another thing that Bills GM Brandon Beane did exceptionally well was dumping big contracts through trades. It all started during the season when he was able to trade Marcell Dareus to the Jaguars for a conditional draft pick that is now a 5th rounder. He then traded Tyrod Taylor to Cleveland for their 2018 3rd round pick. Lastly, he moved Cordy Glenn to the Bengals in order to move from pick 21 to pick 12. Beane is making trades many people felt were impossible. Especially with so many rumors going around that they'd be cut if they weren't traded.
Con 2: Loss of Preston Brown
The Bills have done a pretty solid job of resigning the pending free agents that they feel are useful for the team. One free agent that Buffalo was unable to retain was Preston Brown. Brown led the league in tackles last season and at 25 years old, was looking to become a cornerstone of the defense. Buffalo has a history of bringing in very solid linebackers, but being unable to keep them around long term. From Kiko Alonso to Zach Brown, and now Preston Brown. Buffalo is now very short on linebackers and lacks that elite run stopping LB in the middle that Brown was last season. They will probably look to the draft to try and strike gold for the third time.
Pro 3: Acquired More Draft Capital
Brandon Beane has been on a tear trying to acquire draft picks for the Bills. Beane has traded anything that he deemed expendable and valuable. He started in the pre-season when he got a 2nd and a 3rd in two trades that saw the Bills lose Ronald Darby and Sammy Watkins. He then turned Dareus into a 5th rounder at the trade deadline. Following this with Tyrod and Cordy Glenn into a 3rd and a higher 1st rounder than they previously had.
Buffalo now sits with 2 selections in each of the first three rounds and a plethora of other selections. They have options now on what to do with all the picks. They can use every pick where it is and have a large chance at landing a few solid players. Although, they could use the picks to package a deal to trade up in the draft and acquire the elusive franchise quarterback.
Con 3: Missed Opportunity With the Colts
The Bills have been the epicenter of trade-up rumors since they got the Chief's first-round pick last year. They have since continued to acquire draft picks in what seems like an attempt to move up into the top 5 picks of the Draft. One team that was heavily rumored to trade with Buffalo was the Indianapolis Colts. However, the Colts have traded their pick to the Jets. The Jets were able to acquire the pick for their 1st round pick and 3 2nd rounders.
This is a trade the Bills could have easily pulled off. While the Jets picked 6th and Buffalo picks 12th, there wouldn't need to be much added to equal out the trades. Buffalo could have gotten the 3rd overall pick and guaranteed themselves one of the top three quarterbacks. Now they will have to try elsewhere or hope a QB they like falls to them at 12.
Main Photo: